Apecoin (APE) is one of the most rapid growing NFT and Metaverse Crypto projects in the entire blockchain space. Upon launching on the 18th March 2022, Apecoin immediately commenced with a parabolic rally. The peak of the rally allowed Apecoins market capital to peak at an impressive $7.46b.
Today Apecoin has seen strong bullish momentum and increased 12.68% in price over the last 24 hours. Although, Apecoin is still down 82% from the all-time high of $27.78 which was set on the Coinbase exchange in April 2022.
Apecoin has printed its second consecutive green weekly candle on the price charts and is now trading at a modest $4.98.
Could Apecoin possible print a third green weekly candle?
Cryptoassets are a highly volatile unregulated investment product.
Apecoin Crypto Price Prediction 2022
From a technical analysis point of view the trajectory for Apecoin is still in decline. The sentiment also remains bearish as crypto gradually settles into bed for the winter. Since Bitcoin crossed the 200-week moving average many Altcoins have suffered harshly and the recovery process is usually quite slow.
Following Bitcoins capitulation on the 13th of June 2022, Apecoin found support at $3.02 and is already up 62%. Currently, Apecoin is trading in a giant rising wedge on the 4-hour time frame and is getting rejected at the $5.30 resistance level as the relative strength index slowly becomes overheated.
Typically a rising wedge pattern is considered bearish, usually we would see a bearish reversal. However on some occasions we can break out of the resistance depending on volume and the price action of Bitcoin.
Apecoin Crypto Price Chart – 4 hour time frame
Residing within the rising wedge is a horizontal channel, which is known as a consolidation pattern. Unfortunately we lost support at this level with a swing-low down to $4.83. This has quickly transformed into an ascending triangle pattern which is considered bullish.
The technical break out target is around 3.18% to the upside, which would allow us to retest the resistance (previous support) of the horizontal channel of $5.09. I would start to feel very bullish for Apecoin if we could break out of this rising wedge pattern.
Read more: Best Altcoins for Buy the Dip Strategy
If Apecoin carries sustenance and positive price momentum over the next few weeks I would feel confident that APE can reclaim the $6.50 price levels. The bearish scenario would be losing support of the rising wedge and headed back towards the $4 price levels again.
Apecoin Price Prediction 2024-2025?
According to Coinmarketcap Apecoin is currently ranked #36 with a market capital of $1.48b dollars. It is also important to note that there are currently 30% of coins in circulation of the total capped 1,000,000,000. APE is a project heavily correlated with NFT's and the Metaverse which is a sector that is forecasted to boom over the coming years.
Upon release Apecoin was available on many of the major centralized exchanges such as Coinbase, Binance and eToro. The overall exposure and traction for the project is huge. There are already 78.4k unique holders according to Etherscan.
The initial executive board for Apecoin comprises of five prestigious crypto investors. Reddit co-founder Alexis Ohanian; Amy Wu, who steers the crypto exchange FTX's venture arm; Maaria Bajwa, of Sound Ventures; Animoca Brands' Yat Siu; and Dean Steinbeck of Horizen Labs.
This concoction of high-tier investors means large cash reserves. Big cash reserves means that they can focus on protocol upgrades, developments and growth even during bear market phases.
If we use the Fibonacci extension tool we can piece together pragmatic price targets for the next crypto-bull run.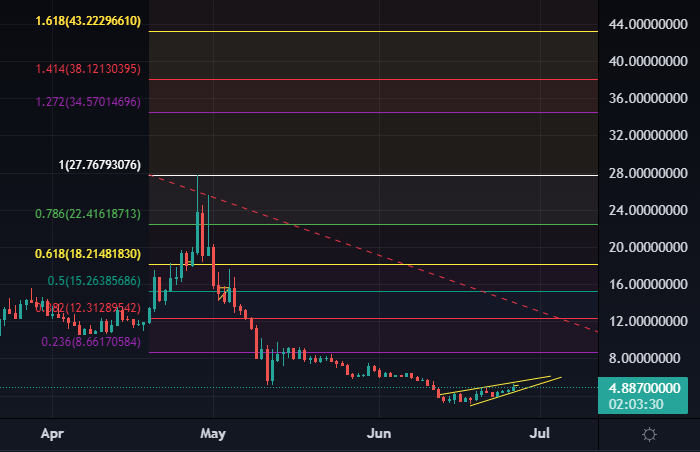 Apecoin Future Price Targets Using Fibonacci Extension
The likely price targets by 2024-2025 are listed as below.
1.272 Fib – $34.57.
1.414 Fib – $38.12.
1.618 Fib – $43.22.
In my opinion Apecoin will hold its position as a flagship metaverse and NFT crypto project throughout the bear market. Apecoin has seen exponential growth and with a market capital of $1.48b we could potentially see huge long-term growth.
Following a lengthy accumulation phase I would think Apecoin could definitely surpass $30 price levels in the future.
You can also keep up to date with the latest news from Business2Community by visiting our Telegram Group.
Cryptoassets are a highly volatile unregulated investment product.
Related
Lucky Block - Undervalued Crypto
Listed on Gate.io, LBank, MEXC, PancakeSwap
NFT Competitions, Jackpot Draws
Powers Casino & Sportsbook Platform - luckyblock.com
10,000 NFTs Minted
$2M+ in Prizes Awarded