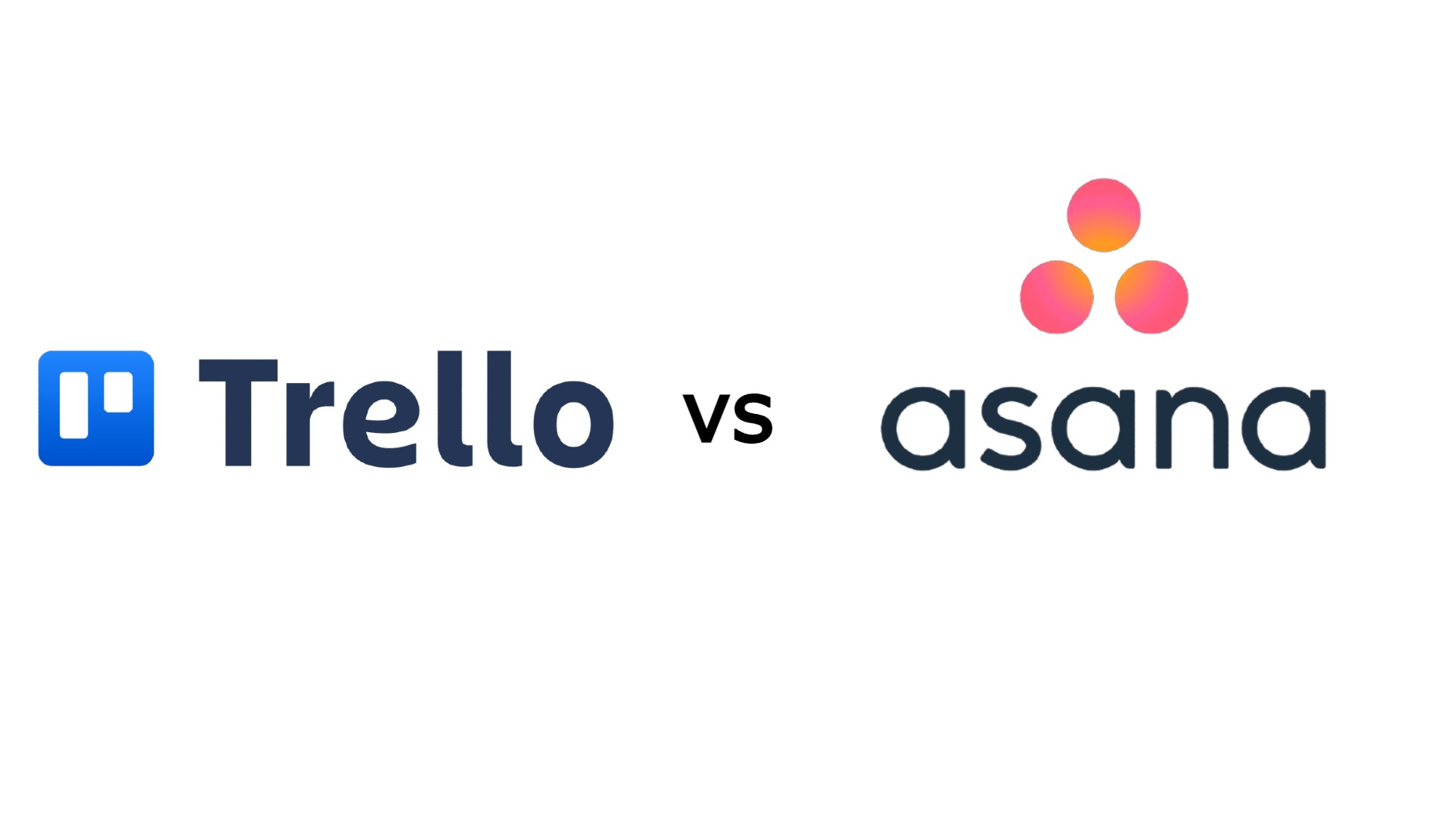 As project management tools become more and more necessary in today's increasingly complex business world, you may already be pitting Trello vs Asana in your head, trying to figure out which one is right for you or your business.
In this extensive guide, we will break down all of the major features of both Trello and Asana, detail their pros and cons, explain what kinds of businesses would benefit most from using each, and help you choose the right project management tool for you.
Trello vs Asana: What Kinds of Businesses Are Each Best For?
Both Trello and Asana could be a reasonable choice of project management software for most teams but you have to consider each platform's advantages and disadvantages and compare them with your needs to choose the best project management software and achieve the best results.
Trello Is Best for:
Individuals who love to organize to-do lists or other projects with Kanban boards
Small to medium-sized businesses with simple workflows
Anyone looking for a free tool to organize linear workflows with built-in automation and expansive software integration
Asana Is Best for:
Complex teams with highly integrated workflows
Large diverse teams looking to heavily customize workflows, automate simple tasks, and integrate with popular business software
Managers who want to closely follow and manage the workflow, workloads, and goals of their team
What Are Project Management Tools?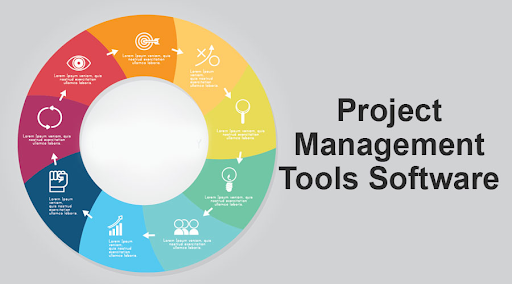 Project management tools are software platforms or applications used to assist project managers and workers through every stage of project development, maximizing efficiency and generally improving workflows. They are absolutely essential in today's complex and competitive business environment.
Project management tools make manager's jobs dramatically easier, helping them with planning, assigning and organizing tasks, fostering collaboration, managing resources, and more. They bring everything a team needs into a single central platform that acts as a vital source of information, collaboration, and a jumping-off point for every task.
What Is Trello?

Trello is one of the most popular project management tools available today, specializing in simple workflows with its Kanban-style drag-and-drop organization system. The platform is best described as a collaborative digital Kanban board (also known as a signboard or task board) where project managers can quickly and easily organize, assign, and manage pretty much any kind of task.
Trello is about as simple as great project management software gets. It's organized into boards, columns (or lists), and cards. Managers generally split separate teams like an editorial team and a developer team into separate boards.
Within these boards, they can create simple groupings called lists such as "Ready to Assign" or "In-Progress." Managers can add cards (tasks) to these lists, set a due date, leave a quick description, assign them to a worker, and more with just a few clicks.
They can then move cards around easily by just dragging and dropping them wherever you want them to go. In project management, even slight improvements to efficiency and ease of use are much more helpful than you might imagine as each small time save adds up over time.
To get an even better understanding of Trello, take a look at these simple examples of managing projects using Trello boards for a theoretical SEO blog:
Trello knows that combining too many workflows from separate teams can get confusing fast so it made it easy to create new boards and swap between them. The screenshots below are simple examples of outlines for boards for an evergreen SEO blog: one for the development team and one for the editorial team.


Trello stands out for its simplicity, efficiency, and ease of use and isn't often recommended for its software integration but its "Power-Ups" feature is full of useful integrations with top apps and platforms. You can easily integrate all kinds of useful tools like Google Drive, Slack, Gmail, Microsoft Teams, and many more.
The platform also has a surprising number of automation features, allowing you to set rules for it to follow when certain conditions are met. For example, you can tell Trello to automatically add an outline format when you create a card in a "To-Do" list.
Furthermore, if you sign up for Trello Premium, you can get 2 more "Views" or layouts for your workflows: a table view and a calendar view. You can use any and all of these layouts within Trello's mobile app which is extremely smooth and intuitive, especially compared to other workflow management tools.
Trello Pros and Cons
Pros
Incredible simplicity makes it one of the easiest PM tools to use
Nearly unbeatable smooth Kanban board functionality with just the free plan
Solid software integration with most large business tools
Great automation features, many of which are already built-in
Smooth, functional mobile app
Cons
Templates aren't too useful
Calendar and timeline layouts are locked behind a paywall and have limited functionality
Customer support is limited to help pages, a community forum, and a simple email support system
The free plan has a limited attachment size (10MB/file)
What Is Asana?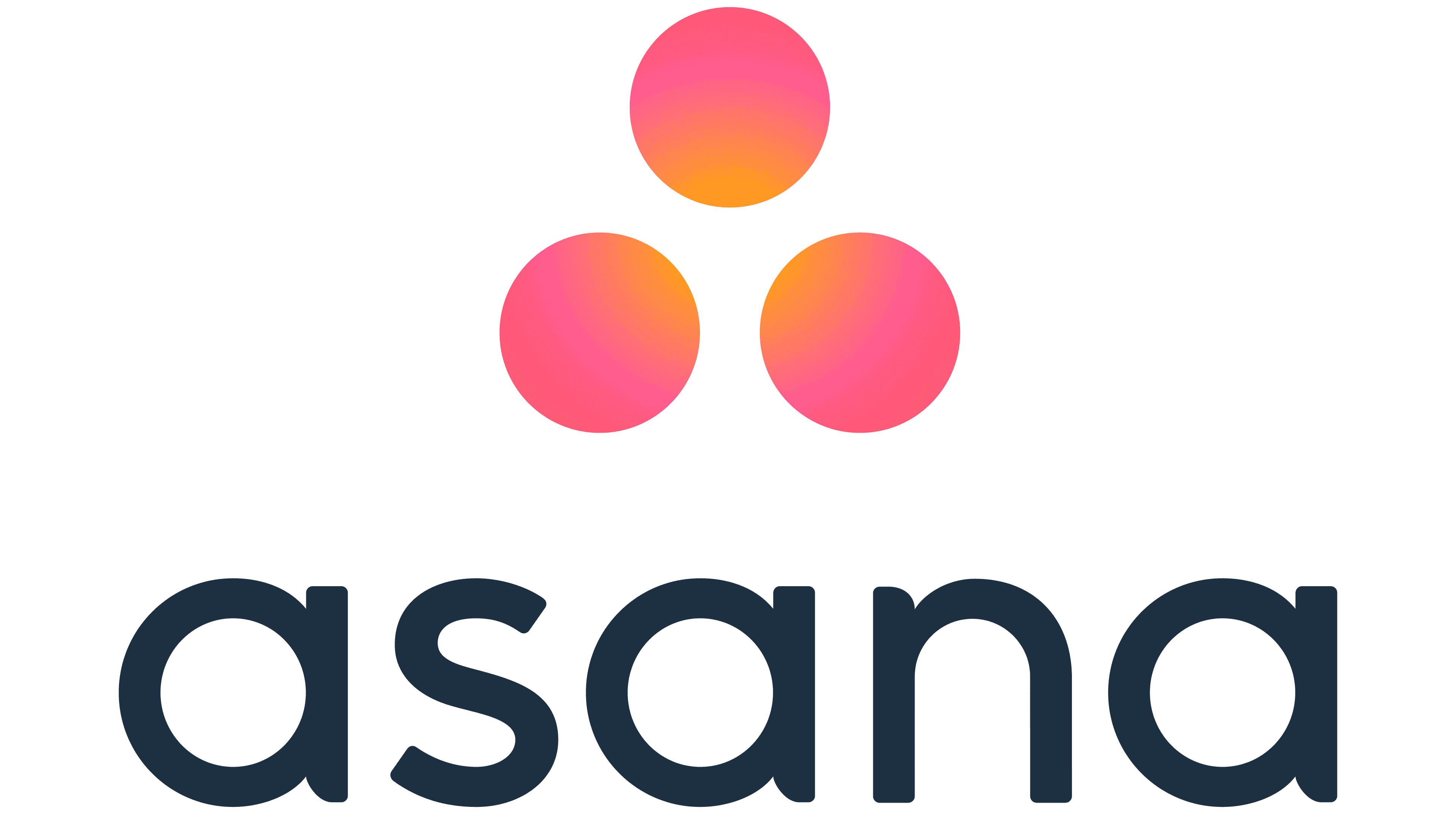 Asana is also one of the most popular project management tools but for mostly different reasons than Trello. It is impressively customizable, even for a project management tool that has to fit any number of different kinds of teams. This makes it a great option for most teams if they can put in the time to learn the platform and customize it to maximize efficiency, especially if they are working on complex projects.
Asana's advantage in customization is already clear during the sign-up and setup process. When you create your workspace in Asana, it will ask you to choose one of 4 different layouts, including a kanban-style layout similar to Trello's. It's important to note that its Kanban boards are not as well-polished as Trello's.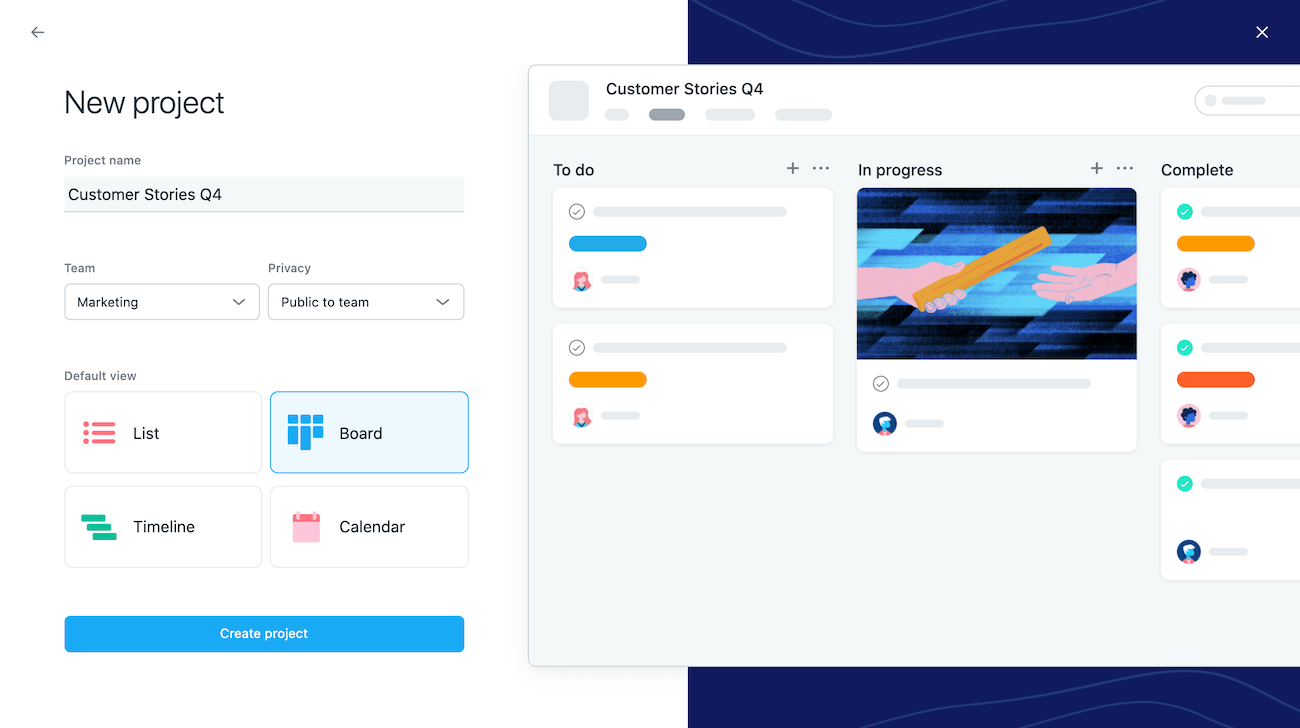 You can also choose to organize your projects and tasks in a regular calendar, a timeline (only available in the Premium and Business plans), or a simple list. After you create the workspace it will automatically create pages in all 4 layouts to help you decide which one you want to stick with.
Some teams decide to keep more than one layout as well to get the benefits of both. For example, an editorial team may want to use the Kanban boards for assigning articles to writers and editors as well as the calendar to visualize due dates better.
Within these layouts, you can create custom tasks with most of the features that you need to set up a comprehensive workflow and sort them into as many sections as you want. You can switch back and forth between the layouts with a single click
Asana Pros and Cons
Pros
Offers a large suite of useful management tools including: Dynamic real-time reporting, Goal setting, Managing multiple projects at once in portfolios, Workload management
The free plan includes great functionality with 3 different layout options and more
Great collaboration tools allow multiple large, separate teams to work on complex projects together seamlessly
Decent support with a live support chat, an extensive support wiki, and a community forum
Powerful software integrations with over 100 external tools
Cons
The free plan is limited to 15 users
No phone support
Mobile app has a relatively poor user experience
Can only assign tasks to one person (though collaborators can be added)
Trello vs Asana: Features Compared
If we compared Asana's sheer number of features to Trello's (and most other top project management software), Asana would win in a landslide but it isn't that simple.
Asana's multi-layout setup is chock-full of features, especially compared to Trello which is mostly just a digital Kanban board. Trello does offer table and calendar views but they are reserved for Premium subscribers and they aren't as feature-rich as Asana's layouts. However, the efficiency and ease of use of Trello's skillfully integrated features put it on a similar level of quality and usefulness.
Trello Features
The Foundation of Any Project Management Software: Task Cards
Trello, like most project management tools, is built around task cards, where you will find most of the platform's features. These cards are surprisingly customizable, despite how easy they are to use.
They can be easily assigned to a team member with the board and have every customization option that most teams need for their workflows. You can add a checklist along with a general description of the task, a comment section for everyone working on it, and much more.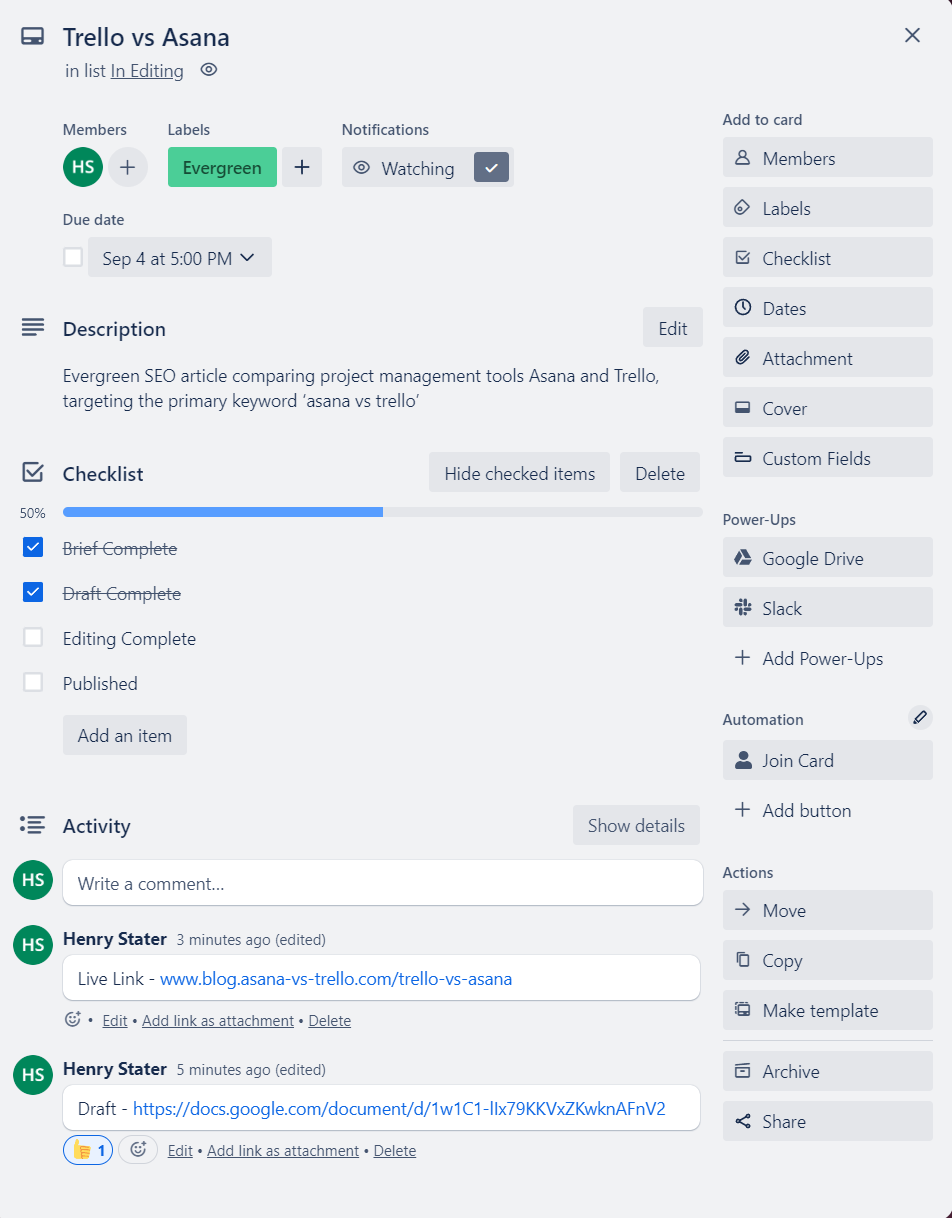 The example above shows how an editorial team might customize a card layout to quickly move an article through the stages of planning, writing, editing, and publishing.
Project Management Software Needs Expansive Software Integration and Trello Is On Top
Modern businesses use a myriad of powerful software together so great project management software must be able to integrate the most popular tools well. Trello is one of the most impressive contenders in this regard.
Cards can be customized with Trello's software integrations, labeled "Power Ups." Editorial teams often use the Google Drive Power Up to store drafts in Google documents easily and the Slack Power Up to notify team members quickly through their primary messaging platform.
"Power Ups" can also be used to add powerful features missing in the base platform such as task dependencies. Task dependencies are particularly important tools in process management and project planning, allowing managers to break down the sequence in which tasks need to be completed.
Trello's Mastery of Simple Automation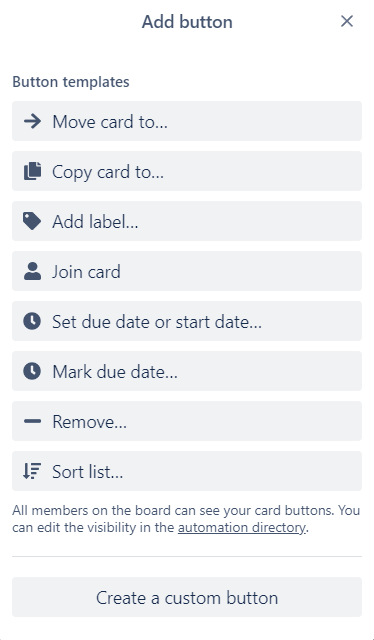 Trello's automation features are also found within cards. You can add buttons to your board's card layout to automate an impressive array of tasks, driving down the number of clicks you have to make dramatically if used well.
For example, you can create a button that automatically assigns you the card or one that sets the due date 2 days from now. Trello's team designed a fair number of simple automation buttons that you can add to your cards immediately but it also lets you make entirely custom buttons.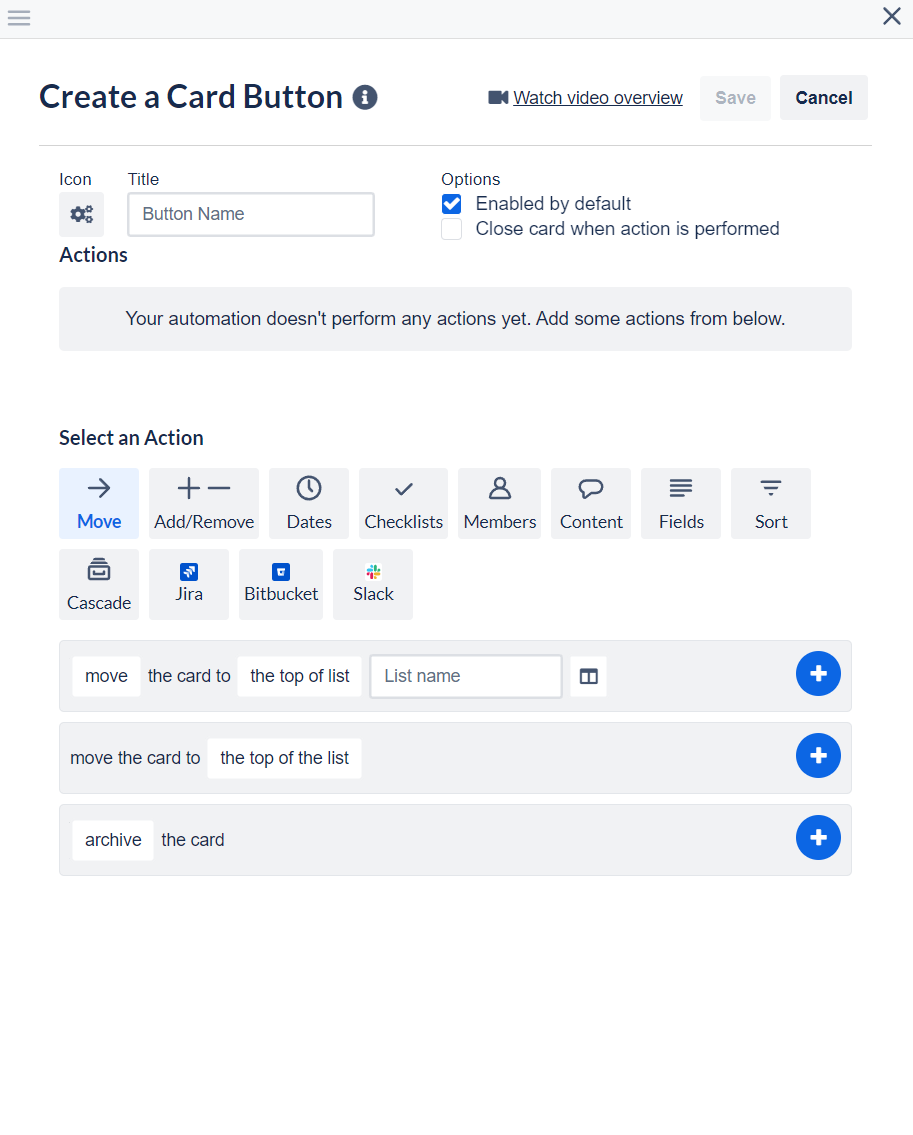 With Trello's custom buttons, you can automate so many actions that you can make pretty much every step of your workflow more efficient. Don't be daunted by the complicated layout as the platform offers a video overview that walks you through the entire process.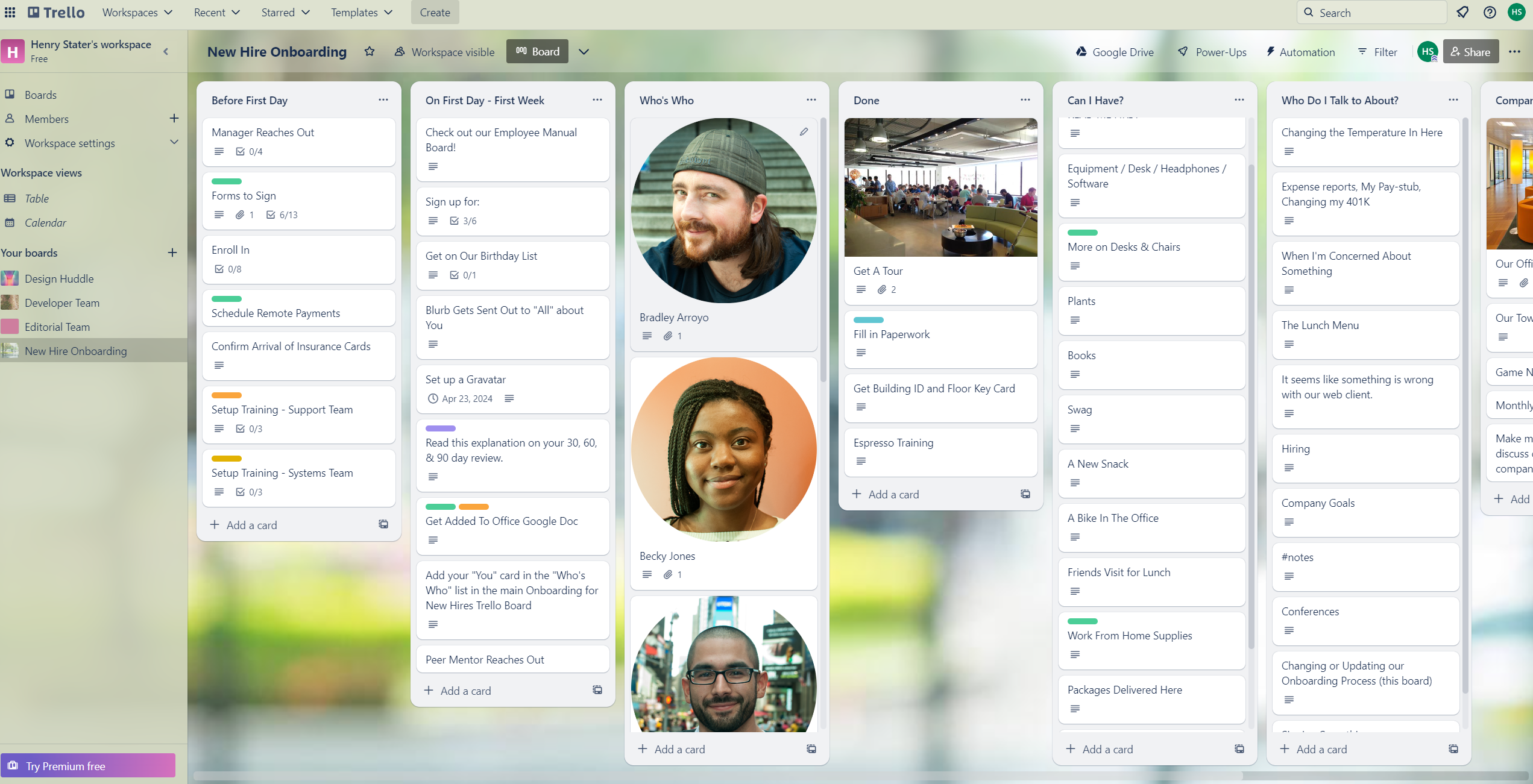 Before you set up your first board, check out Trello's vast selection of pre-made templates that come with many of the power-ups and automation features that you may want. The example above shows a fully fleshed-out board template for an onboarding process that could probably be customized to fit your needs in under an hour. However, templates all have the same general structure of Kanban boards so they aren't too useful and are far from necessary.
Trello may not have as many features as many of its competitors but the features it does offer are so smooth and well-optimized that it is a great choice for individuals or small to medium teams with relatively simple team structures and workflows.
Asana Features
Asana clearly tries its best to maximize functionality without making it too complicated or confusing to use. Though Trello is significantly easier to understand and use for the most part due to its sheer simplicity, using Asana is still a breeze. In fact, Asana customization and layout options can make it easier and more intuitive for more team members than Trello.
Asana's Management and Analysis Tools Are a Godsend for Managers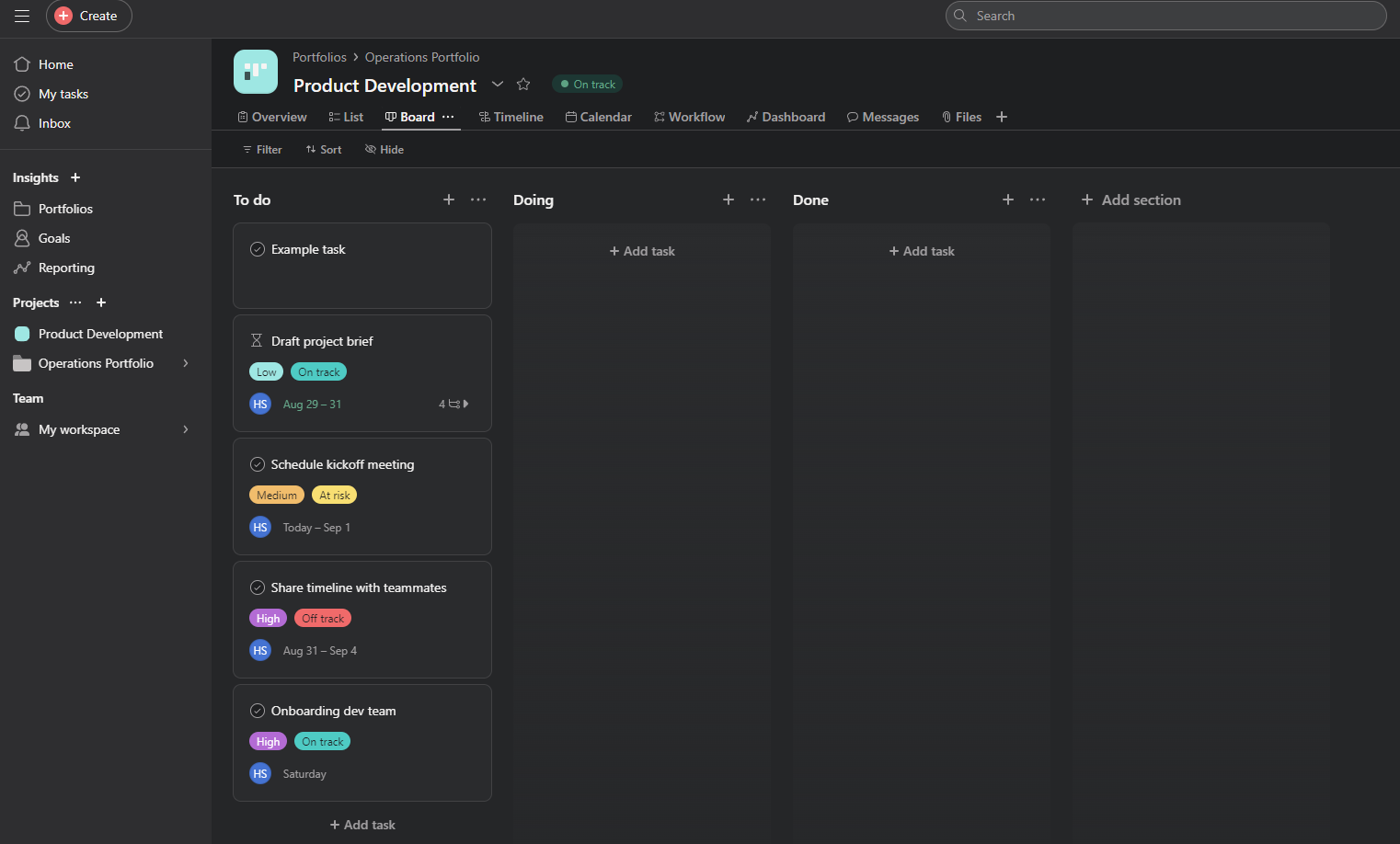 Asana has a comprehensive navigation bar on the left of the page where you can find all of the important pages you need to follow. Any projects that you create, like the sample project labeled "Product Development" pictured above, can be found here along with a myriad of other useful pages that mostly aggregate information from all of your projects.
These pages give it an edge in efficiency for workers and managers who work on various projects at the same time. Within the customizable "Home" page you can see all tasks assigned to you and tasks that you have assigned to others along with a list of projects and other custom boxes that you can add or remove like a private notepad or comments from tasks.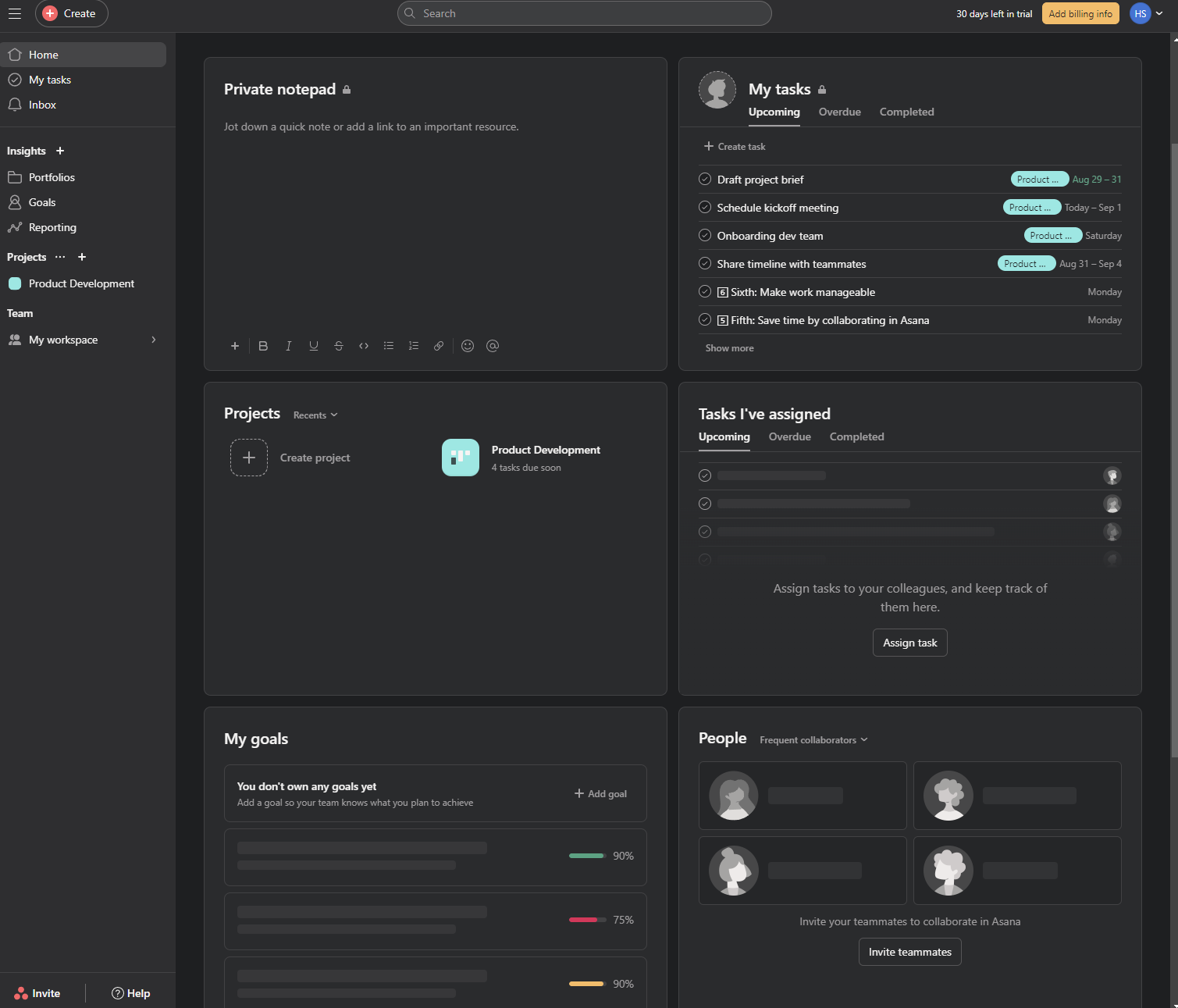 The "My Tasks" page is perfect for managers and any workers who work on multiple projects at once as it shows all tasks assigned to you from all projects so that you don't have to click around all of them to figure out what to do next.
The "Inbox" page isn't quite as useful for many teams. It's where you will find notifications and messages left by other members of the workspace. You can also send a private message to a person or even to an entire team or project.
Asana's "Portfolios" tab is a succinct overhead view designed for team managers to check in on the status of various projects. Unfortunately, it's only available in the enterprise plan (which is locked behind expensive enterprise pricing). Within "Portfolios" you can track multiple projects closely and use the "Workload" tab to ensure that tasks are distributed evenly and employees aren't overworked.

For more in-depth information about your team's project progress, you can use the "Reporting" page where you can find detailed views of important statistics such as the number of complete tasks, incomplete tasks, overdue tasks, upcoming tasks by assignee, and more.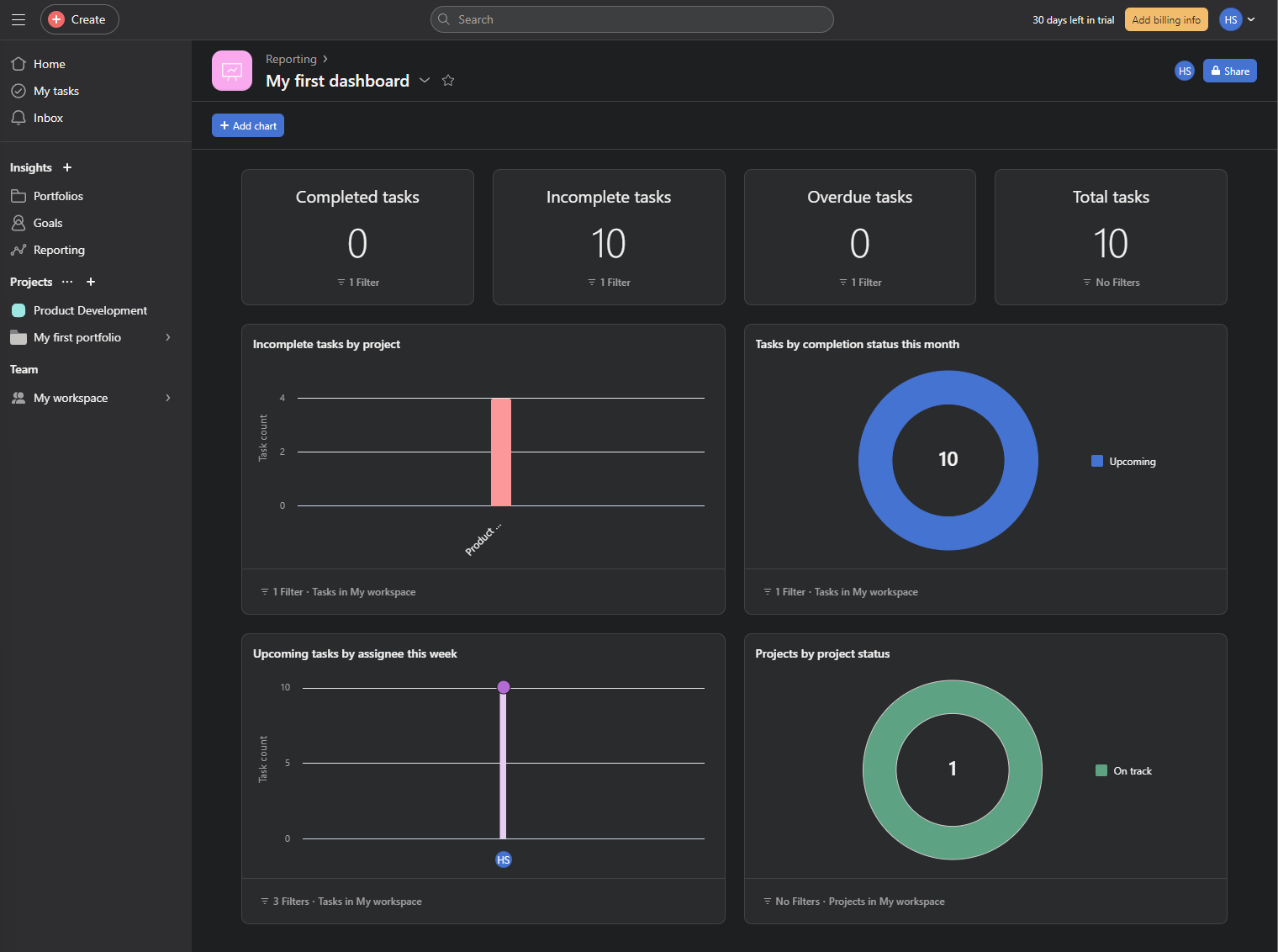 Managers can use the "Goals" page to create overarching goals for the rest of the team to work towards, though this feature is only available in the most expensive plan. You can customize it down to the time period, update method, measurement metric, and source of progress to help you track progress and keep your team on track.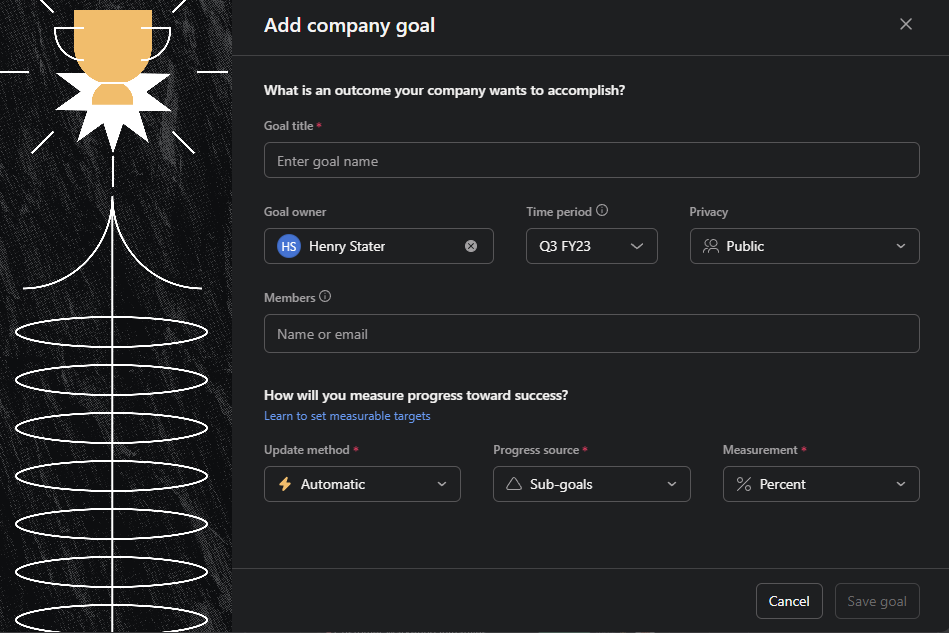 The Foundation of Asana: Task Cards
These pages are all useful additions to the platform but the meat and potatoes of Asana are the projects themselves and the tasks within them. Teams can set up a project as a simple list, a Kanban board, a timeline, a calendar, or any combination of the 4.
At the foundation of every page and feature that Asana offers are its task cards. You don't have access to quite as many features as you do with Trello cards but they are more than enough for most teams.
You can quickly and easily assign workers, set due dates, add descriptions and comments, select the priority and status of the task, and even create and assign subtasks. You can also make a task dependent on another one, making sure that prerequisites are completed before work on the task begins.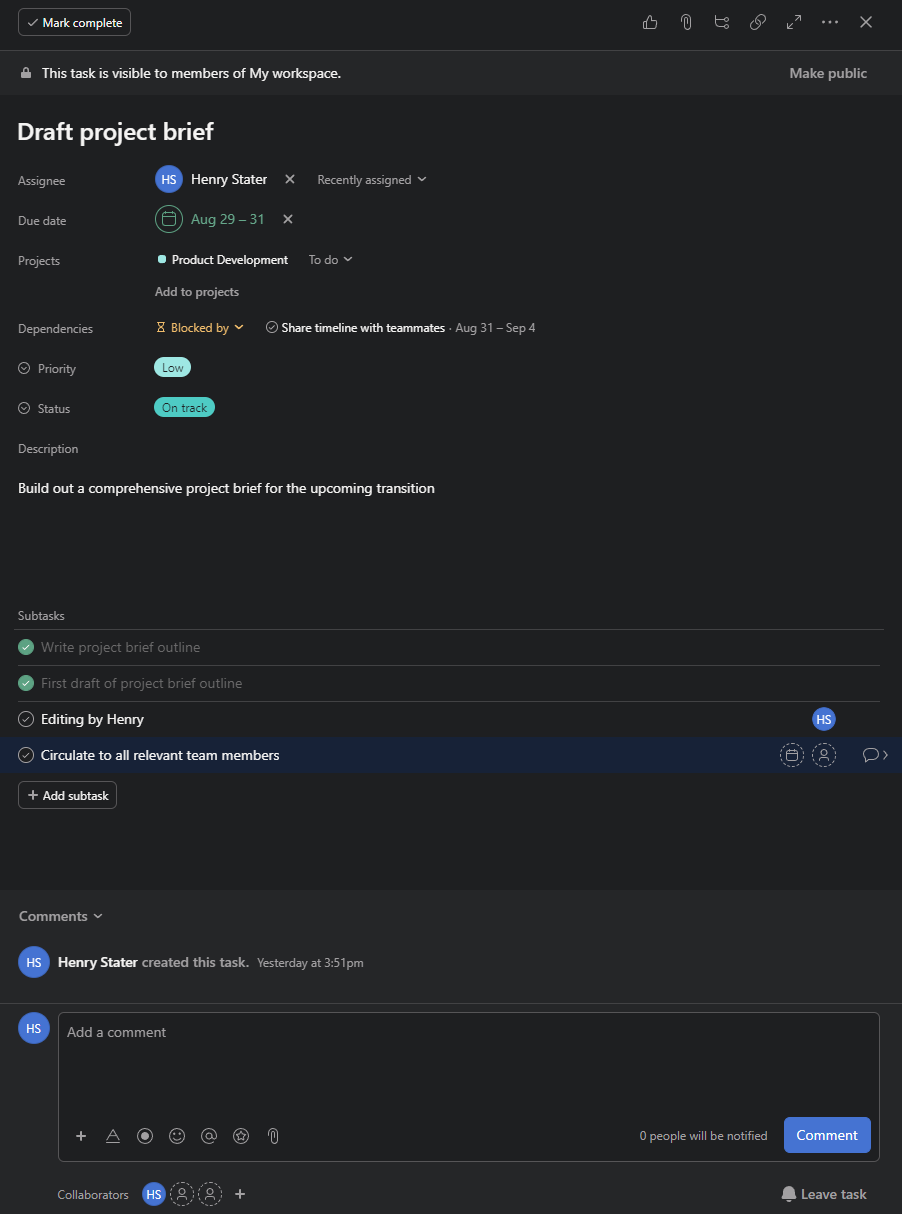 Asana also has a robust set of automation features that can cut out repetitive tasks and streamline your workflow using the "Workflow" tab within each project. It only takes 2 minutes to get started automating your workflow.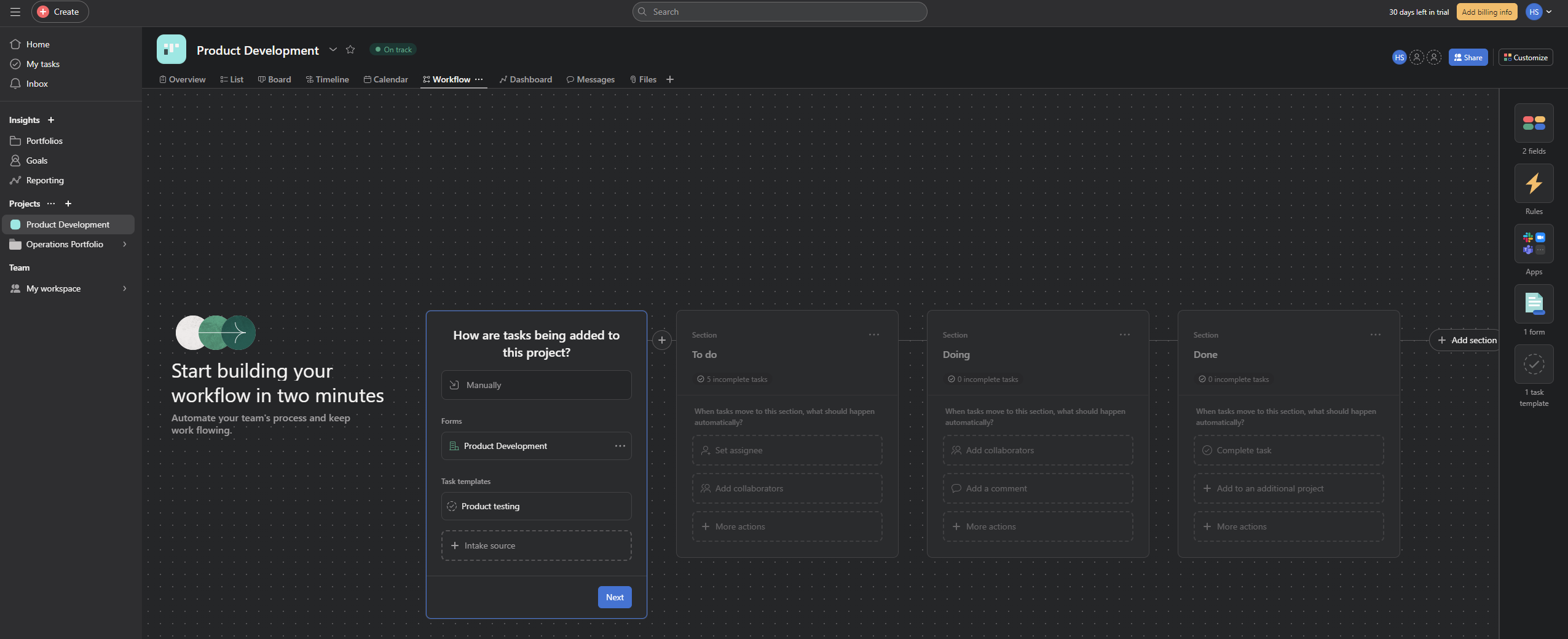 You can tell Asana to automatically perform all kinds of actions such as adding an assignee, setting a priority, moving a task to a new project, and more. You can even automate Asana's expansive selection of software integrations to automatically perform actions outside of the app like sending a Slack message, creating a calendar event on Google Calendar, or creating a new issue in Jira Cloud.
Notably, Asana doesn't include any financial management tools, unlike some other team management tools. However, it has just about everything a team might need to maximize the efficiency of nearly any given workflow. While some of these incredibly useful tools are locked behind a paywall, most are available in Asana's free plan.
Trello vs Asana: Pricing Compared
Both Trello and Asana offer fantastic free plans that are more than sufficient for many teams no matter the size. You can get all of the basic features of both for free with the option to pay more for a variety of advanced features.
Trello Pricing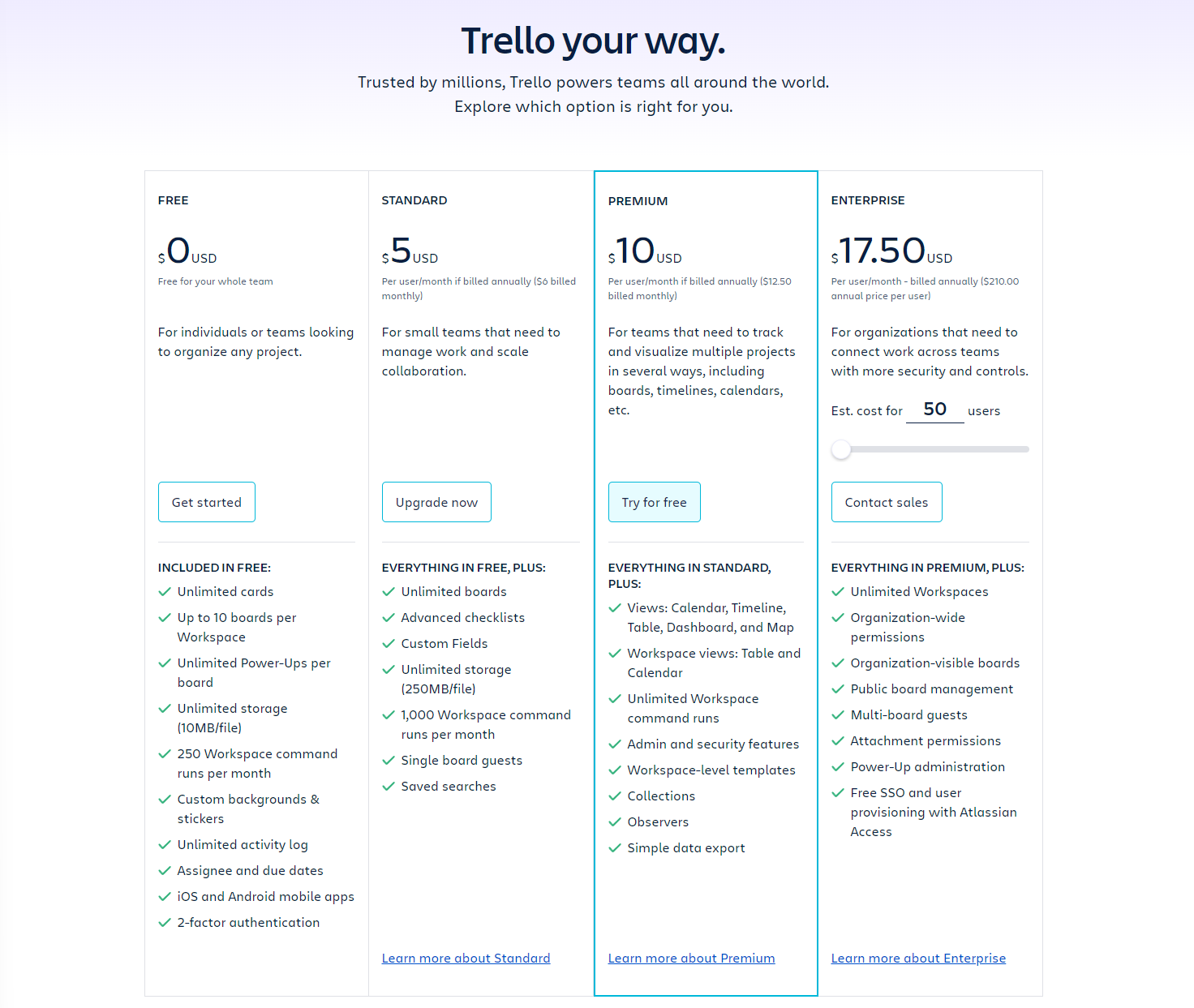 Trello's pricing is a bit complicated with 4 different plans offering a variety of features and limitations: Free, Standard ($5/user/month billed annually), Premium ($10/user/month billed annually), and Enterprise ($17.5/user/month billed annually).
Free Plan:
Trello's Free plan includes:
Unlimited cards
Unlimited storage (10MB/file)
Up to 10 boards per workspace
No-code automation
All basic task card features such as assignee, due dates, descriptions, and more
Board templates
Unlimited "Power Up" software integrations
Standard Plan:
For $5 per user per month if paid annually (or $6 if billed monthly) you can get the Standard plan which includes all of the features in the free plan plus additions such as:
Advanced checklists
Unlimited storage (250MB/file)
Unlimited boards
Custom fields
Single board guests
Saved searches
Premium Plan:
For $10 per user per month billed annually (or $12.50 if billed monthly), you get the Premium plan that includes all of the previous plans' goodies along with features like:
Calendar, Timeline, Table, Dashboard, and Map views
Table and calendar workspace views (similar to Asana's different layouts)
Additional security and administrative features
Observers
Collections
Simple data exporting
Enterprise Plan:
For $17.50 per user per month billed annually ($210 per user) you get the Enterprise package including all of the previous plans' features along with:
Unlimited Workspaces
Organization-wide permissions
Organization-visible boards
Guests who can access multiple boards
Administration of Power-Ups
Single sign-on (SSO) and provisioning with Atlassian Access
Most teams that use Trello won't need to upgrade beyond the free version as it includes everything you need to create multiple boards with efficient, easy-to-use workflows. However, large and more complex teams may need to step up to one of the paid plans to get the increased administrative, managing, and other various added features.
Asana Pricing: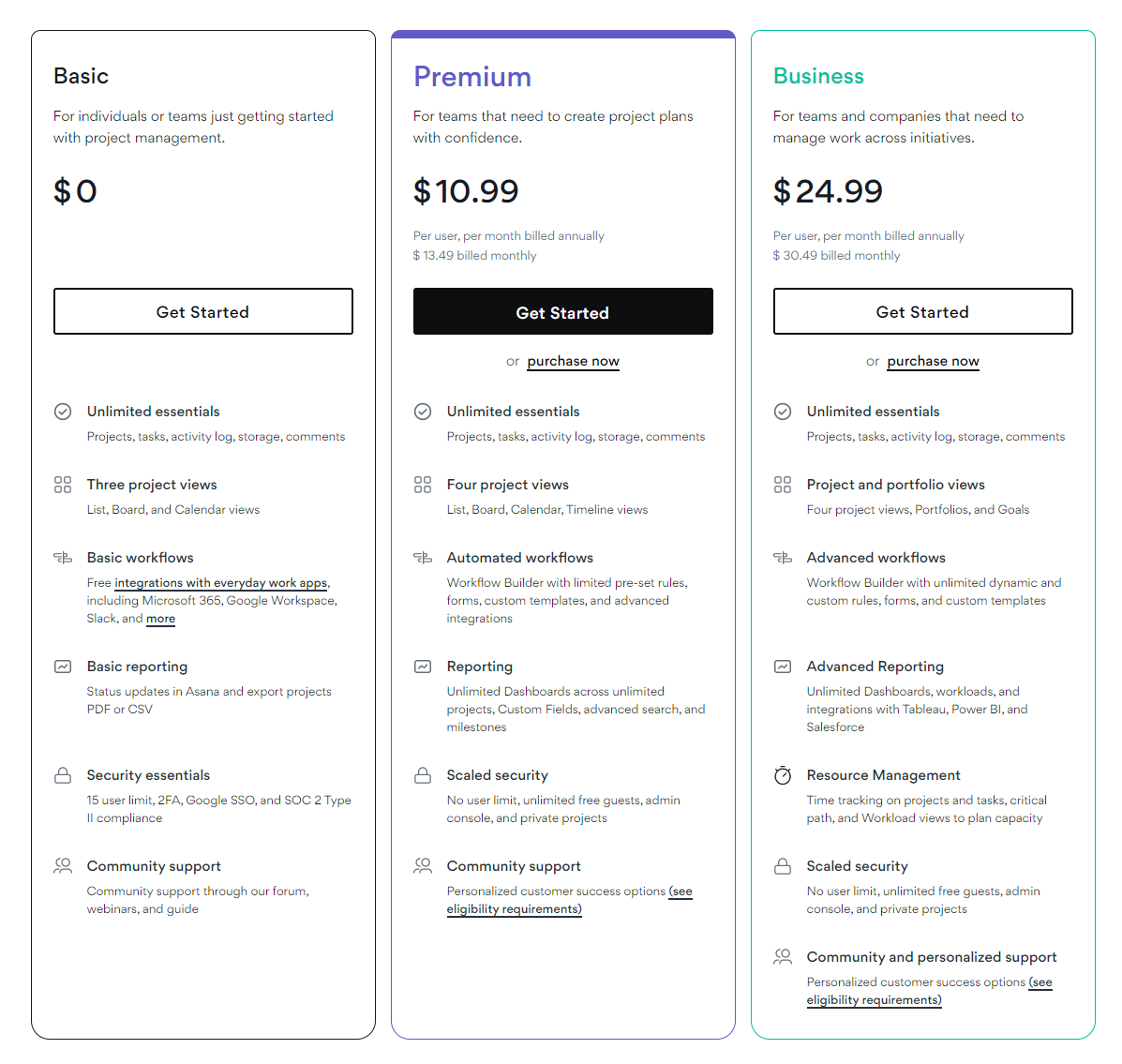 Asana's pricing is a bit less complicated than Trello's with three plan tiers: Basic (the free plan), Premium for $10.99 per user per month if billed annually (or $13.49 if billed monthly), and Business for $24.99 per user per month if billed annually (or $30.45 if billed monthly).
Asana also offers a great 30-day trial for its highest plans that automatically activates when you sign up for the first time so that you can test out its paywalled features.
Basic Plan:
Asana's free plan gets a majority of the most important features on the platform including:
Unlimited projects, tasks, activity logs, storage, and comments
The list, board, and calendar views
Basic reporting with status updates and CSV or PDF exports
Basic workflows with many options for software integration
Security features such as 2FA, Google SSO, SOC 2 Type II compliance
A 15 user limit
Access to community support forums, webinars, and guides
Premium Plan:
The Premium plan includes all of the features in the basic plan plus a few extra including:
The timeline view
Automated workflows using Asana's Workflow Builder
Comprehensive reporting with unlimited dashboards, custom fields, advanced search, and more
No user limit
Unlimited free guests
Private projects
Personalized customer success options
Business Plan
The Business plan adds even more features on top of the premium plan including:
Portfolio and goals views
Advanced workflows with unlimited dynamic and custom rules, forms, and custom templates
Advanced reporting with unlimited dashboards, workloads as well as integration with Tableau, Power BI, and Salesforce
Resource management tools: time tracking on tasks and projects, critical path, and Workload views to plan capacity
Trello vs Asana: Customer Service
Both Trello and Asana offer the basics of customer service with extensive help pages and wikis as well as a community forum and a way to contact the support team. Trello has a support email messaging system as well and Asana boasts a live chatbot that can also connect you with a customer service representative if need be. Unfortunately, neither tool offers phone support so you will have to go through other channels if you run into any issues.
Trello vs Asana: Customer Reviews Tell All
Customer reviews for both Asana and Trello are great across the board. Asana has a 4.5 star rating with just over 12,000 reviews GetApp.com. Reviewers raved about the value for the money that you get with Asana and rated its ease of use, features, and customer support at 4.5 stars out of 5.

It also received an impressive score of 8.4 out of 10 on TrustRadius.com with 2291 reviews and ratings. Only 14 of the total 193 reviews (not including ratings) were negative and over 56% of reviews gave it a rating between 9 and 10 out of 10.

Trello also received an overall rating of 4.5 stars on GetApp.com but with a whopping 22,000 reviews and ratings. It achieved 4.5 stars on all of the same categories as Asana with a score of 8.56 out of 10 likelihood to recommend.

Users of TrustRadius.com gave it a slightly lower rating than Asana with 8.1 out of 10 over 2,632 reviews. Nevertheless, it had an even smaller percentage of negative reviews than Asana with only 10 out of 203. Furthermore, over 63% of respondents ranked it between 9 and 10 out of 10.

Users of Trello and Asana platforms seem to be quite happy with their offerings, particularly their free plans. While one or 2 other project management tools have slightly higher ratings on these review websites (like monday.com with a 4.6 on GetApp.com), most fall below these 2 giants.
Trello vs Asana: Are There Better Alternatives?
Though Trello and Asana are clearly at the top of their game in the project management tool field, there are a few worthy alternatives that you should also consider. They aren't necessarily better or worse than Asana or Trello overall but some may be better for your particular situation. These include:
monday.com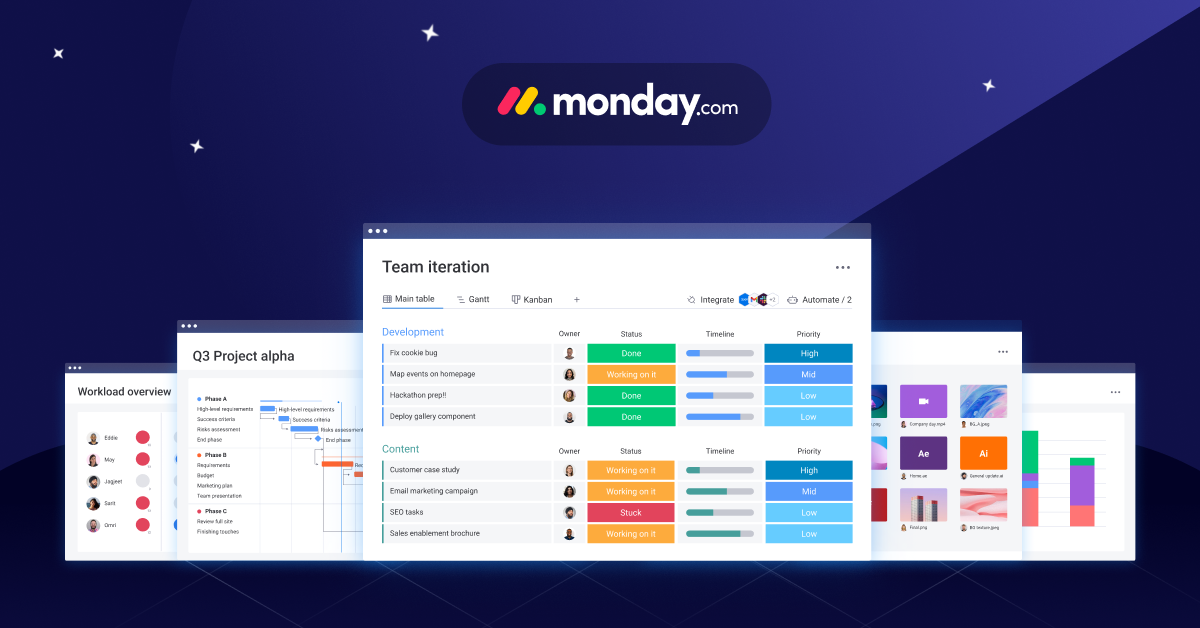 monday.com is another popular project management tool that boasts functionality similar to Asana's with a myriad of different layout styles including a list, Gantt, Kanban board, map, and timeline. monday.com can be a bit easier to set up, customize, and get working than Asana as it has pre-built templates for types of teams like sales or development teams.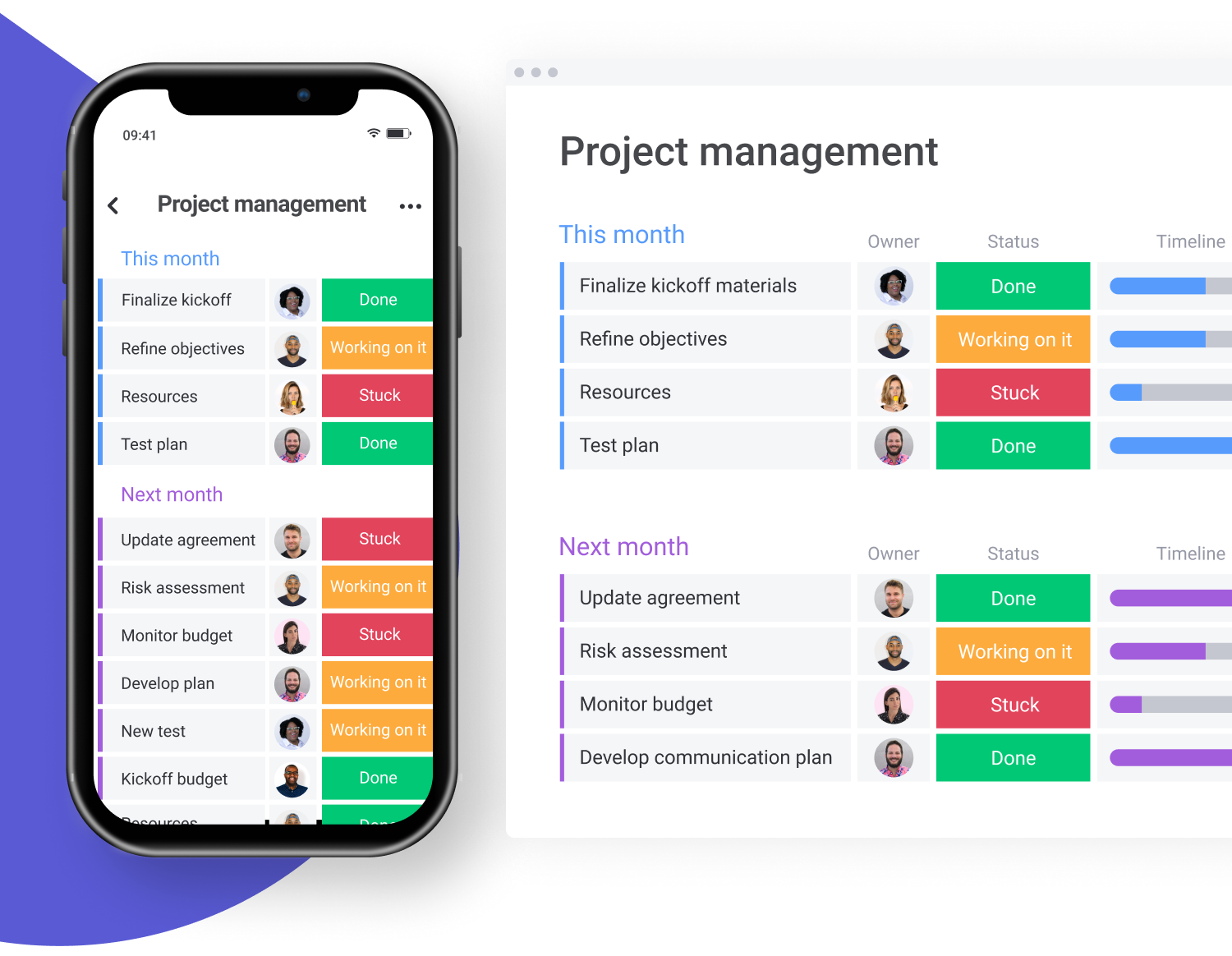 It has decent automation and software integration roughly on the same level as Asana as well. It falls short when it comes to rivaling Trello's simplicity and ease of use though both its mobile app and web interface are solid. However, like Asana, it beats Trello by a mile in terms of functionality.
Wrike

Wrike is a powerful and popular project management tool that is often considered one of the top options for complex teams striving for greater collaboration and efficiency. It has one of the best user interfaces in the industry, allowing even the least experienced and tech-savvy employees to get the most out of the platform.
This customization takes a considerable amount of time and effort to get the platform to that point by the managers, however, as designing your perfect tool using its customization features can be a difficult task.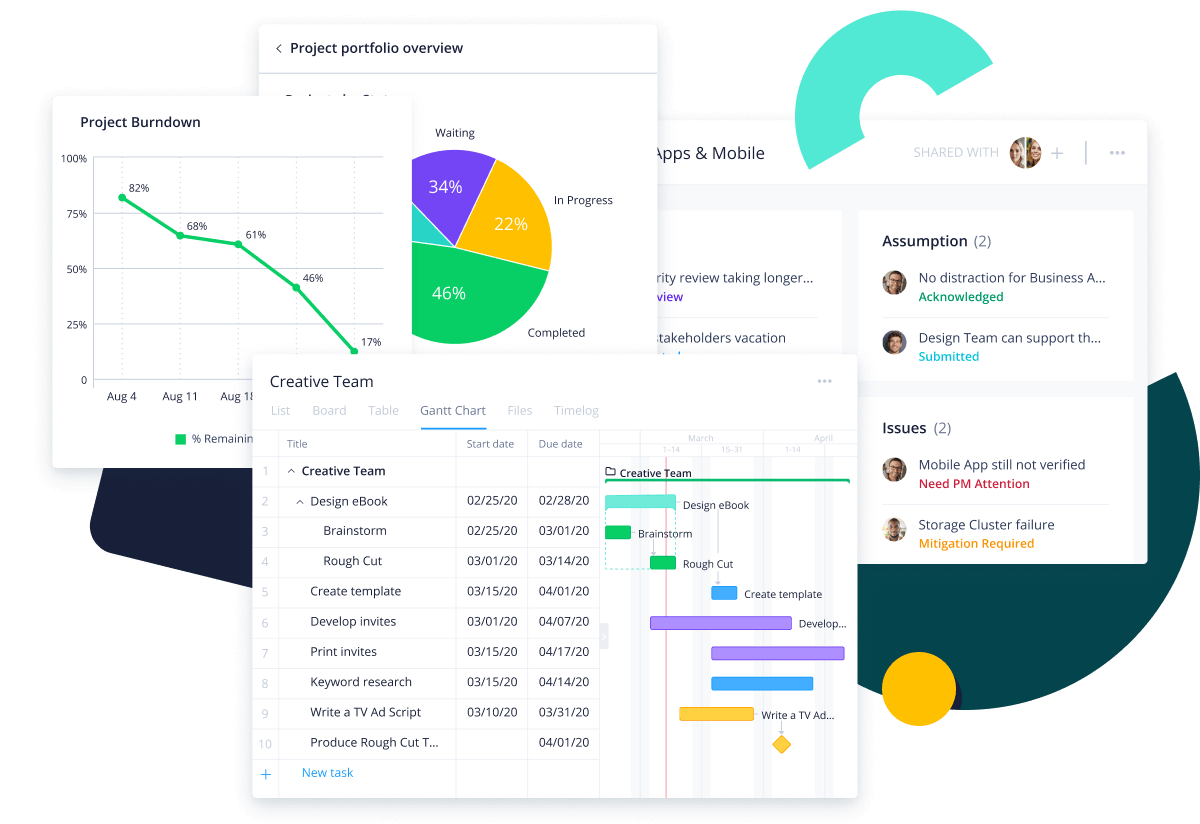 Wrike blows Trello out of the water and edges out Asana in terms of sheer functionality with its many features and layouts like Gantt charts, spreadsheet views, board views, and more. Managers who choose Asana or Trello over Wrike may wish they had its useful time-management feature. Lastly, Wrike is significantly more expensive than both Asana and Trello, though it also offers a free plan with limited features.
How to Choose Between Trello and Asana
Now that you have all the major information that you need to decide the winner of Trello vs Asana it's time to choose which one is best for you. Here are a few of the most important factors to consider:
What size is your team?
If it's small and relatively simple, Trello is likely best.
Are you working on complex projects and workflows? And are different teams collaborating on the same workflows often?
The more simple the workflow, the more efficiency and optimization you can get out of Trello in general.
Do you prefer Kanban boards or lists, calendars, or timeline layouts?
Trello is the obvious choice if you only want to use Kanban boards.
Do you need live chat support?
Asana offers live chat support whereas Trello only offers an email messaging system along with its help guide and community forum.
Can you or another team member dedicate the time to fully customize your tool?
Asana may take a while to fully customize to your team's liking and will have a more steep learning curve than Trello.
What kinds of tasks are you going to track with this tool?
If your tasks are heavily interdependent, you may want to choose Asana as Trello doesn't offer task dependencies. Otherwise, Trello may be better for more complex tasks as its task cards are significantly more customizable than Asana's tasks.
What features do you need?
Do you need heavy optimization for a relatively simple workflow to maximize efficiency? Trello is likely your best choice because of its wide selection of easy-to-use built-in automation tools. Asana has decent automation as well but it's a bit harder to set up and can't do quite as many actions.
Trello vs Asana: Which Tool Is Better?
Because Trello and Asana are significantly different tools with different goals for functionality, customizability, automation, and ease of use, and they are both great for what they are designed to do it would be impossible to tell you which one is objectively better. It all depends on your business and your current situation. If you find that all of the questions you answered above point to Asana or Trello, it will probably be the best project management tool for you.
References: