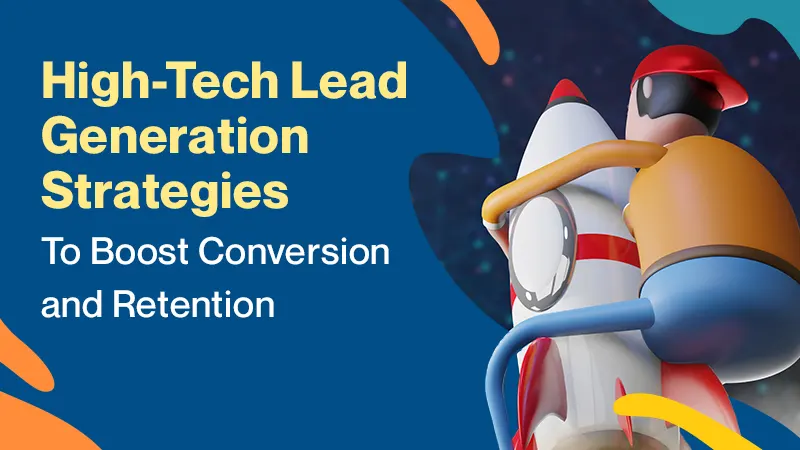 Competition in the high-tech industry is very tough. It got even tougher because of the uncertainty and the change that rocked the whole world.
The change has made a lot of organizations and businesses realize that working from home has a positive impact on their employees. And with that kind of set-up not going away soon, the demand for technology increased. But with greater demand, competition also increased.
The lead generation strategies and tactics you've used may not be enough to provide the results that will make you thrive. With the fast-paced changes in regulations, market dynamics, and loss ratios, high-tech companies need to have a solid sales foundation.
So here are a few lead generation ideas that we've applied as a lead generation services company that will help you improve your reach, your conversion, and customer retention.
Focus on the Right Customers
Having a lot of leads isn't always good for your business. Your goal is not about the quantity but the quality of your leads. However, a lot of businesses — and they're not limited to the high-tech industry — usually settle for good and better when the best option is available.
In order to get that best option, you need to refine your marketing and acquisition efforts. Yes, there are a lot of interested businesses who are interested in what you are offering. However, that doesn't mean that they are available when you want them.
Because of this challenge, a lot of high-tech companies settle for quantity instead of quality. They think that they can get their ideal clients in the sea of leads. This type of strategy is like looking for a needle in a haystack.
Highlight: Going for quantity instead of quality is like trying to find a needle in a haystack.
Improve Your Contact Rates for Better Conversion
After you get your high-intent leads, you should not waste time. Get them while they're hot and you need speed to do this.
And how do you improve your speed to lead?
Automate
Automation is key to winning your leads, especially the high intent leads. How long does it take you to contact or respond to your leads?
The Harvard Business Review said that those who respond within an hour are seven times most likely to win their prospects. If you're too slow, you might just lose a lead.
Delegate
Don't miss critical windows of opportunity. That's why you need to have a dedicated team following up and contacting leads immediately once they come in. Don't hesitate hiring more if you need added manpower.
Prioritize
Your team will put a premium on speed if they understand how important it is. When that happens, it becomes everyone's priority. So make sure to communicate to your team the importance of responding immediately.
Leverage Multiple Channels
Connecting to the Internet anytime, anywhere is normal nowadays. And it has opened up different channels of communication that you can leverage to your advantage. There's now no excuse why you're not able to reach out to a lead.
Not because you are good at utilizing one channel, you will ignore the others. Use every tool and channel at your disposal to reach out to your leads and prospects.
Aim for a One-Call Close
B2B marketers know that prospects continue to check out other providers even after they talk to them. If you don't want to lose the lead to a competition, you need to practice the one-call close.
The one-call close is a mindset rather than a strategy. Before you talk to the lead, you already expect to close the deal before the call ends.
One tactic to use is giving them a customized pricing — one that fits their budget.
Leverage Your Data to Streamline Your Sales Pipeline
If you want to thrive and win in today's ultra-competitive high-tech landscape, you need to use tools that leverage the actionable insights you generated from your lead acquisition.
Two of these automated solutions are a dynamic sales script and omnichannel outreach workflows. Utilizing them can deliver personalization and efficiency for success.
Dynamic Scripting
No matter how good your sales reps are, there are days when keeping everything linear seems daunting. Dynamic scripting software provides all the information they need to check the compliance boxes before proceeding with a sale or transferring the call to the right place.
Using the customer data from the lead acquisition process will help your sales team deliver a personalized experience to your prospects. The inclusion of even the most basic of information in your scripts can spell a world of difference
Omnichannel Outreach Workflows
Not all your prospects want to be contacted over the phone or through email. Instead, reaching them where they want to be reached can greatly influence their buying decision.
For example, if your data shows that one of your leads opted in using a mobile device might appreciate getting a text message from you. Or you can use channels that will lead them to you.
See original post: The Savvy Marketer