Having a business continuity plan (BCP) is becoming increasingly important to preempt any major road bumps your company could run into as the business world becomes more competitive and uncertain. The COVID-19 pandemic, growing cyber attacks, rising instances of natural disasters, global geopolitical tensions, and the ongoing war in Ukraine have highlighted the importance of having a plan to keep the business operating in case of a crisis.
In this article, we will use our experience in the subject to walk you through the process of creating an effective business continuity plan so that you will be ready for any crisis you may face. Plus we'll walk through the different kinds of business continuity plans and analyze the difference between a business continuity plan and a disaster recovery plan.
What Is a Business Continuity Plan (BCP)?
A business continuity plan is a set of procedures that an organization needs to follow in case of an unplanned and extreme crisis event like a war, natural disaster, cyber attack, or severe human error. Large businesses have a well-laid-out business continuity plan to keep the business operations running even in case of a crisis.
The following are the major parts of business continuity plans:
Determine key processes: A business continuity plan should clearly determine the most critical processes of your business. They are the most important for keeping the business running and thus you need to make sure that you are ready to keep them running and in good order in a crisis.
Identify potential threats: In order to prepare well for a disaster, you need to know what kind of threats you may face based on your key processes, your region, geopolitics, domestic politics, regulator oversight, and more.
Include a business impact analysis: The BCP must include an analysis of the potential threats to the business and its key processes in particular so that they can be prioritized and protected.
Set clear objectives and priorities: Your BCP should have a specific overarching goal split into specific priorities and objectives, not just a vague idea of keeping the business alive.
List who is responsible for each objective: Make sure that your plan dictates exactly who is responsible for every single task and objective so that you can immediately assign these tasks to your workers. It should also have an alternative for each major goal in place in case key personnel are not available during a crisis.
Detail a communication plan: Strong business continuity plans include a communication planning process to keep employees, customers, and suppliers in the loop. The communication should be operational even if the usual communication network like emails doesn't function. A list of emergency contact information should be handy with the staff members for any unforeseen crisis scenario.
Include a backup plan: Your first option may not always work which is why you should have a backup plan (or build a BCP for every potential major crisis) and disaster recovery plans to minimize the business disruption.
Determine a recovery strategy: Last but not least it should determine the exact steps that you and your employees need to take when the BCP is put into action to protect the business. It should also detail how to normalize the business and its key processes once the initial crisis has cooled down.
How to Create a Strong Business Continuity Plan
Now it's time to dive deep into how you can create a strong business continuity plan to prepare your business for the worst. The following are the basic steps that any organization should take when business continuity planning.
Identify Critical Functions
The first logical step in the business continuity planning process is to identify the critical business operations that the company needs to prioritize and keep running. You need to know what needs to be protected most in order to determine the potential threats to your business.
These are usually the functions that are the most important for the company and need to be a priority before other operations. Examples of critical business functions for a B2C ecommerce company would be order fulfillment, marketing, customer support, and security and compliance.
Identify the Business Risks to Determine the Scope and Objectives of the BCP
The risks that a business faces vary based on multiple factors like the key processes, scale of operations, the nature of the business, geographical locations, and threat perception. Of course, business continuity planning necessitates an understanding of the potential threats to your business' key processes.
Consider your business, its critical functions, its physical location, and other specifics to determine everything that could do your business significant harm. This could include a data breach, an earthquake, a fire, human error, an oil spill, or any number of consequential events.
For instance, the business continuity plan of an automotive company would be quite different from a tech company. Similarly, a company operating in regions that are more prone to natural disasters and civil unrest could be different from others.
Perform a Business Impact Analysis
The next step in business continuity planning is to perform a business impact analysis which identifies all of the potential harm that the crisis could do to the business. Before you can effectively mitigate damage you need to know all of your business' weaknesses. From there you can create a plan to bolster weak links and prevent significant damage to the business and its key business processes.
The business impact analysis should include the following according to Ready.gov, an informational site made by the US Department of Homeland Security.
Physical damage to the company's premises and any restricted access to the building
Damage or breakdown of key equipment and computer systems
Interruption of the supply chain
Utility outages like loss of power or water supply
Loss of data and communication with employees and business partners
The business impact analysis should also identify the potential impact of the crisis on its critical business functions in particular so that it can protect them effectively and quickly. Consider anything that could cause a disruption to the business like revenue loss, increased expenses, and any regulatory fines.
Advanced Planning of Critical Needs
Your business continuity plan needs to outline all of its needs during a crisis so that they can be fulfilled as soon as possible. This would include the following:
Identifying your power needs and having a proper backup in place to ensure operational continuity.
Anything necessary to keep the supply chain running like supplier alternatives are vital to keep key processes running. Those who plan for supply chain disruptions can often easily defeat the competition that don't in tough times.
Implement the National Fire Protection Association NFPA 1600 standard for emergency management. These plans ensure that all employees are as safe as possible in the advent of an emergency.
Companies should also get the necessary insurance for their region (like flood or fire insurance) to protect against natural disasters and other kinds of damage to prevent devastating losses and shorten disruptions to the business.
Make sure that you have the funds necessary to keep your business afloat in times of crisis. Advanced planning of your needs during a crisis allows you to be ready at all times with the funds and resources that you need to keep the business running at its best.
Design Action Plans
With the vital information from previous steps, it's time to move on to the next step of business continuity planning: creating action plans. These plans detail the exact steps to take to keep the essential business processes running smoothly during a crisis. Among other things specific to your business, a strong business continuity plan should:
Detail a specific plan to lessen the direct damage of the crisis whether it be reputational, physical, or otherwise. This could include a PR strategy to protect the company's reputation or even an HR strategy to keep employees happy, healthy, and doing their best work.
Include a plan to relocate the equipment to safer places if the crisis necessitates it.
Set out a specific path to the restoration of business processes starting with critical business functions.
Detail who is responsible for executing each and every step of the plan. Also, it would be a prudent strategy to create a flexible chain of command as some key personnel might not be communicable or available during a crisis.
Have a budget planned out for each step of the BCP so that the business can ensure it keeps a large enough rainy day fund in the event of a crisis.
Include a flexible data backup plan. If any part of the business depends on data of any kind, the plan must include a strategy to keep data safe and secure while remaining easily accessible.
Include how to minimize external damage to others like customers, non-customers, the environment, etc. This is vital for preventing reputational damage from the crisis.
Writing an action plan for a business continuity plan is just like any other action plan. Each plan should include specific objectives and usually needs to be broken up into multiple tasks. Make sure you include who is assigned to each task to avoid confusion. Finally, you need to explain how the tasks will be executed, how long they should take, and how performance will be judged (like with KPIs).
Testing the Business Continuity Plan and Training Personnel
No matter how sound the business continuity plan is, it won't matter if your employees don't know how to put it into action. It is therefore important to train the staff members who would be responsible for executing the plan (as well as replacements in case they are unavailable).
Simply emailing employees an outline of the plan isn't enough. It's usually advisable to actually test out the plan to make sure that it will work when you really need it.
It may be worthwhile to have tabletop exercises wherein the staff discuss their roles during an emergency. The business can also simulate a crisis and then test its plan to see how it works. Efficient simulation exercises are a great way to keep employees familiar with the BCP and generally what they need to do in a crisis.
Continuously Optimize the Business Continuity Plan
The final step in business continuity planning is an ongoing one. We live in an uncertain world and as part of prudent risk management, companies must keep track of emerging risks and prepare accordingly. Also, as the scale and scope of the business evolve, its threat perception will change.
The best BCP from 2000 is much different from the best BCP today because there are different threats and a business can change tremendously over time, shifting priorities and goals dramatically.
Companies should regularly review the scope and objectives of their business continuity plans so that they are in sync with the changing times. The testing process discussed in the previous step would also help finetune the business continuity plan and fix any loopholes.
Why Is a Strong Business Continuity Plan Important?
Having a strong business continuity plan is absolutely essential in the modern day. Whether it's a small business disruption like a minor fire incident or a major crisis like an earthquake or major cyber attack, you need to prepare.
A strong BCP helps your business by:
Saving time and preventing chaos when it's most important
Minimizing losses of revenue, data, reputation, staff, and more
Ensuring that the business continues to run as smoothly as possible
Maintaining an edge over competitors
The few days of planning that a BCP usually takes is worth infinitely more than the value it wields during a crisis. If you run into a massive problem without a plan to fix it you won't be able to jump right to the solution. You would have to carefully plan out the best course which would waste valuable time, potentially damaging the business significantly.
This informational video from Citrix is a great explainer that details the benefits of strong business continuity planning.
Business Continuity Plan vs Disaster Recovery Plan
Business continuity plans and disaster recovery plans often get confused but they aren't the same thing.
While a business continuity plan is quite broad and is intended to keep the business functional in times of external or internal disruption, a disaster recovery plan is typically focused on the IT systems and is intended to minimize system failures and ensure restoration as early as possible.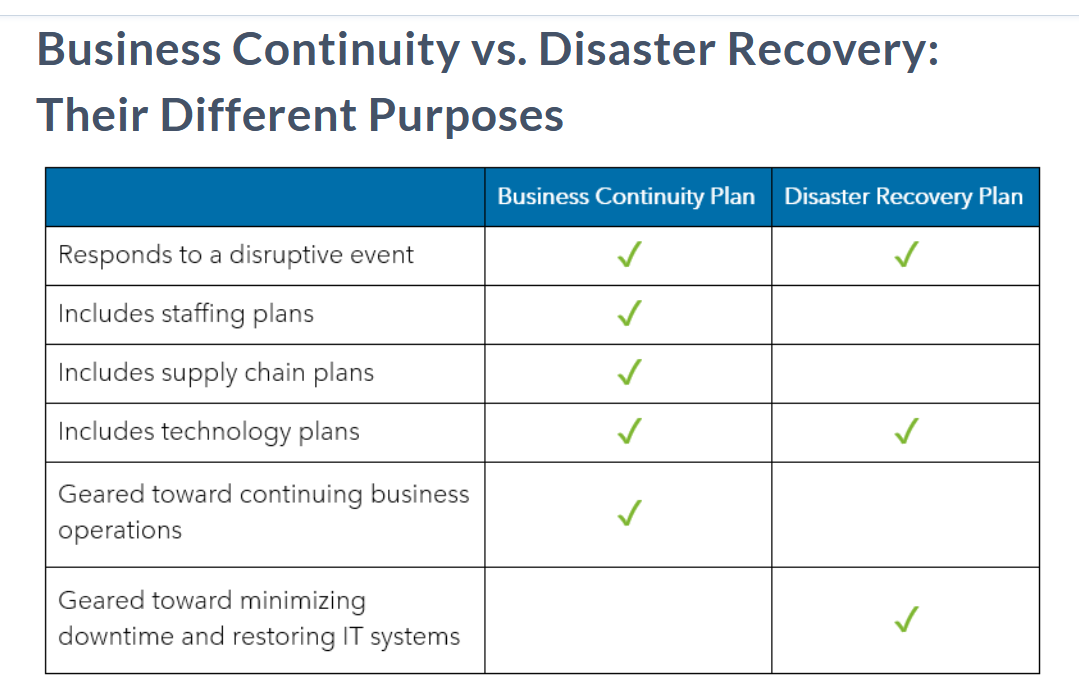 In some ways, a disaster recovery plan is a subset of a business continuity plan. If your organization has built an extensive BCP then it already has a proper disaster recovery plan in place. Businesses that only have disaster recovery plans should consider taking the time to design a full BCP to ensure that your business reduces as much potential damage from crises as possible across the entire company, not just in its IT and data departments.
The Bottom Line
Business continuity management is important for organizations of all sizes. It might be as basic as keeping a data backup and a plan to keep the supply chain flowing or as extensive as having a dedicated team and disaster recovery site to mitigate the impact of any major crisis. Having a proper continuity plan in place is a prudent risk management exercise and would help the business navigate any internal or external disruption.
A sound BCP could be the difference between staying on top of competitors and total bankruptcy by ensuring that essential functions can continue operating even in a crisis and mitigating damage. Furthermore, it is also essential to fully inform the relevant employees of the plan so that they can execute it flawlessly and efficiently.