In the fast-paced and ever-evolving world of ecommerce, keeping a finger on the pulse of Amazon trends is not just a luxury but a necessity, especially for Amazon sellers operating on or contemplating entering the Amazon marketplace.
Understanding Amazon trends is crucial for staying competitive, meeting consumer demands, maximizing ROI, and adapting to changing market dynamics. That's why the experts here at Business2Community have crafted this article to serve as your beacon through the maze of trends, helping you stay informed, inspired, and ahead of the game in the world of Amazon.
Key Amazon Trends
Amazon's revenue surged from $245 billion in 2019 to $434 billion in 2022.
In June 2022, Amazon accounted for 37.8% of the US ecommerce market share.
Amazon is the most trusted brand by US consumers.
Ecommerce platforms account for 59% of the preferred channels for Amazon sellers to advertise their products.
FBA shipping is typically 70% cheaper per unit than premium services from major US carriers.
What Are the 2023 Amazon Trends?
Watching Amazon trends means more than just tracking popular products; it's about recognizing emerging trends and finding or expanding into profitable niches.
This knowledge helps tailor your business strategy to what consumers want, boosting returns and building a dedicated customer base on Amazon. To put this into perspective Amazon's annual revenue soared from $245 billion in 2019 to $434 billion in 2022.
Moreover, data as of Q2 2023 demonstrated that 2023 was another big year for the ecommerce giant:
Net sales increased 11% to $134.4 billion in Q2 2023, compared with $121.2 billion in Q2 2022.
North American sales grew by 11% from Q2 2022 to Q2 2023, reaching $82.5 billion.
Amazon's international segment saw a 10% year-over-year sales increase, totaling $29.7 billion.
1. Social Media for Trust and Brand Loyalty
Amazon sellers should use social media marketing to connect with consumers on a more personal level. It's about building trust with customers, getting your brand out there, and creating a loyal following.
Moreover, sellers should connect with their audience on the social media platforms their customers use. This approach helps customers see the brand as more than just a corporate entity; it becomes a brand that shares their values, humor, and interests.
Amazon's status as the most trusted brand by US consumers offers a significant advantage for sellers to market their products on social media.
In a 2022 Clarify Capital survey of 1,000 Americans, Amazon emerged as the most trusted brand for 56% of respondents. Furthermore, it was the only brand across six industries surveyed that secured the trust of over 50% of the respondents.
Sellers can leverage this trust by highlighting their Amazon affiliation on social media to boost credibility, attract customers, improve product reviews, and gain a competitive edge in ecommerce.
Optimizing Amazon Promotions for Seller Deals
Amazon uses its vast Facebook audience to share information about promotions and top-selling items. For instance, in October 2023, Amazon launched multiple "Big Deal Days" video campaigns to highlight Prime Day – the company's most substantial promotional event of the year.
Businesses can maximize their opportunities by aligning their promotional efforts on social media with Amazon's significant events, such as "Big Deal Days".
This strategic alignment allows an Amazon Seller to leverage the increased traffic and attention these Amazon-wide events generate. Additionally, it is a prime opportunity to boost sales, attract new customers, and enhance a brand's presence on the platform.
As a result, by sharing product ideas and lists on its diverse social networks, Amazon achieves higher sales figures than any other online retailer. In June 2022, Amazon accounted for 37.8% of the US ecommerce market share, solidifying its position as the leading online retailer in the country.
Leveraging Influencers
Around 12% of sellers have enlisted influencers to endorse their products on social media
Influencers and affiliates can help sellers reach a larger audience by creating personalized pages and making recommendations. This increased visibility leads to more traffic and sales, ultimately growing the seller's revenue and customer base. Additionally, having influencers endorse their products builds credibility and trust with potential customers.
Boost Sales Through Social Proof
Customer feedback and reviews have been a constant cornerstone of Amazon's marketing strategy. Perhaps this can be attributed to the fact that as of October 2023, 99.75% of online shoppers check reviews, with 91% doing so routinely.
Moreover, 77% actively sought out websites with ratings and reviews, and Amazon stood as the top choice for product evaluations, trusted by 94% of consumers.
Amazon businesses can boost their credibility and attract more customers by proactively encouraging reviews from satisfied buyers.
For example, sellers can utilize Amazon's "Request A Review" button to drive reviews from their customers. According to Jungle Scout, after the release of the "Request a Review" button on March 8, 2020, 94.7% of sellers experienced a significant boost in reviews, with an average increase of 25.9 per order. Prior to this feature, sellers typically received around 3.6 reviews per order.
For Amazon resellers, positive reviews can significantly boost the credibility and visibility of their products. According to SEO experts, reviews are taken into account by Amazon's algorithm when determining the ranking of products in search results. That means high-rated products tend to appear higher in search results, making them more likely to be seen by potential customers.
Top Social Media Traffic Sources
In April 2023, YouTube was the top social media traffic source for Amazon, with 58.1% of referrals.
However, on the social media subscribers front, Amazon's Facebook Business Page has the most followers, with 30 million likes and 29 million followers as of October 2023.
| | |
| --- | --- |
| Platform | Followers/Subscribers |
| Facebook | 29 million |
| Twitter | 5.4 million |
| Instagram | 4 million |
| Pinterest | 1.2 million |
| TikTok | 869,300 |
| YouTube | 537,000 |
YouTube's gargantuan userbase makes it a vital tool for marketers and Amazon sellers alike. YouTube affiliate marketing can be much more authentic, personal, and specific than on other social media platforms.
2. Marketing with Amazon Badges
For Amazon sellers, understanding the significance of Amazon's product badges and their influence on consumer behavior can offer valuable insights into optimizing product listings.
By securing these badges, sellers can enhance their products' appeal and credibility to a broad range of consumers, as these badges are particularly influential and attractive to shoppers.
In fact, 43% of consumers are influenced by the Prime badge. This data highlights the importance of striving to achieve or maintain badges such as Amazon Prime or badges indicating savings and discounts.
3. Sustainable Operations
Growing environmental awareness drives consumer demand for sustainable products, shaping Amazon's marketing. This trend emphasizes eco-friendly practices, sustainable offerings, and corporate responsibility in branding.
Almost 400 companies endorse Amazon's Climate Pledge, urging businesses to reduce their environmental impact. The Climate Pledge Friendly program offers customers over 550,000 sustainable products.
Since 2015, Amazon has prevented over 2 million tons of packaging material from being used.
Business owners can benefit by offering eco-friendly products, packaging, and practices, which can lead to increased customer trust, sales, and competitiveness on the platform.
For example, Motrin proudly displays its Climate Pledge Friendly badge on its Ibuprofen product listing, signifying its trusted sustainability certification by Amazon.
4. Amazon Advertising Trends
Approximately 24% of sellers share advertising content on their own or branded social media accounts. As of 2023, Facebook was the top trending social platform for Amazon seller advertising products, with 67% of sellers setting up Facebook ads to sell products.
In 2023, a higher percentage of sellers on Amazon opted for advertising on ecommerce platforms compared to social media. About 41 % of sellers utilized social media for paid ads and organic content. Notably, Facebook emerged as the leading social platform for Amazon seller advertising, with 67% of sellers employing Facebook ads to promote their products.
Conversely, ecommerce platforms take the lead as the preferred advertising channels for sellers, accounting for 59% of the top choices among Amazon sellers for promoting their products. 75% of sellers choose to use Amazon PPC ads for their sponsored products, making it the most popular ad type for promoting products on ecommerce platforms.

69% of Amazon sellers allocate a monthly advertising budget of up to $2,500 Nearly 50% of sellers effectively operate their businesses with a monthly advertising expenditure of less than $500, covering Amazon PPC, search engines, social media, and traditional advertising channels.
5. The Power of Calls-to-Action
The choice of call-to-action phrases in advertisements can be a driving force behind trending products on Amazon. According to Statista, in a US analysis of 10,000 online ads directed to Amazon.com:
"Find deals" appeared in nearly 3,900 ad descriptions.
"Free shipping" was used almost 3,000 times.
6. International Shipping & Fast Delivery
As of October 2023, Amazon ships products to over 70 countries internationally. Amazon's international shipping signifies a global audience trend. This highlights the opportunity to reach a diverse worldwide customer base, underscoring the need for businesses to adapt to international preferences and demands.
In Canada and the US, Amazon employs a blend of tactics to offer same-day delivery. The key drivers behind same-day/one-day deliveries are the presence of large Amazon fulfillment centers and strategically centralized locations connecting North America.
Amazon provides same-day delivery in over 90 US metro areas. Same-day delivery is available every day of the week in these areas except Thanksgiving Day, Christmas Day, and New Year's Day.
In October 2023, Amazon achieved its fastest Prime speeds ever, emphasizing the significance of fast delivery as a notable trend for Amazon's target audience.
During Prime Big Deal Days on October 10 and 11, Amazon Prime members enjoyed swift deliveries. On the first day, US Prime members bought more than 25 million items, with some arriving within just four hours. Notably, the fastest delivery in the US was ordered at 7:20 AM ET and delivered by 8:14 AM ET.
7. Maximizing Efficiency with FBA
Fulfillment by Amazon, often referred to as FBA, is the preferred choice for the majority of sellers, with a significant 86% of them opting for this fulfillment method. It's just too hard to compete with Amazon's massive logistics network.
Some sellers, however, prefer managing fulfillment independently or opt for a combination of both FBA and FBM methods.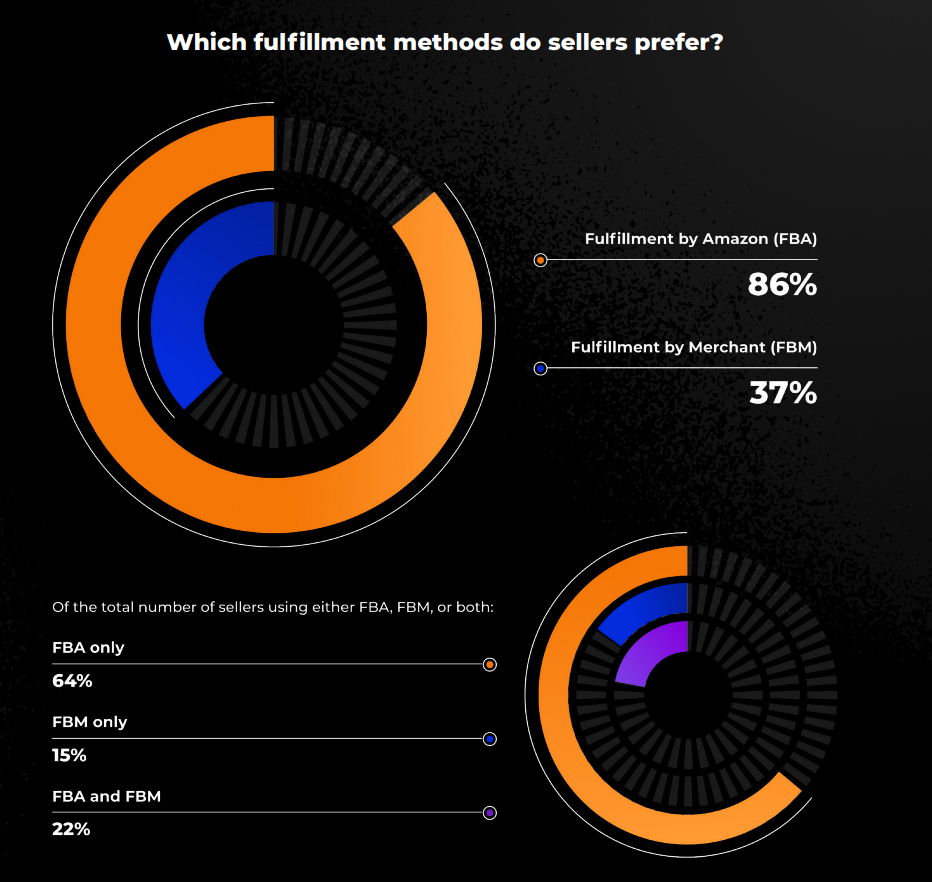 According to Amazon's 2021 SMB Report, adopting FBA typically resulted in a 20-25% increase in sales. On top of that, new customers gained access to Amazon's comprehensive customer service network, offering support through phone, chat, and email in 15 languages.
Amazon's FBA program takes care of storage, packaging, and shipping so business owners don't have to. Fulfillment by Amazon (FBA) is a significant trend because it addresses:
Evolving customer expectations
Boosts marketplace competitiveness
Supports global expansion
Enhances storage and inventory management
Embraces sustainable practices
Leverages Amazon's logistics network
Offers speedy delivery options
Incorporates innovation and technology
Shipping through Fulfillment by Amazon (FBA) is, on average, 70% less expensive per unit than premium alternatives provided by major US carriers that are on par with FBA. Additionally, it costs 30% less per unit, on average, compared to their standard shipping choices.
FBA Case Study
In a 2022 case study, Amazon showcased how Asha Kangralkar's Avacraft leveraged FBA for remarkable growth. By entrusting order fulfillment and customer service to Amazon, Kangralkar streamlined operations, leading to a 200% annual growth over seven years, tapping into a global market of 200 million Prime members.
8. Product Search Amazon Trends
Amazon is the most common place to start a product search. In fact, 93.5% of consumers use Amazon for shopping purposes at least monthly.
In the process of product research, sellers should keep an eye out for these essential characteristics:
High demand and low competition

Categories with minimal restrictions or requirements

Durable products suitable for international shipping

Products that can be affordably manufactured and sourced from suppliers
Amazon businesses can be inspired by various methods to generate product ideas such as:
Considering your passions and interests.
Identifying problems you can solve for people.
Staying aware of current trends and demand.
Exploring opportunities to enhance existing products.
Additionally, sellers have access to a range of tools that can assist with product search, specifically:
Explore the Best Sellers list for trending products.
Check the Best Seller Rating (BSR) to see what customers love.
Monitor the Movers and Shakers list for breakthrough trends.
Keep an eye on the Hot New Releases list for rising products.
Utilize Product Opportunity Explorer to track sales and competition.
Ideally, you should always be watching these trends, tools, and metrics so that you can stay ahead of your competitors.
9. Product Supply & Cost Trends
In 2023, approximately 71% of Amazon sellers in the US continued to source their products from China. However, with growing manufacturing capacities in other nations and shifts in international shipping costs, some sellers are beginning to diversify their sourcing strategies.
For example, the US has experienced a year-over-year increase in sourcing products, rising from 26% in 2022 to 33% in 2023. This showcases a growing trend among Amazon sellers to explore alternative sourcing options.
More than half of sellers on Amazon offer 10 or fewer products, while only 4% handle more than 1,000 products.
Therefore, it may be beneficial for SMBs to start with a focused range of products that align with their expertise and target audience. Expanding the product line can be a long-term goal once a solid foundation has been established.
73% of sellers sell their products priced between $10.00 – $50.00. When determining product prices, sellers need to consider production, shipping, and marketing. Moreover, it's important to examine consumer demand and competitor pricing.
A common approach to setting the cost of products is applying the "rule of thirds" between:
Product costs
Amazon fees
Revenue
10. Amazon Best Sellers
Amazon secured the top position for value and selection in the 2022 American Customer Satisfaction Index (ACSI). This top ranking by the ACSI further solidifies Amazon's appeal to customers, potentially boosting sales for best sellers.
The Amazon Best Sellers list gathers up the top-selling items on Amazon based on how often people are buying them. It's a real-time snapshot of what's popular right now!
Amazon sellers are encouraged to search for a product's Best Seller Rank (BSR) as an indicator of its demand. This can be done by manually researching across different departments through the Amazon search bar, which provides results from the first page.
A useful approach is to examine the Product Information section in the product listing, where the BSR can be found. Certain products may have multiple BSRs if they are listed in various categories.

11. Amazon's Global Influence
In September 2023, Amazon.com had approximately 2.3 billion monthly visitors in the US alone, according to Similarweb.
The high visitor volume indicates trust in Amazon as a reliable shopping source, reflected in its massive user base, demonstrating global confidence in Amazon's offerings.
Every minute, customers purchase 7,400 Amazon products from US sellers, underscoring the immense scale of the platform.
As the largest and most established global marketplace for Amazon, the US holds a pivotal role in the company's operations. In fact, 45% of Amazon sellers in the US also extend their presence into at least one other international marketplace. This showcases the expansive reach and opportunities available to existing and potential sellers on Amazon.
Since 2002, Amazon has expanded to 19 other countries, with Belgium being the newest addition in late 2022. Anticipated 2023 additions include marketplaces in:
Colombia
Nigeria
South Africa
12. Amazon Prime Members & Prime Day
There are over 200 million active Prime subscribers across 25 countries, with 167 million active Amazon Prime members in the US alone in 2023. Among the 61% of consumers who have Amazon Prime, 91% are inclined to renew their membership for another year.
In 2023 nearly 50% of US shoppers subscribed to Amazon Prime to take advantage of Prime sales. Approximately 7% of the surveyed Prime members identified Prime Day as the pivotal factor influencing their decision to subscribe to Amazon Prime.
Prime Day presents a revenue-boosting opportunity for business owners, given its substantial sales volume and access to Amazon's Prime member base.
The first day of Prime Day in 2023, which was on July 11, set a record as the biggest sales day in Amazon's history. Over the two-day event, Prime members purchased over 375 million items worldwide and saved more than $2.5 billion on Amazon deals.
If possible, you may want to get your products included in Prime Day sales to take advantage of these benefits.
13. Third-Party vs First-Party Sellers
Within this expansive Amazon ecosystem, the term "Amazon seller" encompasses various categories. This includes:
Third-party or "3P" sellers: small businesses and brands that generate over 50% of Amazon's annual ecommerce sales.
First-party" or "1P" sellers: who directly provide their products to Amazon as vendors.
Amazon itself completes the trio, embodying the diverse spectrum of sellers on its platform.
From approximately 2 million Amazon sellers, small and medium-sized businesses contribute to over 60% of the sales in the Amazon store.
In 2022, independent sellers in the US collectively sold over 4.1 billion products, averaging approximately 7,800 products sold every minute on Amazon.
Prime Day 2022 witnessed a significant contribution by customers to small and medium-sized businesses. They collectively spent $3 billion on over 100 million items as part of the "Support Small Businesses to Win Big" promotion held during the event.
14. Amazon Trends in Consumer Behavior
According to the findings from Power Reviews, shopping behaviors among Amazon customers differ significantly across various generations. For instance, older generations are more likely to start their online shopping journey on Amazon in comparison to other platforms:
36% of Gen Z start their shopping journey on Amazon
50% of Millennials do the same
52% of Gen X head to Amazon first
53% of Boomers start off their shopping choices there
However, when it comes to the monthly Amazon shopping usage, Gen Z and Millennials take the lead, with 96% of them shopping on Amazon at least once a month.
Amazon isn't just the preferred online retailer for consumers across different generations; it's also the top choice for consumers at various income levels.
This is because everyone enjoys the same access and customer experience, even though the product variety and pricing may differ.
15. Product Category Trends
Sellers operating under the third-party (3P) model typically concentrate on offering physical goods, particularly consumer staples that have consistent, year-round demand.
Home and kitchen products have consistently ranked as the top category chosen by 3P sellers year after year. In October 2023, the most popular products within this category predominantly featured bedding items, including bed sheets, pillows, and blankets.
Let's take a look at the chart depicting the top 5 Amazon product categories for small and medium-sized business (SMB) sellers, along with year-over-year changes in sales performance from 2022 to 2023.
| | | |
| --- | --- | --- |
| Product Category | 2023 | 2022 |
| Home and Kitchen | 35% | 32% |
| Beauty and Personal Care | 26% | 23% |
| Clothing, Shoes, and Jewelry | 20% | 18% |
| Toys and Games | 18% | 20% |
| Health, Household, and Babycare | 17% | 17% |
Based on the provided data, it's evident that product categories like home and kitchen, beauty and personal care, clothing, shoes, and jewelry have demonstrated year-over-year growth. This could mean that they are some of the best categories to dive into as they seem to attract steady attention from consumers.
Future of Amazon Trends
AI Integration
In September 2023, Amazon launched generative AI to help sellers write product descriptions.
With generative AI features, sellers can easily craft detailed, compelling product descriptions, titles, and listing details. This improves the process of listing new products and enhancing existing ones, boosting customer confidence in purchase decisions.
Additionally, as reported by Bloomberg, Amazon is considering adding ChatGPT-style product search to its website. This move signifies an attempt to compete with tech giants like Microsoft Corp. and Google in incorporating generative artificial intelligence into their search engines.
Amazon Trends in Groceries
In 2022, Amazon made about $29.5 billion from e-grocery sales. It's expected that this number will grow, reaching nearly $41.2 billion by 2024.
For Amazon sellers, this means there is a significant opportunity for growth and potential for increased sales in the e-grocery sector. As more consumers turn to online platforms for their grocery shopping, sellers on Amazon have the potential to tap into a larger market.
FAQs
How do I find Amazon sales trends?
What are the top trending things to sell on Amazon?
What sells well on Amazon?