Customer testimonials are one of the most valuable yet underutilized marketing assets that any business can leverage. Authentic endorsements from real customers and popular influencers provide compelling social proof that your products deliver results.
With our extensive expertise in marketing and utilizing customer testimonials at Business2Community, we want to help you harness the power of customer testimonials to turbocharge your marketing efforts.
In this article, we break down the concept of testimonials and why they are so important before diving straight into how to get and use them best. Finally, we will cover 9 diverse examples of great testimonials to help you get started.
What Is a Customer Testimonial?
A customer testimonial is a positive statement from a satisfied customer about their experience with a company's products or services. Testimonials are a powerful marketing tool because they provide authentic proof that a business delivers on its promises. Here are some key things to know about client testimonials and why they matter.
Purpose of Customer Testimonials
The main purpose of customer testimonials is to build trust and credibility for a business. People inherently trust other people more than companies selling their own products. According to a BrightLocal survey, 98% of consumers at least occasionally read online reviews before making a purchase at local businesses. Testimonials are like reviews but they come straight from the source. This provides social proof that a product or service delivers the expected results.
Testimonials build trust by showcasing real customers who have had positive experiences. This gives prospective customers the confidence to choose a company's products over those offered by its competitors. Essentially, testimonials act as endorsements from satisfied customers to help convince others that they should become customers too.
How to Get and Use Customer Testimonials – Step-by-Step Guide
Customer testimonials can be a powerful marketing tool, but not all testimonials are created equal. Companies should carefully curate their testimonials so they truly showcase the value of their product or service, rather than just posting any positive feedback they receive from customers. The most effective testimonials follow certain guidelines that make them compelling and persuasive.
1. What to Look for in a Great Testimonial
When crafted thoughtfully, testimonials become more than just promotional quotes. They tell a story that connects with customers on an emotional level and provides authentic social proof of your capabilities. Here are some key characteristics that the best customer testimonials share and that can help businesses turn visitors into buyers:
Provide Specific Details and Metrics
Great testimonials get into the specifics of how a customer benefited from your offering. Generic praise like "this company is the best" lacks impact. The most persuasive testimonials cite tangible details and metrics that prove that you delivered good results to existing customers.
For example, rather than just say you helped increase sales, state the exact percentage gain. Or give concrete examples like "their platform allowed us to launch 3 new products in just 2 months."
Numbers and facts reduce uncertainty in the minds of prospective customers so they can clearly see your value. This example from BetterCloud does a fantastic job of making its value clear with a stunning statistic without losing the vital authenticity needed for customers to trust testimonials.
Showcase Relatable Customer Stories
An effective testimonial tells a compelling story that buyers can relate to, not just a vague statement about how great you are. The customer should describe their situation before using your product, the issues and challenges they need to solve, and how your product or service specifically helped them achieve success.
When readers hear first-hand stories from existing customers similar to themselves, it helps them envision achieving the same results using your product. Vivid stories like the one below bring testimonials to life better than broad claims and are generally more successful at driving sales.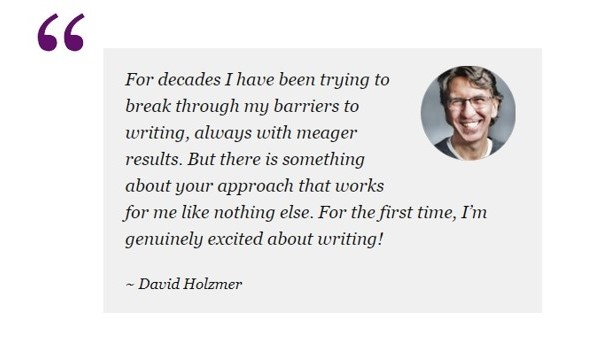 Diverse Client Representation
No two customers are exactly alike, so your testimonials should showcase a range of personas, industries, company sizes, roles, and use cases. This shows prospects that you can successfully serve clients like them.
Curate your testimonials by highlighting different customer segments. For example, this testimonial page shows positive testimonials from a CRO expert, an author, a founder, and a copywriter, showing that the service is powerful for many different kinds of professionals.
Providing a testimonial from all of the main kinds of people in your target audience ensures that every prospective client sees one that they can relate to.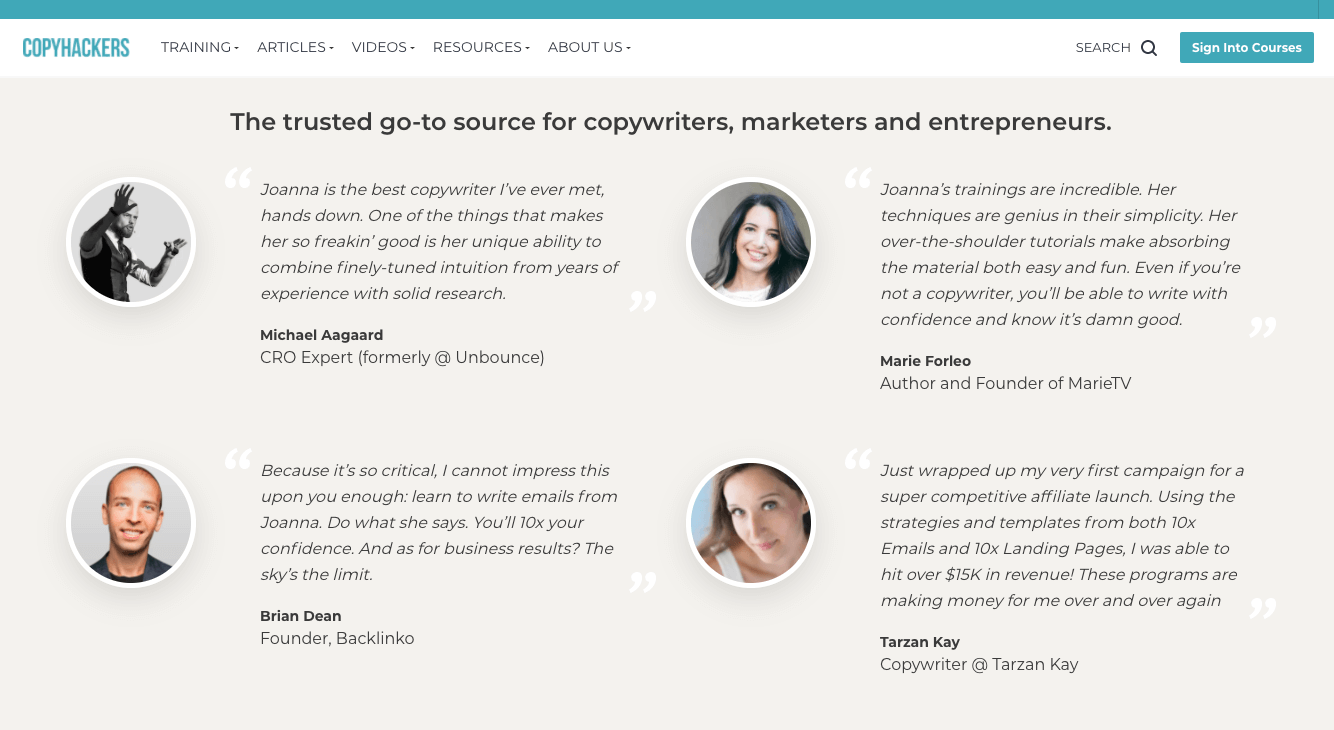 Use Authoritative Customer Sources but Don't Go Overboard
Testimonials from influential customers, big-name brands, or even just executives from small companies within your target audience carry more weight than unknown sources. Well-known companies and people vouching for you boost your credibility by association.
That said, you should balance major names with some lesser-known ones too so prospects don't get the impression that you only serve high-end clients out of reach for smaller businesses. You still have to keep the testimonials relatable for them to work effectively.
The example below from OptinMonster is a fantastic example. It combines positive testimonials from the founders of well-known companies in its target audience like Yoast with regular employees and entrepreneurs to show that all types of people in this field can extract value from its product or service.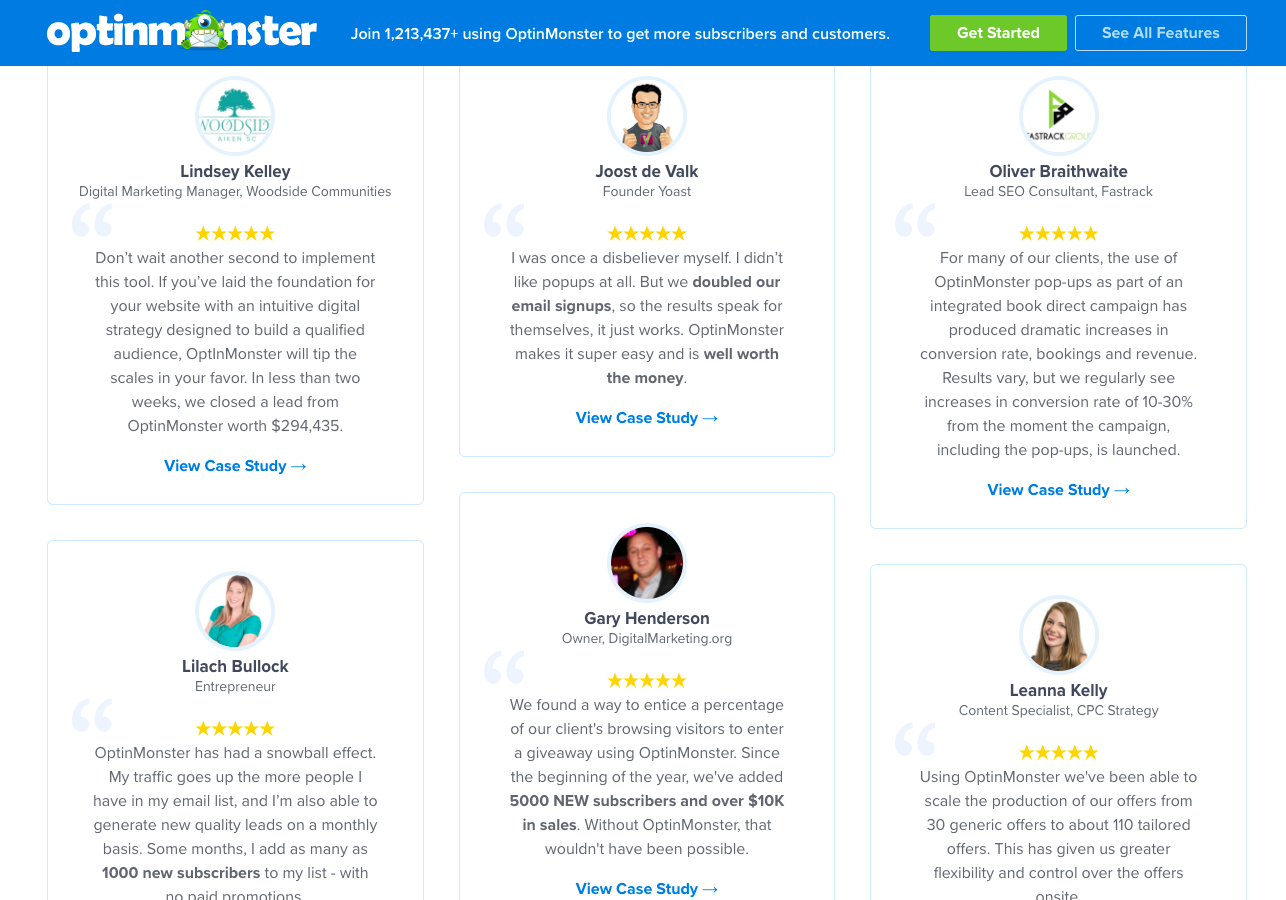 Keep an Authentic Tone and Voice
The language used in a testimonial impacts how believable it feels. Overly salesy statements and a lot of marketing jargon make testimonials sound inauthentic. The best testimonials use the genuine voices of real customers.
Let customers speak naturally in their own words without heavy copyediting. This creates organic and honest testimonials that build trust.
Simple Green Smoothies shows how to use authentic testimonials by asking customers for their real thoughts about their product, even including that one customer was hesitant that she would like it. Chances are, other customers are thinking the same or similar things and will relate more to authentic statements like these.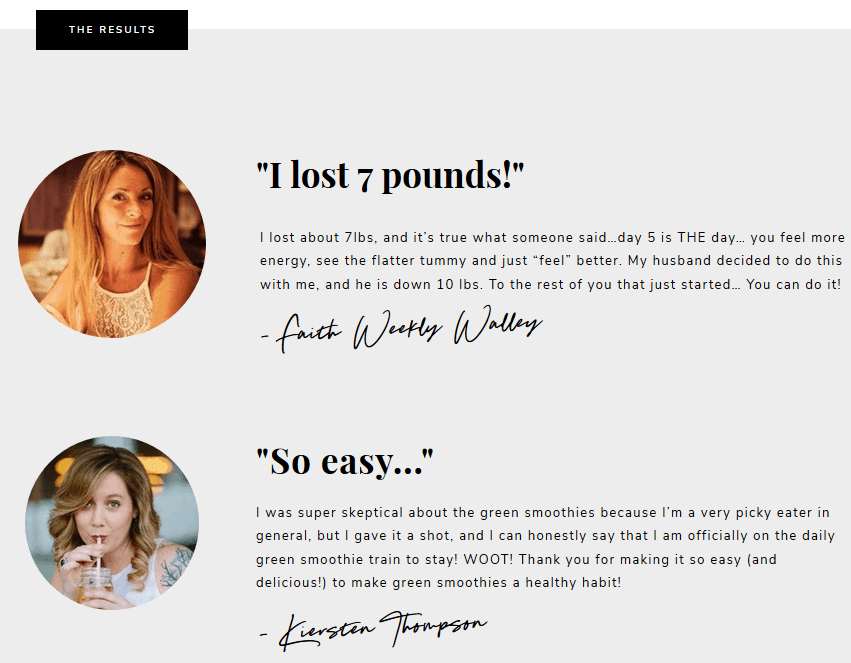 Maintain a Concise and Scannable Format
Online readers glance over content before deciding what to focus on. Giant blocks of text often get ignored. Craft scannable testimonials with the most compelling information upfront.
Summarize customer success stories with just a few sentences and pull powerful quotes that can stand alone. A few sentences are often needed to get your value across but make sure that they don't become walls of text too daunting for prospective customers to read. Make sure that they are easy to digest at a glance.
Use Strong Testimonials to Build Social Proof Across Multiple Channels
Repurpose great testimonials widely across channels to maximize their reach and impact. Post quotes on your website and ads. Share video testimonials on YouTube. Publish customer interview articles on your blog.
The more touchpoints where prospects see authentic endorsements, the more confident they will become.
Find a Strategic Placement on Your Website
Where and how you display testimonials influences their effectiveness. Most experts agree that it's best to place them near high-value pages like your homepage, pricing, product descriptions, or signup flows so that customers see them.
Many sites use eye-catching design elements to highlight testimonials so visitors notice them even more. Rotating widgets, pop-ups, or scroll-based displays can better expose readers to more social proof over time.
High-Quality Photos or Videos
Pairing testimonials with images of real customers along with their job titles adds legitimacy and relatability. When prospective customers can see whose opinions and experiences they are reading they are more likely to relate to them and trust the testimonial.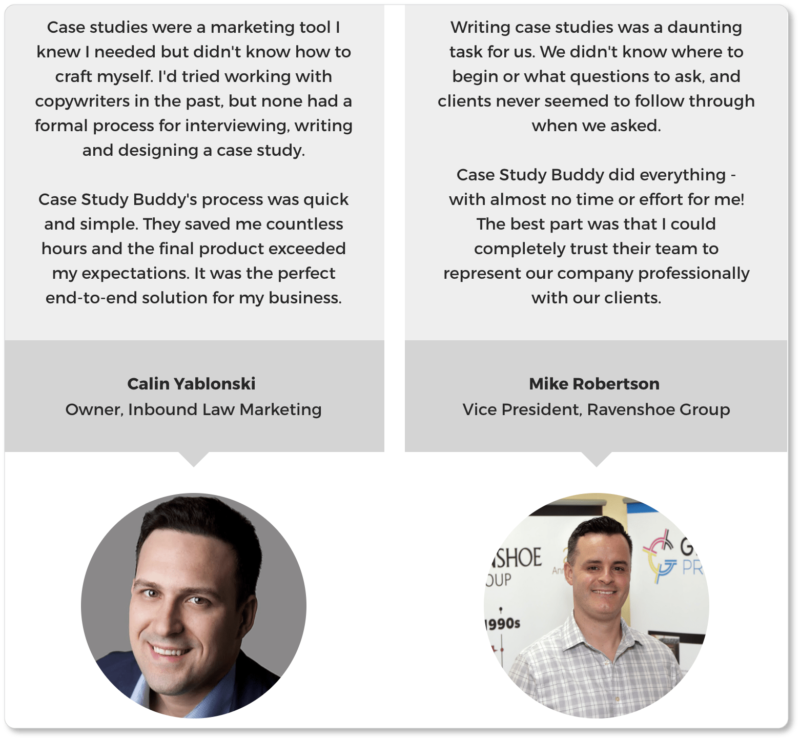 Testimonial videos can do this even better by capturing emotions and body language that text alone can't convey. Codeacademy's series called Learner Stories is a masterclass in relatable testimonial videos.
Each one follows a Codeacademy user's story of success and they focus almost entirely on making the story relatable, inspiring, and intriguing for their target audience. Codeacademy isn't even mentioned until over 2 minutes in the video but its focus on the relatable, inspiring story from a happy customer instead of their own brand made the video go viral and bring in 11 million views.
It's important to note that it did still reinforce the value of its platform. It just wasn't the entire focus. It certainly inspired viewers to start their own journey to learn code and they likely went to Codeacademy first.
2. How to Get Positive Customer Testimonials
Are you convinced that you need to display customer testimonials but are having a hard time getting great ones? Here, we share a step-by-step guide on how you can create a systematic approach to obtain as many as possible to showcase on your website.
Step 1 – Identify Your Happiest Customers
The first step is to make a list of your happiest, most satisfied customers. These are the ones that will most likely provide glowing testimonials about their experience with your product or service.
Look at metrics like renewal rates, repeat purchases, referrals generated, and any direct positive feedback received to determine your most enthusiastic supporters. Long-time loyal customers also make great candidates.
Segment your customers and look for common traits among your biggest fans. This will help you identify similar profiles to target for testimonials as you grow.
Prioritize those customers for your outreach efforts in step 2. The goal is to get testimonials from your true advocates.
Step 2 – Reach Out Directly to Request Testimonials
There are several options for reaching out to request testimonials:
Send an email (or text message) to your list of target customers. Make it personal and explain why their feedback is valuable. Include instructions for submitting testimonials.
Call customers personally to explain that you are building your testimonials page and their insights would be invaluable. Offer to send questions by email to make it a hassle-free procedure for them.
If you meet customers in person, bring it up during regular conversations. Gauge interest levels and follow up accordingly.
Customers who are active on social media are great options. Comment on their posts thanking them for their support and politely ask for a testimonial.

Example template for testimonial request email
Time your outreach appropriately. The most opportune moments are right after a positive interaction or once the product or service's initial milestones/goals have been achieved.
Step 3 – Provide Clear Instructions
Give clear instructions on how you would like the customer testimonial to be submitted. Offer various options:
A written paragraph(s) summarizing their experience.
Responses to a list of carefully crafted questions.
A couple of brief sentences for a quote-styled testimonial.
A video recorded with their smartphone.
In-person/video interview.
Let them know what the ideal length is and any guidelines regarding the information that they should include. You may also provide examples of great testimonials you have received.
Make the process very simple and flexible to get maximum participation. Include submission details like email addresses or web forms that they have to use.
Step 4 – Follow Up with Non-Responders
If you don't receive a response after 7-10 days, follow up. Send a personalized email reminding them of your request.
Call unresponsive customers and reiterate that you value their feedback. Ask if they need any help providing a testimonial.
Politely follow up 2-3 times total over a few weeks but don't push it and risk losing a loyal customer. Move on if you continue to get no response.
Step 5 – Provide Questions and Guidance
If customers seem unsure about what to say, provide thought-starter questions:
What made you choose our product?
How has our product helped solve a problem for you?
What do you like most about our product?
How has our product improved your day-to-day work?
Would you recommend our product to colleagues and friends?
Guide them to focus their testimonial on outcomes, results, and how your product positively impacted them. Provide tips for crafting compelling testimonials.
Step 6 – Offer an Incentive (Optional)
Offering a small incentive can increase testimonial submission rates. First, make sure that you know the applicable laws in your country. For example, paid testimonials must be labeled as such and they must be true in the US according to the FTC.
Options include:
A discount on future purchases.
Gift cards.
Free entry into a giveaway contest.
Drawing for donated prizes.
Branded merchandise – t-shirts, mugs, etc.
Charitable donation in their name.
Make sure incentives don't undermine authenticity. It is often a good idea to disclose if testimonials were incentivized when publishing, even if it isn't explicitly required in your country.
Step 7 – Give Recognition and Thanks
When you receive a testimonial, send a thank you email or hand-written note. Show your appreciation for their time and endorsement.
Feature select testimonials in your newsletter or blog. Repost great testimonials on social media and tag the customer's account when possible. Recognition encourages future referrals.
Step 8 – Obtain Approval and Consent
Before posting any testimonials publicly, get approval from the customer. Make sure they are comfortable with how the testimonial is presented and shared.
Request their consent to use their name, likeness, company name, location, etc. Explain all the ways the testimonial may be used in your marketing.
Offer the option to post anonymously or with certain details omitted if privacy is a concern.
Step 9 – Format Testimonials for Maximum Impact
Placing testimonials strategically on your site and formatting them effectively is key.
Include photos/headshots of the customer for extra relatability and credibility.
List their name, title, company, and location. Feature logos for enterprise customers.
Pull compelling soundbites from longer testimonials to highlight as quotes.
Categorize by customer type, product, or benefit described.
Rotate testimonials periodically to keep content fresh.
Step 10 – Leverage Testimonials Across Marketing Channels
Repurpose positive testimonials as social proof across all your marketing:
Website – Testimonials page, landing pages, blog posts, etc.
Email Marketing – Quotes in campaigns, dedicated testimonial emails.
Advertising – Facebook/Instagram ads, Google display network, Taboola, etc.
Sales collateral – Proposals, presentations, and sales emails.
Social media – Share great linked testimonials on your Instagram or Facebook page.
PR – Create a press release showcasing some case studies and customer stories.
A compelling customer testimonial can boost the effectiveness of your marketing campaigns across all channels so leverage them extensively.
By following a structured process, you can continually generate powerful customer testimonials as the backbone of an effective word-of-mouth marketing strategy.
Why Companies Should Use Testimonials
There are several reasons why testimonials are effective. Let's dive into a list of the reasons why companies should consider making them part of their marketing strategy. Strategic customer testimonials:
Increase sales and conversion rates: At the end of the day, the goal of testimonials is to boost sales, user growth, and conversions.
Strengthen trust and brand reputation: A positive customer testimonial reinforces a brand's reputation and image, building trust.
Provide social proof: They show prospective customers the value of your product or service. This is extremely important for driving sales and conversions because a whopping 88% of consumers trust online reviews as much as personal recommendations according to BigCommerce.
Promote specific products/services: They highlight how specific offerings have benefited your existing customers. This gives prospects confidence in those products.
Reach potential customers: Testimonials help target new audiences by showcasing a diverse set of customer personas and use cases.
Support claims: Customer stories and quotes back up marketing claims with real-world examples. This adds authenticity to company messaging.
Assist with SEO: A strategic testimonial page could help improve your rankings in search engines.
Kevin Harrington, an incredibly successful businessman who starred in the hit investor show Shark Tank, says that a great customer testimonial is one of the most powerful things he uses to sell products.
How to Craft Effective Testimonial Pages
To maximize impact, follow these best practices when creating your customer testimonial page:
Curate diverse examples: Collect customer testimonials from a range of customer demographics and industries to appeal to different buyers.
Be specific: Choose client testimonials that highlight specific use cases, challenges overcome, and measurable results achieved.
Keep it relatable: Feature customers your target audience can identify with. This helps build a personal connection.
Showcase authority: More influential customers like executives carry extra credibility. But make sure their role is relevant.
Add visuals: Pair client testimonials with photos/videos of the customer to put a face to the story.
Update regularly: Refresh testimonials to keep them current and reflect new products or achievements.
9 Powerful Examples of Using Customer Testimonials to Replicate
There are multiple types of client testimonials that companies can use to strengthen the credibility of their product, service, or business model. In this section, we share a list of nine different examples of client testimonials in case you need ideas for what to showcase in that section of your website.
1. Quote Testimonials
Quote testimonials are short text snippets that provide a positive customer statement about their experience with your product or service. These are likely the most common types of testimonials used by businesses.
The main benefit of quote testimonials is that they are simple, effective, and easy to ask for. A good quote concisely captures the essence of how you helped a customer or why they loved your product in a relatable way. Quotes like the example from Circle below add credibility through the customer's own voice.
To obtain quote testimonials, simply ask satisfied customers to provide a 1-2 sentence testimonial summarizing their positive experience. You can then feature these quotes on your website, ads, and other marketing materials with the customer's name (upon asking for his/her consent) and image to boost the testimonial's perceived authenticity. Rotate them periodically.
2. Social Media Testimonials
Social media testimonials refer to positive reviews or recommendations that customers post on social platforms like Facebook, Twitter, Instagram, and others. These are organic, often unsolicited testimonials that lend great credibility as prospective customers can easily verify that they came from real customers.
They require little effort to obtain as customers post them on their own initiative if they love your product/service.
These testimonials can be leveraged across different platforms like your website, emails, ads, and other types of marketing channels to build trust. For example, a rotating block of positive Tweets can be shown as a quote testimonial on your website like the example from Casper below.
To get these testimonials, proactively monitor brand mentions and hashtags related to your business on social media. Engage with happy customers and respond to positive reviews. If you see a detailed positive review, politely ask the customer if you can reuse it on your website or in promotions.
3. Influencer Testimonials
Influencer testimonials are recommendations from industry experts, bloggers, celebrities, or thought leaders with an active following within your niche. A testimonial from an influencer respected by your target audience can lend tremendous credibility.
Many companies have built their entire business model around influencer testimonials and advertising. For example, Fashion Nova has taken over Instagram by paying many of the most famous and popular beauty-related celebrities to make testimonial ads wearing their clothes.
The main benefit is that influencers are perceived as impartial (even though they rarely are), so their endorsement carries more weight than your own claims. Their opinion shapes the purchasing decisions of their followers. An influencer amplifies your message to their existing audience.
To get influencer testimonials, identify influencers in your industry who appeal to your target customers. Reach out to them to try your product/service for free in exchange for an honest review. You can also pay influencers for sponsored posts that clearly disclose the partnership. Make sure to choose influencers whose values and content are aligned with those of your brand.
4. Video Testimonials
Video testimonials are customer reviews in video format where happy customers talk about their positive experiences and endorse your product or service. This type of content conveys authenticity and builds trust through social proof.
The main benefits of video testimonials are that they humanize your brand, showcase real emotions, build a personal connection with viewers, and are much more engaging than text. Videos also convey body language, facial expressions, and tone.
To implement them, interview satisfied customers on video or ask them to film self-shot videos. Get consent to use these videos on your website, ads, and social media. You can also repurpose powerful quotes from the videos into other formats. Keep them authentic and genuine. Avoid scripting them word-for-word.
5. Case Study Testimonials
Case study testimonials are in-depth descriptions of how a customer achieved success or solved a problem by using your product/service. These are more detailed than simple quotes or reviews.
The benefits are that they provide potent social proof through real-world examples. They enable you to tell a compelling story that prospects can relate to. Case studies also establish thought leadership by highlighting your business knowledge. They are versatile – you can publish them as blog posts, videos, interviews, etc.
To obtain case study testimonials, identify customers who obtained tangible results or had an amazing experience with your product/service. Interview them about their full journey. Get their consent to use the interview as a published case study. It is often possible to repurpose excerpts from the case study as quote testimonials.
6. Audio Testimonials
Audio testimonials capture customer endorsements in an audio recording format. The customer describes their positive experiences with your business in their own voice.
The benefits of audio testimonials include conveying emotion through vocal inflection, personality through the customer's voice, and authenticity. They also provide an alternative for customers who might be unwilling to shoot a video. Audio testimonials can be shared via podcasts, radio ads, websites, and more.
To implement audio testimonials, interview happy customers or ask them to record a self-guided review. Get their consent to reuse the audio on your social media platforms, website, and marketing materials. Extract powerful quotes to complement the full audio and repurpose them accordingly.
7. Peer Review Testimonials
Peer review testimonials come from third-party review sites like Yelp, Trustpilot, Google, Facebook, etc. where customers voluntarily leave reviews of businesses.
Peer reviews provide unbiased social proof as they come from independent platforms. Prospects find them more credible as they are organic reviews not curated by you. You can convert top reviews into visual testimonials.
Monitor your business listings on peer-review sites. Respond professionally to all reviews if possible. Ask happy reviewers if you can reuse their exact words as a testimonial. You can also feature 4 or 5-star reviews on your website.
8. Image Testimonials
Image testimonials feature pictures of satisfied customers with your product, along with a testimonial quote and attribution.
Visual formats tend to perform very well compared to simple text. Images showing real customers interacting with your product help buyers envision themselves using it. They provide visual proof and reinforce text testimonials. Stores that sell beauty and personal care products like to use this type of testimonial for before/after graphics.
Source high-quality photos from consenting customers. Have them hold/interact with your product and pair the image with a quote testimonial. For ecommerce sites, ask happy customers to share photos of your product in use.
9. Affiliate Blog Post Testimonials
Affiliate blog content comes from customers who write about your brand on their blog or website. This lends authenticity as they share their views independently.
Benefits include brand exposure to the blogger's audience and search engines. Affiliate content is seen as more trustworthy as you don't control what they publish. The blogger may also embed a link to your website or product page.
To get blog testimonials, identify people who own or run blogs and websites in your niche. Reach out to see if they would be interested in reviewing your product on their own site. You can offer free products in exchange in exchange for an honest review.
The Bottom Line
In today's digital world, prospects demand authentic validation before making purchase decisions. Customer testimonials provide critical social proof in customers' own words. As shared through the 9 examples in this article, there are various options for successfully incorporating testimonials into your marketing materials.
From crafting persuasive testimonial content to repurposing it across channels, you now have actionable tips to build an impactful testimonials strategy. Converting happy customers into brand advocates through testimonial establishes trust in your business and products. Ultimately, this drives higher conversion rates and faster growth. By following the best practices showcased in this article, your customer testimonials can become one of your most prized marketing assets.