The year is 2010. A new visual media application called Instagram (a name aptly combining "instant camera" and "telegram") takes the App Store by storm with its focus on mobile photography, beautiful filters, and building a community of dedicated users.
Fast forward seven years, and Instagram has become a social media titan with over 600 million users. It's the definitive platform for visual media sharing, combining photo, video, and live-streaming in a single place.
It's also become a place for businesses to take their content marketing efforts to the next level, share gorgeous photos and videos of their products with potential customers, and connect on a deeper level with their fans and followers.
As Instagram continues to grow, it's important for marketers to stay up-to-date on the latest in Instagram marketing. That's why I've put together 23 Creative Ways Marketers Can Use Instagram!
Let's get into it.
1. Promotional Posts
---
This is the most straightforward (and most common) method of marketing on Instagram. A product promotion post is an easy way to inform your followers about the latest and greatest products from your business.
Post a high-quality, well-edited image that highlights one of your products. Make sure everything about it is appealing – don't just take a photo of one of your (for example) candles in front of your cash register.
Find the ideal background, angle, and lighting to make sure your product pops. Showing it in a "genuine" setting – for example, highlighting a candle next to a person reading a book – helps to create an atmosphere that shows followers what your product and brand are all about.
Your caption can vary based on your brand voice. You may want a simple product-focused caption ("Try our new Lavender Vanilla candle"), or it may be more benefit or customer-focused ("There's nothing like curling up with a good book and our Lavender Vanilla candle").
2. Establish a Visual Brand Identity
---
Though this isn't a direct marketing strategy, it's a long-term tactic that helps your business establish its presence and visual identity on Instagram and on other platforms. It's a little hard to explain, so check out the feed from Adidas' Y3 line for an example of a business that's got their visual branding down pat:
As you can see, their feed is cohesive – it's not just a bunch of random photos that don't fit well together. When I see one of these photos on my Instagram feed, I know exactly who it's from without having to look at the profile name above it. Doing this not only helps to strengthen your brand to followers, but helps first-time profile viewers get a feel for what your business is like.
To do this, try to create a set of "rules" for your Instagram profile. Determine the types of media you will post (Product-focused? Brand-focused?), and what these posts will feature (Product shots? Videos? Boomerang posts?). Create an outline for your editing strategy. This includes the apps or tools you'll use (try Snapseed, VSCO, or Photoshop) and the way you edit your photos (color temperature, color palettes, aspect ratio, etc.). One easy way to maintain visual consistency is to use the same filter for all of your photos.
A good way to monitor the visual strength of your profile is to look at your feed as a whole – does it look cohesive? Make sure your images work well together, and you'll convey a unified brand image to people who view your profile.
3. Discounts and Promotions
---
Instagram is a tough platform to monetize, especially if you're relying on organic reach to drive traffic to revenue-generating channels. One great way to go about it, though, is to use Instagram as a place to host promotions or sales.
There's a few ways to do this. First is a simple photo post with a caption highlighting a discount or coupon code. This is good because it allows you to maintain visual consistency – but it also won't be great at grabbing viewer's attention, because it might look like just another product post.
Something else you can do is add some text (not too much!) to an image or video post, highlighting the value of your discount ("30% off your next purchase"). This is eye-catching and immediately informs followers what they can expect from your discount.
You can also promote your discount on your Instagram Story, so it's less "permanent" – also, flash sales might be more engaging and cause followers to act more quickly.
4. Instagram Ads
---
You knew it was coming! Though (luckily) Instagram isn't as aggressive at filtering out business from users' Instagram feeds, it's tough to guarantee an audience on a platform where thousands of photos and videos are posted by the second.
If you're looking to pour time and effort into using Instagram as a primary social media marketing channel, the best investment you can make is into your advertising budget. Spend time on creating enticing ads to promote your products or services – invest in professional photography and concise, engaging copy.
Remember that Instagram Ads are advantageous because you can link directly to other places, right from the ad. Use this to link to a product page or landing page made for Instagram traffic to make the most of the visitors you drive from the platform.
5. How-To Videos
---
Though this was tough to do before the video changes, the advent of 60-second video has broadened the realm of possibility when it comes to using video strategically for Instagram marketing.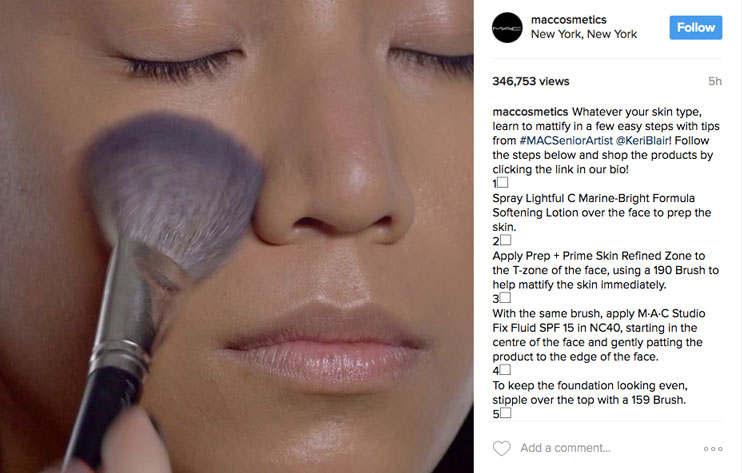 Posting a video highlighting different ways or situations in which to use your product is an engaging way of showing it off to followers or first-time visitors. It's effective because it goes beyond a simple product shot – it helps your target audience better visualize how they might use your product, making them more likely to turn into a sale.
6. Instagram for Business
---
Instagram for Business is a service that adds some neat features to your Instagram account, optimizing it for business use. First, it gives you a "contact" button, making it easier for potential customers to connect directly with your business; it also allows you to add a location and business hours to your profile if you have a retail location.
Next, having an Instagram Business profile gives you access to insights for your account that would be otherwise unavailable. This helps you analyze a number of things including follower growth and post engagement to help you better quantify the efforts of your Instagram marketing strategy.
7. Monetization Platforms
---
As I mentioned previously, Instagram can be a tough platform to monetize. It can be hard to bridge the gap between social engagement and real revenue for your business – that's where monetization platforms come in.
Though it's most effective for e-commerce businesses, monetization platforms can be good for almost any business. What is a monetization platform? Well, what it does is create a replica of your Instagram feed that's clickable – for example, an apparel company could link certain clothing items from an outfit photo they post to the store pages for each item.
You can put the link to your Curalate (or what have you) feed in your bio, making it easy for you to say "shop the link in our bio" so you can drive interested social traffic to your store pages. In my opinion, using one of these platforms is a key strategy to drive sales from social media.
8. Run a Giveaway
---
Who doesn't love free stuff? Running a giveaway on Instagram is a quick and easy way to increase awareness of your brand, Instagram account, and product – it's awesome for reaching more members of your target audience.
Give away your product (or something related to it, to ensure your entrants are targeted), and get people to follow your account and tag friends in your giveaway post in order to enter (think, "tag 2 friends who would love to win!"). This helps connect you with people in your target audience, meaning you'll have more followers to market to in the future.
9. Run a Sweepstakes
---
If you're a dedicated Wishpond blog reader (we love you), you know how much we value contests as a way to drive social media engagement and turn it into business success.
Using a tool like Wishpond makes it easy to build a contest that draws in followers to engage with your brand on social media, helps you generate leads, and (eventually) drives sales for your business.
Contests are different than giveaways because you'll be sending traffic to an external page where they can enter using their lead information (e.g. email address, name, etc.). This means you have the opportunity to market directly to them using email marketing, increasing the chance they'll turn into sales in the future.
10. Run a Photo Contest
---
Though this is similar to the previous tip, I separated it because it offers different benefits than a normal sweepstakes. Photo contests are awesome for Instagram marketing in particular because people submit visual content related to your brand – which is perfect for your own visual content marketing strategy.
Get people to submit photos featuring your product (or related to your industry), and save the best ones for future posts. This deepens the relationship you have with your customers, and ensures that people who enter your contest are committed to your brand.
11. Partnered Promotions/Giveaways
---
Everything is cool when you're part of a team! If you want to run a contest to promote your brand and widen your reach, I'd recommend looking for another business to partner up with. This business should be relevant to your product, have a similar target market, but not be a competitor.
An example of a perfect giveaway pair is a gym apparel company partnering with a business that sells protein bars – they have different products but they market to the same audience. This serves the purpose of sharing your audiences, which allows both business access to previously untapped opportunities.
Create a prize package featuring both of your products, and post an image of the prize package on both of your Instagram accounts. Get participants to follow both of your accounts in order to enter – I'd still recommend using an external contest page so you can email entrants later.
12. Seasonal Content
---
Instagram is a fast moving medium – it reacts quickly to trending topics, making it the perfect place to post content that's relevant right now. Keep your eyes and ears out for topics you can capitalize on. Pop culture, memes, and noteworthy events are the most common themes; examples include popular films or TV shows like Game of Thrones or awards shows like the Grammys or Oscars.
Even if it's not totally relevant to your business, creating a humorous post using the latest trending topic can drive a spike in engagement and can help you reach markets that were previously unaccessible.
13. Share Your Company Culture
---
We harp on this time and time again – social media isn't simply a platform for promotion. Instagram is a platform that's built solely for visual content, making it the perfect place to show off the parts of your business most people won't get to see.
Though this varies from business to business, some examples of this might include your happy employees in the office, the behind-the-scenes for your next product's marketing campaign, or a Boomerang video from your last company outing. I admit this doesn't do much to directly drive sales, but sharing your company culture with followers helps to build trust with them and create a connection that's deeper than simple interest in your product.
14. Live-stream an Event
---
When your business hosts or attends an event, it can be tough to determine what's important enough to share. You don't want to miss anything important, but you also don't want to fill your feed with photos or videos all at once. Instead, share important event moments on your Instagram Story, so followers can share in the excitement without clutter on their feed.
Partner any event with a limited-time coupon code that runs only for the duration of the event (or just the day of). Create a single Instagram post before the event informing viewers that you'll be sharing your event on your Story. Hint at the discount code to get viewers interested, and mention it periodically on your Story.
15. Live Video Q&A
---
Live video has tons of uses – hosting a Q&A session with your followers is one of the best ways to create genuine connections with your target market. If you have lots of active followers, you can do it spontaneously; if not, create an Instagram post a few days before to give your fans a heads-up.
Q&As are awesome because they let you tap directly into what viewers care about when it comes to your brand, and let you address any burning questions they might have. Though Q&As are a prime way to build connections and establish brand trust, you can turn Q&As into sales too – give out a special coupon code or sale link to viewers who attend your Q&A!
16. Feature Customer Content
---
When it comes to social media, you're nothing without your followers. If you're already doing a good job when it comes to creating engaged fans on social media, reward them for it! Find posts from Instagram users who have posted photos with your product and repost them with a caption thanking them for being a fan. If possible, send them a small gift as well – chances are, they'll share that, too.
This strategy helps your followers see how much you appreciate your customers, and can help you reach their friends – who might just be in your target market. It's not a huge traffic driver, but it's a great way to give back to the fans who make your company successful.
17. Customer Success Stories
---
This is another awesome way to market by highlighting your customers. Find users who have particularly enjoyed using your product, and reach out to them for a testimonial about your product and how it helped them.
This helps market your product by leveraging social proof. Followers or first-time visitors will feel less uneasy about buying or trying your product if they see that people like them have had good experiences with it.
If your market is local, I'd try to meet your success story user in person so you can get their testimonial in video format. This makes the testimonial feel more genuine – a real person speaking is infinitely more convincing than a caption attached to a photo.
18. Link to Blog Content
---
Creating content is a big part of our marketing strategy here at Wishpond, and we know it's like that for a ton of other companies, too. Instagram can be a great place to link to direct social media traffic to your blog articles, which can help to drive people to buy your product or service.
Post an engaging photo with a caption that mentions your latest blog article – I'd go with something engaging, like a question, and then direct viewers to the link in your bio (which will, of course, be to your blog). An example caption for a fitness-focused blog might be: "Having trouble gaining muscle? Check the link in our bio for 10 reasons why."
Driving traffic from social to your blog gives you more freedom in the ways you market to them. Instead of being limited by the relatively rigid Instagram platform, you can use pop-ups, landing pages, and more to turn social traffic into leads and leads into sales.
19. Preview Video Content
---
Video is another great form of content that's perfect for promoting on Instagram. Create a short preview of your video (think movie trailer) and post it to Instagram with a CTA at the end and in the caption that urges viewers to click through from your bio into your video.
Make sure you don't give away too much in your preview. Though Instagram allows 60 seconds, don't hesitate to use less. Remember your goal here is to hook viewers in, so they watch the full piece of content on your site (or YouTube, or Vimeo, etc.). Like the previous tip, this allows you to increase the number of ways you market to them or turn them into leads.
20. Influencer posts
---
Influencer marketing is by far one of the most popular forms of marketing on Instagram. It involves finding individuals who have a large, commanding presence in your industry and reaching out to these influencers to get them to share your product on their social channels.
Smaller accounts may do this for free (in exchange for product samples), but big industry influencers will probably charge money for a sponsored post.
To find influencers, you'll need to have your finger on the industry pulse. Look for popular posts in your explore feed and identify accounts that get massive engagement – it also helps to see if they've done sponsored posts in the past, to make outreach easier.
21. Connect with Local Accounts
---
Home is where the heart is, right? If your business has a retail location or strong local presence, look for popular accounts in your area that focus on posting local content (e.g. @narcity ETC) and reach out to them for a feature.
This connects your business directly with consumers in your vicinity – it's targeted engagement and you can be sure that most of these local accounts' followers live in the area. This can greatly increase awareness of your business with locals, which can lead to an increase in sales for your retail location.
22. Instagram Takeover
---
Similar to influencer posts, Instagram takeovers involve getting an influencer of some sort to take over your Instagram account (or vice versa). Takeovers usually last anywhere from a few hours to a day, and are awesome for getting the word about your brand out to more people.
Announce the takeover on your brand's account and the influencer's account in the days leading up to it. This helps inform both of your fanbases that it'll be happening, and most importantly, makes the influencers' target audience aware of your brand. If the influencer is taking over your account (which is probably more exciting than the other way around), it'll give them time to follow you before it begins.
Once the takeover is set up, it's really up to you when it comes to content. A safe bet is to have the influencer do a "day in the life", where they show how they might use your product on a daily basis.
23. Social listening
---
Social listening is the most criminally underused Instagram marketing tactics. If you want to create personal, lasting connections with customers – both present and potential – it's necessary to be aware of the things being said about your brand on social media and to respond to them.
The most basic method is to track your Instagram notifications. When people comment on your photos or tag your account in their photos, make sure to respond – even if it's just a simple "thanks!". This helps to show others you're not just using Instagram as a platform to promote your own business – you're looking to actively connect and interact with people who enjoy your product.
If you're in e-commerce, look for people who post about topics related to your industry. For example, if you're selling calligraphy supplies, search hashtags like #penmanship or #calligraphy and interact with accounts who post using these hashtags. This makes these accounts aware of your business, helping to spread your brand's presence on the social network.
If you're a local business, search local hashtags and interact with people who post using these. This helps increase local brand awareness, which can result in more visitors to your retail location.
Conclusion
---
There you go, Instagram marketers – 23 awesome ways to promote your business on the biggest visual content platform around. Try a few of these out for your business, and let me know in the comments below which work for you, or if there are any I missed.
Best of luck with your Instagram marketing efforts!