Immutable X is a layer-2 scaling option for NFTs on Ethereum that employs ZK-rollups to speed up and reduce the cost of transactions. IMX, the platform's native ERC-20 token, is used for staking, voting, paying transaction fees, and acts as a governance token. The token started this year with a value of over $4.8, though the 2022 crypto crash saw it retrace much lower.
In addition to providing an explanation of the Immutable X project and its tokenomics, this article will go through where to buy IMX, chart its price movement, and try to anticipate a future price forecast for this relatively new cryptocurrency.
How to Buy Immutable X – Quick Guide
Immutable X coin was listed in May 2022 on the widely accessible FCA-regulated cryptocurrency exchange eToro. To invest in Immutable X, take the following steps:
✅ Step 1: Open an eToro Account: Visit the eToro.com website and create a free account. Enter some personal information and ID documents to confirm the account.
Step 2: Deposit Funds: Either use a credit/debit card, PayPal, eWallet, bank transfer, or another method to deposit fiat money, or transfer any existing cryptocurrency to eToro's exchange wallet.
Step 3: Search for IMX Coin: Immutable X will appear in the search results when you start typing it into the eToro search field, or the ticker symbol IMX – click the result to view the IMX news feed and price chart. When ready to buy IMX, select "Trade."
Step 4: Buy IMX Coin: Enter a USD amount to invest in Immutable X in the pop-up box, then click on "Open Trade" to complete the buy order.
Where to Buy Immutable X Coin – Best Crypto Platforms
Immutable (IMX) is listed on all the major exchanges, including eToro, Coinbase, Binance, Crypto.com, and Bitstamp, one of the first cryptocurrency exchanges, in contrast to many altcoins that are excluded from top exchanges.
1. eToro – Overall Best Platform to Buy Immutable X
eToro supports IMX along with over 70+ crypto assets. It was established in 2007 in Israel and started as a stock and forex broker. Later in 2013, it listed Bitcoin and with that, also became a crypto trading platform.
eToro has a reputation of being one of the most strictly regulated exchanges in the world, in complete compliance with SEC regulations. It is governed by the FCA in the UK, ASIC in Australia, and other regulatory authorities throughout the world.
This is eToro's way of assuring its over 27 million investors that their investments in cryptocurrency are fully secure.

The eToro Crypto Portfolio is a passive financial product that allows you to buy a range of cryptocurrencies at different weights with only one deposit. You won't have to worry about research or upkeep because eToro maintains the portfolio.
One of the best features eToro provides for newbies in crypto investments is free crypto education resources and a $100,000 demo account for paper trading before they make real money investments in cryptocurrencies.
eToro also offers a copy-trading feature, which allows users to grow their cryptocurrency holdings by replicating the buys and sells of a professional trader with positive returns over the previous 12 months.
Alternately, it is feasible to duplicate an altcoin smart portfolio. Two of eToro's most recent smart portfolios are called Scalable Crypto and DAO Crypto.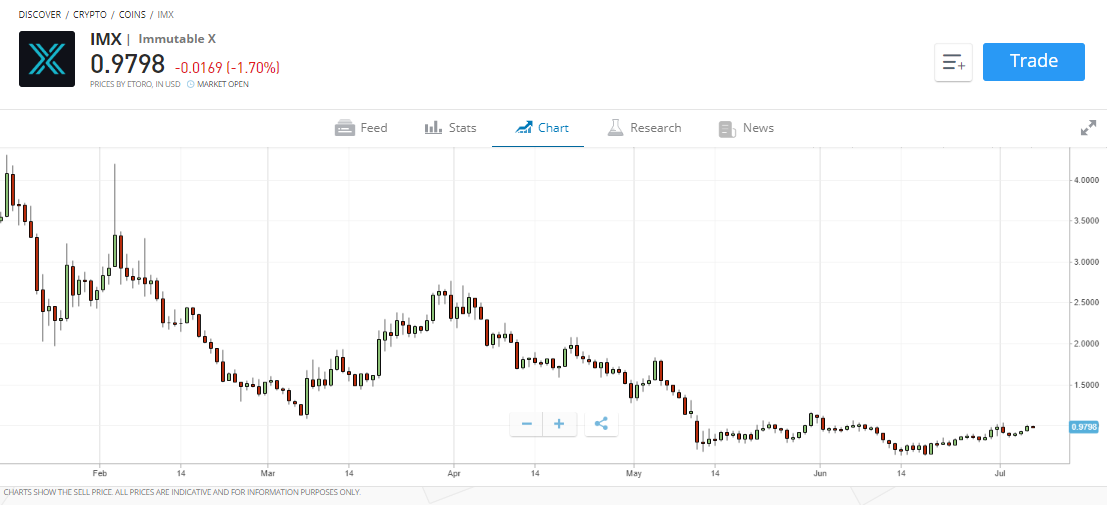 One downside with eToro is that it only supports leverage trading for financial assets like CFDs, contracts for difference, etc. and not for cryptocurrencies.
Besides, the fee structure on eToro involves spreads and not maker/taker fee, and these can be two reasons why investors usually look to register a second account on Crypto.com or Binance while leveraging eToro for long-term holding.
Cryptoassets are a highly volatile unregulated investment product.
2. Bitstamp – Buy IMX at Low Trading Fee
Bitstamp is a great choice for cryptocurrency investors who are fee-conscious because its trading fees are cheaper than those of many of its competitors.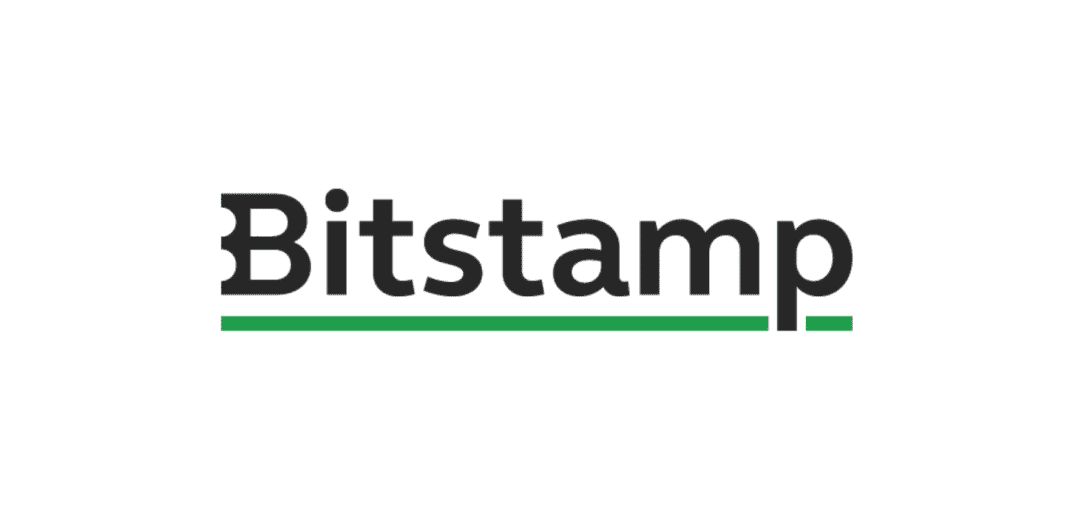 Because it's so simple to use, this bitcoin exchange is ideal for both new and seasoned traders.
The learning curve for trading crypto on Bitstamp is not steep. It is one of the easier cryptocurrency exchanges to use for individuals who are new to trading.
One of the first cryptocurrency exchanges to go live was Bitstamp in 2011, and it has since outlasted the competition to take the title of longest-running exchange in the market. This reliability is a great selling point in a market where many exchanges fail or encounter major regulatory problems.
Bitstamp offers a straightforward pricing structure that bases trading costs on your 30-day trading volume. The maximum trading fee on Bitstamp for users with less than $10,000 in 30-day trading activity is merely 0.50 percent. Users who transact more frequently per month also benefit from significant fee savings.
The exchange also provides Tradeview, an active trading platform with more comprehensive charting features and trading forms, in addition to its standard platform.
On Bitstamp, users can trade over 70 different cryptocurrencies. Despite not being the biggest, this exchange features a good assortment of coins, including many of the most well-known and some less well-known cryptos.
Cryptoassets are a highly volatile unregulated investment product.
3. Crypto.com – Margin Trade Immutable X
Crypto.com is one of the most popular cryptocurrency exchanges in the world today. For experienced day traders who want to leverage their margin trading of cryptocurrencies, Crypto.com offers both spot trading and perpetual futures trading pairs. IMX was listed on the Crypto.com app in December of 2021.

You can buy IMX currency using a debit card after creating your Crypto.com account and confirming your identification. When purchasing IMX on Crypto.com, the exchange charges a commission of 2.99%. On the other side, the platform will pay the fee for the first 30 days after you sign up.
Over 250 more digital coins are available on Crypto.com in addition to IMX.
Along with the typical exchange and trading services, Crypto.com offers a large variety of digital assets on its platform. For instance, Crypto.com provides a pre-paid debit card supported by Visa that can be used for both online and offline transactions as well as ATM withdrawals.
The Crypto.com Earn tool allows you to earn interest on your idle crypto assets. The exchange also offers a mobile wallet that supports more than 100 virtual currencies. Users can buy and sell NFTs on the site, which also serves as an NFT exchange, using IMX and other cryptocurrencies like Ethereum.
Additionally, Crypto.com provides its own in-house trading bot, an autonomous dollar-cost averaging bot. However, what it does is allow investors to gradually grow into a position over a predetermined period while they are away from their computer or mobile device, as opposed to actively making trading decisions.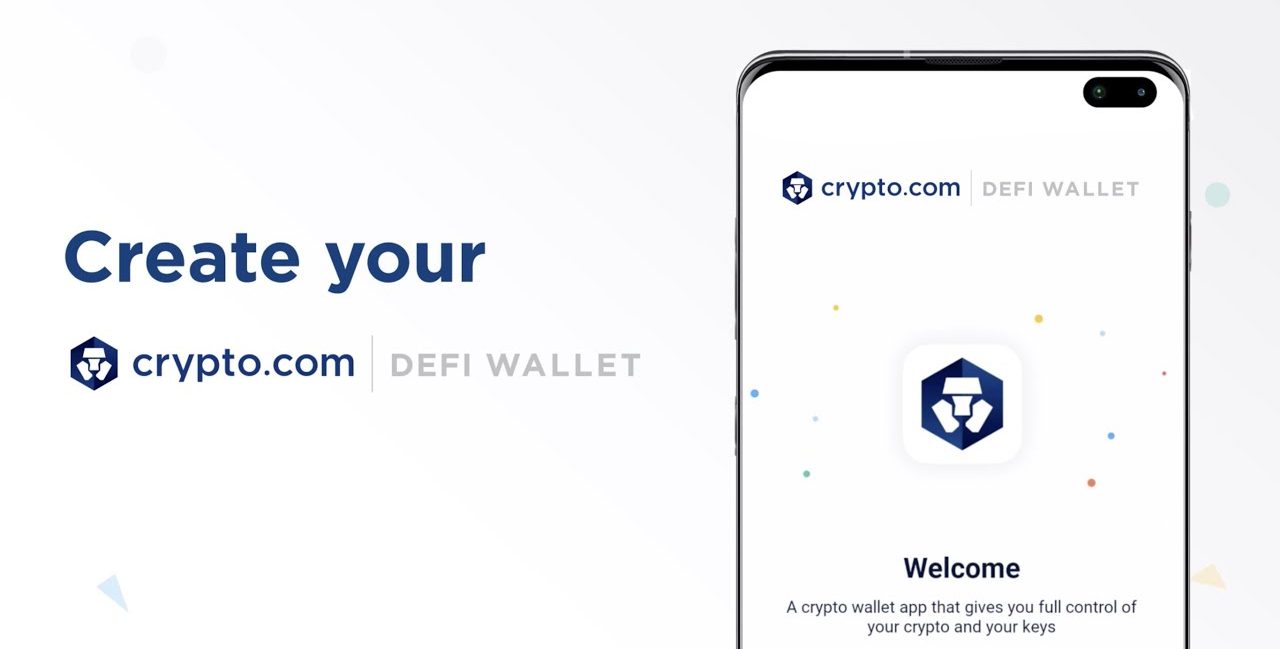 In addition to providing a DeFi wallet and the opportunity to earn interest on cryptocurrency and DeFi tokens, Crypto.com is most known for being a DeFi lending platform.
On the platform, users can earn up to a 14.5% annual percentage yield (APY) on their crypto holdings and a 10% APY on stablecoins.
Cryptoassets are a highly volatile unregulated investment product.
4. Coinbase – Buy IMX with USD, EUR
Coinbase could be the best broker for beginners searching for a user-friendly cryptocurrency platform that makes buying IMX coin simple.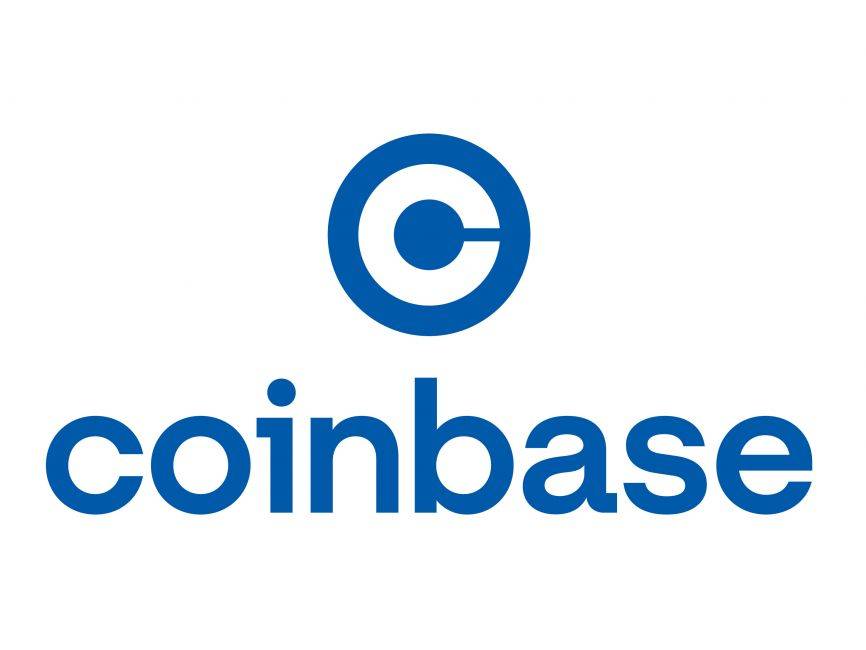 This well-known platform was established in 2012 and is also now a NASDAQ listed company.
Before buying IMX on Coinbase, you must first register an account and provide identification documentation. Then you can purchase your digital tokens straight away by making a deposit with a Visa or MasterCard.
When compared to other exchanges, Coinbase charges a significant 3.99% fee when using a debit or credit card to buy IMX.
Another reason why Coinbase is well-known is for its safe cryptocurrency wallet, which doubles as an NFT wallet because it can store non-fungible tokens. The advanced trading functionality of Coinbase Pro will be transferred to Coinbase's main platform in 2022.
Cryptoassets are a highly volatile unregulated investment product.
5. Binance – Trade IMX with a 0.10% Trading Fee
Binance supports cross leverage as well as isolated leverage and allows both margin and spot trading. On Binance, over 600+ cryptocurrencies are listed, the most of any cryptocurrency exchange.
However, if accessing the platform through Binance US in the United States, it is less accessible and not as regulated as eToro.
When you exchange IMX for a compatible digital currency like Bitcoin, Ethereum, BNB, or USDT, Binance will only charge you a 0.1 percent commission.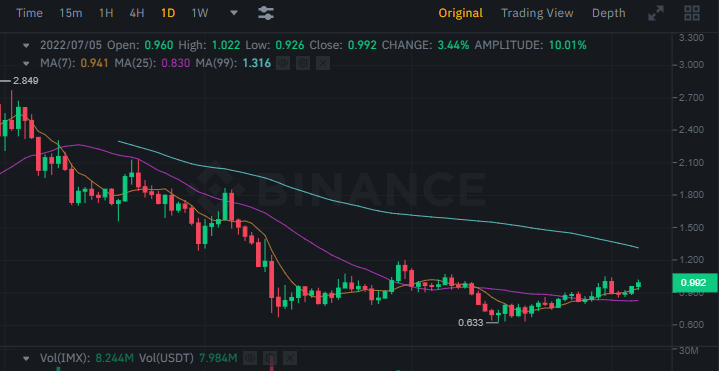 To benefit from the reduced fee structure, you must be able to deposit payments in Bitcoin, though. This is due to the 4.5 percent fee for using a debit or credit card to deposit cash and the additional 0.5 percent fee for purchasing IMX in US dollars.
Like eToro, Binance accepts cryptocurrency staking and provides educational trading classes through the Binance Academy. Along with eToro and Kraken, Binance was one of the few cryptocurrency exchanges to hire new staff rather than lay off existing ones during the mid-2022 crypto winter.
Whatever method you choose to use to pay for your IMX investment, Binance has several storage choices. Included in this is its own Trust Wallet app, which grants users access to the well-known decentralized exchange PancakeSwap.
Cryptoassets are a highly volatile unregulated investment product.
What is Immutable X?
Immutable X is owned by Immutable, an NFT-focused business with headquarters in Australia. It was established in 2018 by James and Robbie Ferguson. In the latter half of 2021, IMX launched their initial coin offering (ICO), which raised $13 million.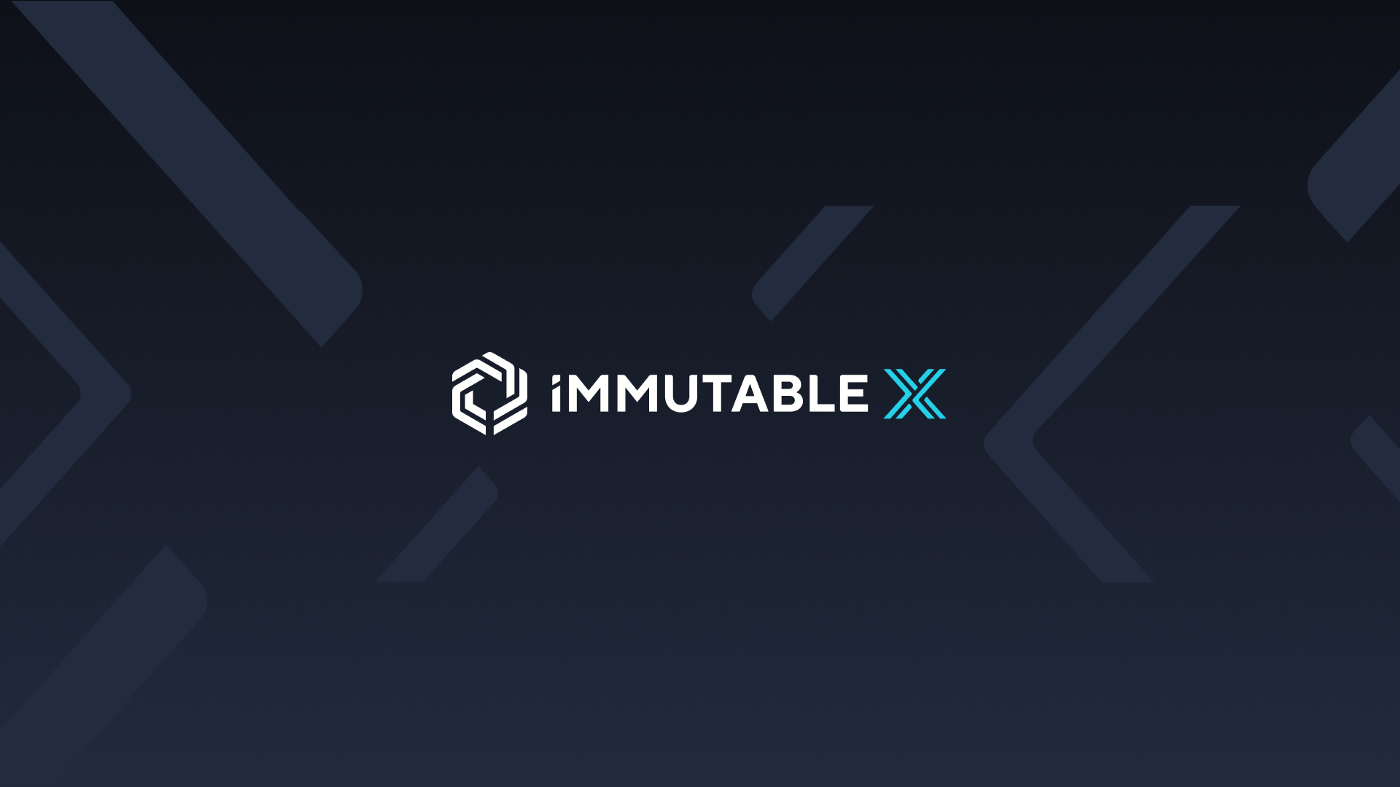 Immutable X was developed as a solution to the issue of slow and expensive Ethereum blockchain operations for NFTs. With this approach, transactions would be removed from Ethereum, completed on the new network, and then returned to the original blockchain. As a result, Immutable X qualifies as a layer-2 scaling solution.
The technology, which guarantees legal compliance everywhere it works, supports all Ethereum-based cryptocurrency wallets and facilitates a liquidity pool via a worldwide order book of NFTs. A 2% cut of all NFT sales and transactions is taken by the system to cover operating costs.
Cryptoassets are a highly volatile unregulated investment product.
IMX Token
IMX is the native token for the Immutable X platform. Since Immutable X runs on Ethereum, IMX is officially a token as opposed to a currency. Holders of IMX have the capacity to vote on network updates and are used to pay fees on the Immutable X system.
Additionally, it can be staked in exchange for benefits that are also paid in IMX. It can also be traded, bought, and sold like any other cryptocurrency.
Is Immutable X a Good Investment?
Immutable X brings many promising features and merits to the NFT ecosystem. The project's support for protocol liquidity enables the development of NFT marketplaces on the platform without the need for a back-end, allowing the third-party marketplace and Immutable X's native marketplace to coexist.
Additionally, the project aims to lessen the barrier for independent developers and NFT makers. ERC-20 and ERC-721 assets can be easily created and widely distributed because of this technology. Immutable X is already the foundation for many projects, including Gods Unchained.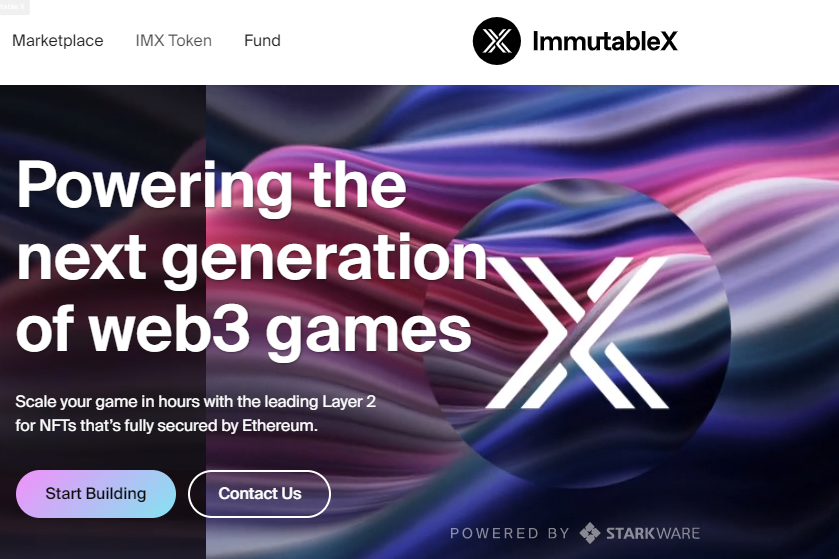 Due to the platform's usage of a specific intermediate "Link" layer in the protocol, users can connect their wallets without changing networks. It makes it possible for Immutable X to support external marketplace ecosystems without encountering any security issues.
All these features highlight the strong potential Immutable X has in terms of expanding use cases in the future.
Immutable X Price
Immutable X is currently trading between $0.94 and $0.95, and its 24-hour trading volume is $51 million. Immutable X has increased 2.26% over the past day. $223 million is the live market cap currently. It has a maximum supply of 2 billion IMX coins and a circulating circulation of 2.35 million IMX coins.
IMX price history
When IMX initially entered the open market in November 2021, it reached a high of $6.84 on November 5 before completing the day at $5.24.
While there was volatility over the next weeks, as with many initially traded cryptocurrencies, the swift changes in price benefited savvy investors when the currency crossed the $8.00 threshold on 16 November 2021. Immutable X reached an all-time high of $9.50 on November 26th.
IMX token dropped to a new low of around $0.64 by June 2022 during the bear market but has since shown signs of a recovery.
IMX Price Prediction
Numerous projects were motivated to develop specialized solutions for those distinctive assets by the NFT surge of 2021. Immutable X seeks to fix Ethereum's problems by providing practical solutions for businesses, entrepreneurs, and independent developers. This gives many analysts hope for the IMX token's future.
While the overall crypto market has been on a downtrend since late 2021, with both Bitcoin and Ethereum dropping to new 18-month lows, the market dipped even further with harsher regulations, steep inflation, and war fears in play. The crypto market sentiment has been low for many months, but that may turn around by 2023 or in the run-up to the 2024 Bitcoin halving.
It is difficult to predict Immutable X token price projections with accuracy because the asset is still relatively new to the cryptocurrency market. The development team's future announcements, the overall trends of the cryptocurrency market, its legal status, and other factors all have a significant impact on how the IMX price will move.
Best Ways to Buy Immutable X
Three of the most common ways to buy Immutable X are listed below:
Buy IMX with Debit or Credit Card
On exchange websites like Crypto.com and Coinbase, using a debit card to buy IMX can result in exorbitant fees of roughly 2.99%. It continues to be a popular way to quickly and easily purchase IMX still. Another option is bank transfers, although some sites may take longer to process them.
Buy IMX with PayPal
eToro is one of the few crypto platforms that completely allow Paypal for the purchase of IMX and other crypto tokens.
Buy IMX without ID
To begin purchasing cryptocurrencies, Bybit doesn't require ID and has listed IMX on its exchange. Bybit is one exchange with the finest reputation among those that currently offer laxer requirements for KYC verification.
IMX withdrawals are still available without ID. However, the daily maximum withdrawal amount is now only 2 BTC, which is still plenty for the majority of investors.
Best Wallet for Immutable X
Beginners can safely keep their IMX tokens on their exchange wallet by choosing one of the trustworthy crypto exchanges that offer Immutable X that we reviewed in this article.
When using one of those significant exchanges, a software wallet is frequently safer and more practical than purchasing a hardware wallet. IMX is one of the 120+ crypto coins supported by eToro's multi-crypto wallet.
Cryptoassets are a highly volatile unregulated investment product.
How to Buy Immutable X – Full Tutorial
If you are planning to buy IMX, make sure you follow this step-by-step guide:
Step 1: Create a Crypto Account on eToro
Visit the eToro website and create a free account. A form will show up when you click the "Join Now" button. Give your full name and contact information in the form.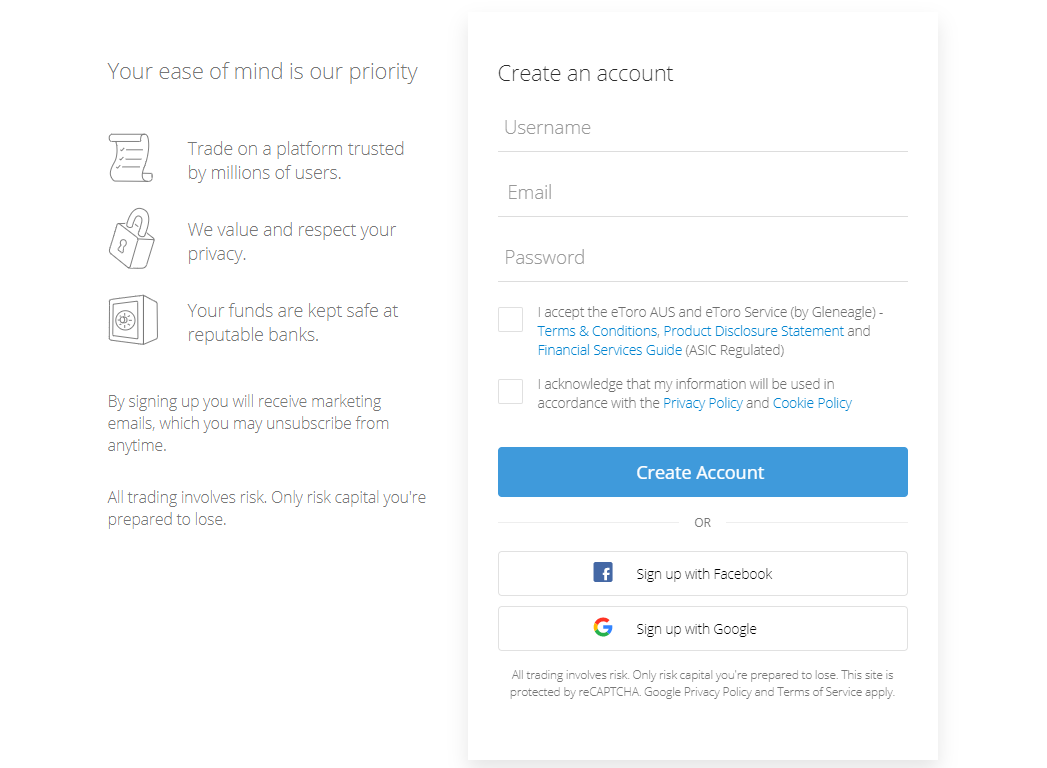 You will be asked for information such as your home address, birth date, and social security number if you select the 'Create Account' option.
Step 2: Submit KYC Documents
To purchase IMX cryptocurrency using any fiat currency, you must first verify your identity on eToro. You shouldn't have to wait more than 1-2 minutes after uploading the required documents because this process at eToro is automated.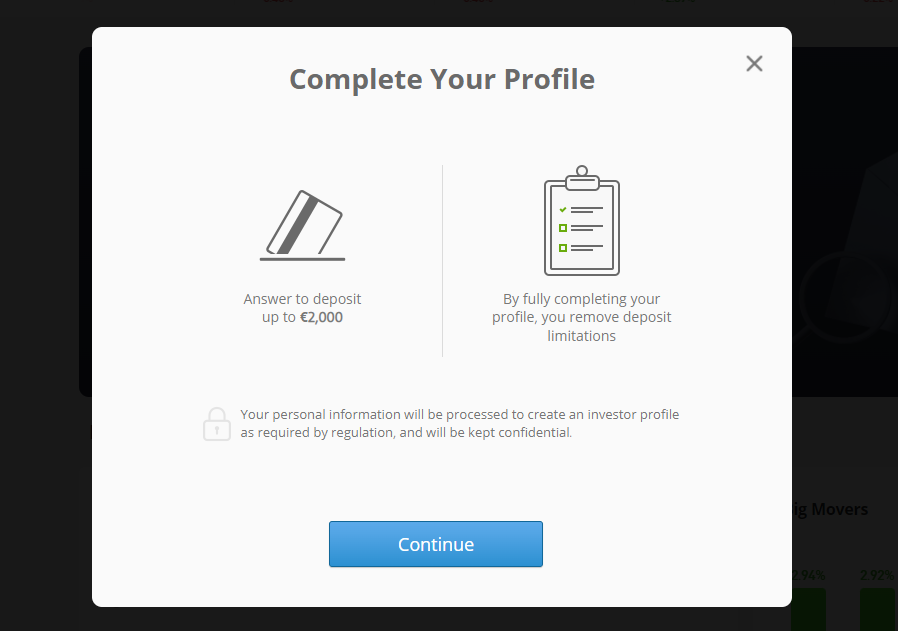 Upload copies of your state identification card, passport, or driver's license to prove your identity, along with documentation of your address, such as a utility bill or a bank statement.
Step 3: Deposit Crypto
Before you buy IMX currency, your eToro account needs to have a minimum deposit of $10. Among the several payment methods that eToro provides are Visa, MasterCard, and ACH.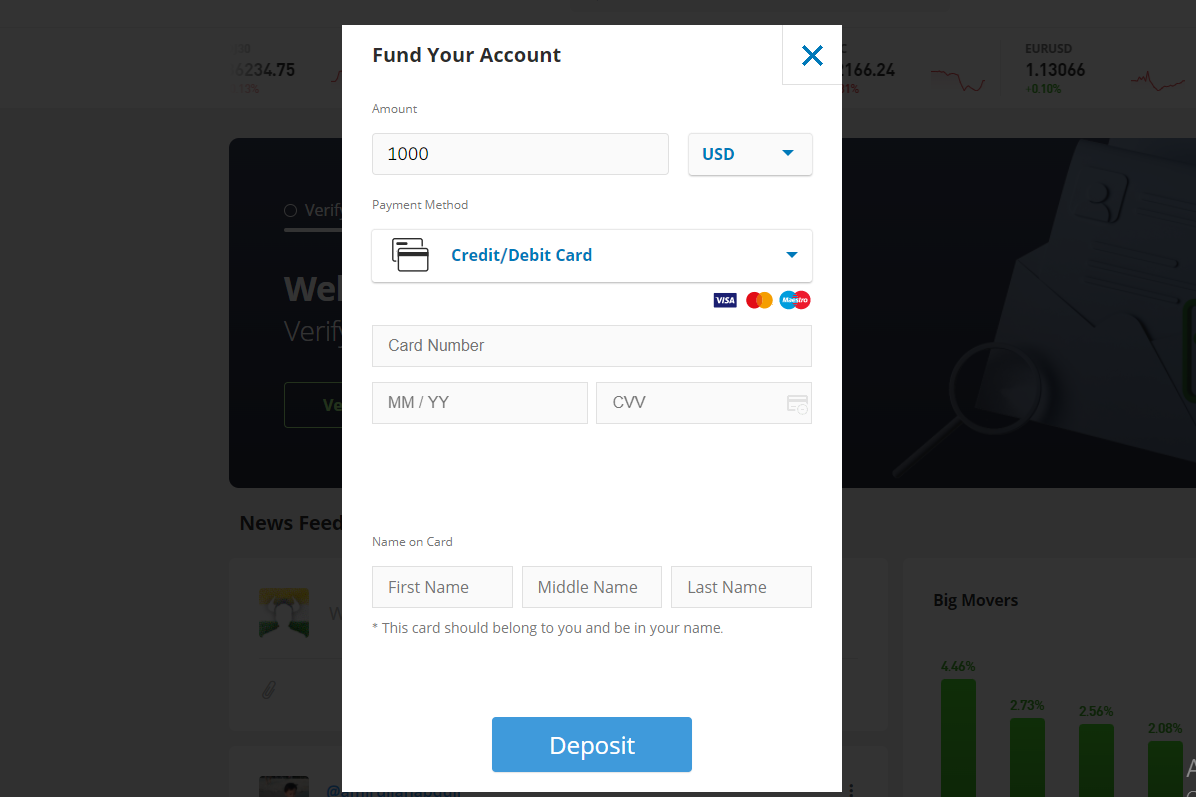 PayPal and Neteller are two examples of supported e-wallets. If you use a payment method that accepts fiat currencies, you won't be charged anything.
Step 4: Search for Immutable X
A search box is located at the top of the eToro dashboard. Start typing 'Immutable X or 'IMX' and click the first result.

On the next page you'll find a feed for IMX news and tabs to view the IMX price chart.
When ready to buy Immutable X, click 'Trade' top right.
Step 5: Buy Immutable X
Enter an amount to invest in IMX – the minimum trade on eToro is $10. Then click 'Open Trade' to confirm the buy order.
Cryptoassets are a highly volatile unregulated investment product.
Conclusion
NFT and blockchain technology are certainly here to stay in the long term. These innovative technologies are only going to start getting more crucial in the modern world and have a wide range of use cases.
Since its debut on major cryptocurrency exchanges, including its most recent listing on eToro, Immutable X has been in a bearish downtrend however as the wider economy has been in a correction. Before buying IMX, cautious investors may want to wait for it to establish a new uptrend and for the crypto market to recover.
Those ready to take on more risk however might see the low price of IMX in 2022 as a buying opportunity before the next crypto bull run.
eToro - Top Crypto Platform
Free Copy Trading of Professional Traders
Free Demo Account, Crypto Wallet
Open to US & Worldwide - Accepts Paypal
Staking Rewards, Educational Courses
Cryptoasset investing is highly volatile and unregulated in some EU countries. No consumer protection. Tax on profits may apply.
FAQs on Buying Immutable X Token
Where to buy Immutable X token with low fees?
Is Immutable X on Crypto.com?
Is Immutable X on Coinbase?
Is Immutable X on Binance?
How to buy Immutable X token without KYC?