Alongside other social media platforms for crypto discussion, Discord stands out as the most customizable, providing an all-in-one, easy to navigate crypto forum style platform with categories and subforums, rather than just a feed of posts to scroll through.
This guide reviews ten of the top crypto Discord groups, aka 'servers' to join for beginner crypto advice, advanced trading setups and technical analysis, plus insider tips on the best cryptos to buy daily.
The Top Crypto Discord Groups to Join
There are now thousands of crypto groups on Discord in 2023, some old and some new, launched since the 2021 crypto bull run. Our review team joined and tested several popular crypto Discords to put together a top ten list:
Jacob Crypto Bury: The Best Crypto Discord Server Overall, In-Depth Analysis of Token Presales
The Crypto Nation: A Good Crypto Discord Server for First-time Investors, Clear Explanations
Cryptohub: A Popular Crypto Giveaway Focused Crypto Server
R/cryptocurrency: The Main Reddit Crypto Discord Group, Large User Base
Larva Labs: The Official Discord Group of the CryptoPunks NFT project
Elite Crypto Signals: Aimed at Professional Investors focusing on Trade Signals
Cryptodra: A Crypto Discord Group Founded by a Data-driven Trader
Axion Crypto Community: An Inclusive Crypto Discord Group
Filthy Rich Futures: Crypto Discord Community that Focuses on Futures Trading
Cracking Crypto: An Educational Crypto Server Breaking Down How to Trade Crypto
A Closer Look at Each Crypto Discord Group
Below is a complete review of each of the best crypto Discords on the market currently. We considered the engagement level of their members, the features and facilities on offer, and the costs while assessing their strengths for the crypto community.
1. Jacob Crypto Bury – Best Overall Crypto Discord Server
You can measure the strength of a crypto Discord server by the attitude of the trader who runs it. Jacob Crypto Bury is an engaging and articulate crypto Youtuber that started a crypto Discord server to talk about all things crypto – from cryptocurrencies and NFTs. At the time of writing, it has over 12,000 members.
There are six channels in this crypto Discord community:
General Discussion
This part of the Discord is a place where members can talk about the general things about crypto. It is the flexible section where every positive and negative event in the crypto community is discussed. Everything from memes and favorite shows to possibilities of the metaverse is the topic of discussion on this channel. Some days you'll see everybody cracking up on this channel, and other days you'll learn something, but every day is entertaining.
News Links
The news channels are where you'll find the latest news about your favorite cryptocurrencies. The links you'll find here lead to simple-to-understand articles to give you a better understanding of the market without any bias. Some of Jacob's crypto YouTube videos may appear here, or in his 'new videos' Discord category.
Charts Channel
Want to know the current price of your favorite cryptos? Go to the charts channel. Members discuss the best technical indicators to forecast where crypto prices might be heading, in real-time.
The majority of cryptocurrency information posted is free, although Jacob also offers an additional VIP membership format for coaching and long-form analysis.
Data and Graphs
A full deep dive into the most profitable cryptocurrencies on any given day is what you'll find on data and graphs. Investors and traders can get an estimate the future price of the best altcoins based on the current market trends here.
DeFi
Here, subscribers will find valuable discussions about the current state of DeFi. Everything decentralized finance related is the focus on this channel, from the current TVL on the largest chains to newer DeFi tokens.
Tutorials
If you are new to cryptocurrencies, the "tutorials" channel is the right place to be. Dive into the different levels of tutorial and understand the nitty-gritty of altcoins and their trading patterns from beginning to end.
Versatility and inclusivity is the key factor that sets it as the best crypto Discord group on our list. Whether you're a long-time crypto investor or trying to find a good way to enter the crypto space and network with a trading community, Jacob Crypto Bury is the top Discord group to join.
2. The Crypto Nation

The Crypto Nation is one of the newer Discord groups on the platform that makes up for its inexperience by creating a hub of innovative members. This crypto "nation" has over 1,000 citizens with a no-fluff approach to crypto trading.
No one wastes words on this platform. Every member of this platform is here to contribute to the art of crypto trading, and they do so with flying colors. It has a no-gimmick, no-scam approach to discussing ADA, DeFi, and NFTs. But is it fit for a beginner?
Yes, it is. Newcomers can hop into the general discussion channel to clarify the basics of cryptocurrency before diving into channels that house crypto experts who deconstruct technical indicators to make crypto price predictions.
A good place to learn about whale trades and to get crypto reviews, how-to-do guides, and monthly technical indicators, the Crypto Nation is where you go if you've gotten serious about trading cryptocurrencies.
3. Cryptohub
Beginners don't have it easy when navigating the crypto space. And the big words don't help either; they make newcomers feel alienated. Resolving this issue is the crypto hub. This 12,000-member crypto group is 100% free, allowing anyone with even a passing interest in crypto to become a member. It is known as one of the friendliest crypto servers right now.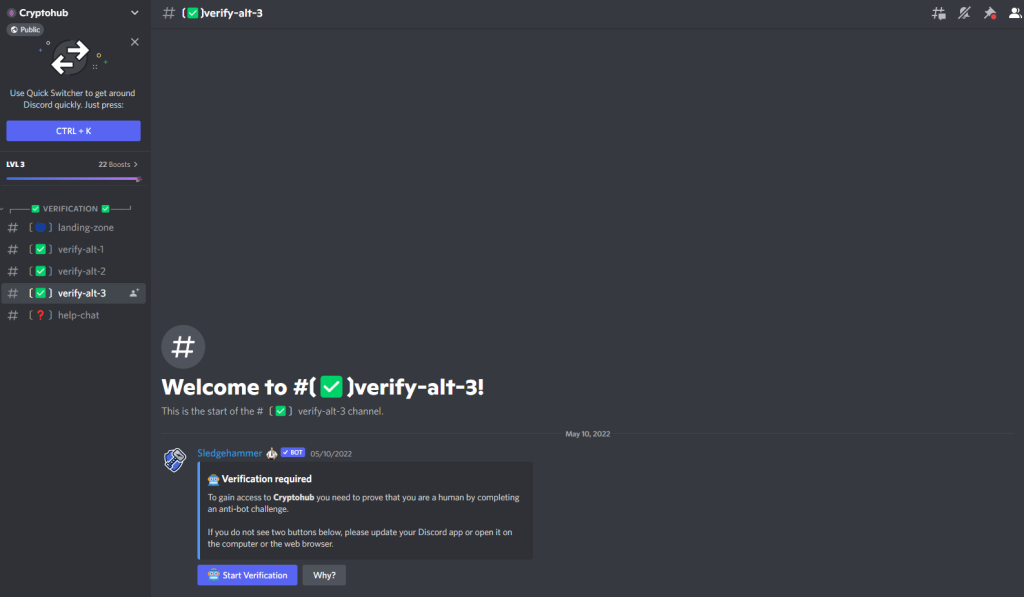 Newcomers will find Trading 101, Crypto Coin Exchanges, and HODL as the best channels within this crypto Discord to get the hang of cryptocurrencies and NFTs. Cryptohub makes it a point to arrange the information properly, so you don't feel lost at any time.
If you're a long-time or starting trader, go to the Trade signals Discord section. You'll find most of what you need to learn about Futures and Contracts, and receive crypto alerts.
Another major focus of CryptoHub, however, is on crypto giveaways. If you're religiously on the platform and are engaging with the members positively, you get a chance to win free crypto.
But that's not the extent of Cryptohub's offerings. Serious traders have an option to take premium memberships to get access to more nuanced channels of this crypto Discord group. At only $10 a month, you can engage with the more successful crypto traders who have cracked the crypto trading code. Find your pick of the best cryptocurrencies, liquidity pools, giveaways, and memecoins that generate the most profits with a premium membership.
Because CryptoHub is one of the premium Discord groups, becoming a member is slightly difficult. There are multiple levels of verifications to go through. But when all is said and done, many members say that it is worth it.
4. R/cryptocurrency
The "r/" is a giveaway for this popular Reddit crypto group that has now also joined up with Discord. It is one of the strictest Discord groups, with a surprisingly low tolerance for fluff content. This group used to house nearly 100x members, but it now has trimmed the fat to barely 39,000 members – which still makes it one of the biggest crypto Discord servers in the market.

Getting into this group is easy, but you must tolerate a two-minute buffer for every chat you enter, so pick your words carefully. Complete the tasks as specified in the general community rules, and the rest of the members will be open to listening to what you have to say. Interaction with the community comes with rewards. The better engagement you provide, the more level you gain. Raise your statute within the Discord group, and the two-minute will be removed.
r/Cryptocurrency mostly focuses on yield farming, new cool NFT projects, and new altcoins. Information about technical indicators, educational resources, insights, and price analysis are available. But all is not about work on this platform. The moderators and administrators organize game nights and movie nights from time to time to slow things down a bit.
Only serious, patient traders should become part of this platform. While joining is easy, the two-minute slowdown will make you choose your words carefully. The group has a low tolerance for those posting fluff content and has a reputation of kicking people out for even slight. But if you stick with this group, there are a lot of great things to learn here.
5. Larva Labs
Who hasn't heard of Larva Labs? These guys gave us our first big NFTs – CryptoPunks – that added the community aspect to the crypto scene. Fun fact – Larva Labs was the first NFT-focused Discord server in existence. We have added this group to this list out of our sheer respect for this platform.
Being an OG crypto Discord server, Larva Labs has taken careful measures to ensure that every process is streamlined and doesn't have a barrier. Account verification is a must (obviously). But once you get in, you get to engage with a community of 63,000 members – all quirky and ready to push the NFTs to new heights.
Be careful, as Larva Labs has been on the receiving end of some hacks. The last major one was in early 2021, which led to the theft of 700,000 USD worth of NFTs. But that indicates how careful you must be when on Discord servers.
In addition to NFTs, the Larva Labs Discord group have many educational resources. And if you want to keep up with the floor prices to add a new CryptoPunk to your collection, we highly recommend this group.
Also check out our guide on how to buy an NFT.
6. Elite Crypto Signals
Elite Crypto Signals is a 2018-created crypto group created by crypto traders who have been active since 2012 – the beginning of major league crypto trading. With a massive following of 29,000, Elite Crypto Signals boasts a huge member count of serious traders.
Knowledge and experience are this channel's main focuses, making it a good entry point for beginners. The more active traders would find the nuanced technical indicators available on Elite Crypto Signals beneficial.
Elite Crypto Signals is similar to CryptoHub in many ways. For one, it is also friendly – albeit a bit elitist – and has a premium feature. The fee to get this feature, however, is expensive at $45 per month. Serious crypto traders would find this a good deal as premium membership contains tips and tricks to invest and make money in a bear market.
Thankfully, money is not the only way to join this group. If you're an active member who can bring more members, you have a chance to earn a premium membership. Convince 30 people to join to get one-month premium membership. And bring 200 members to become lifetime premium members. To join this server, you must provide a phone number to receive updates via text message.
Readers may also be interested in our list of the 13 best crypto signals groups outside of Discord, on platforms like Telegram.
7. Cryptodra
We have believed for the longest time that assessing the technical indicators is a good way to predict the upswing or downturn of crypto takes investing decisions. Cryptodra has a different take. A trader name Cryptodra started trading in 2016 and began earning profits one year later. Throughout this journey, he learned that focusing on derivative-market data is a better way to gain profit from the crypto market.

His unique insight has attracted 2000 members of this Discord server, with each member being a serious investor.
Those who get the premium membership get a zoom call from Cryptodra himself and learn about all the aspects of crypto trading from the ground up. The membership also covers the negatives of relying on technical indicators. Cryptodra's main focus is on using order books to tap into investment psychology and risk management.
Cryptodra is one of the most expensive Crypto Discord memberships in the market at $699 for a lifetime membership. Serious traders might consider investing because of the unique and profitable approach of Cryptodra, but for beginners, this place is a no-go.
8. Axion Crypto Community
Looking for a crypto Discord group with a more fun vibe to it? Go with Axion Crypto Community. It has over 38,000 members and welcomes all types of discussions about crypto.
Beginners find the non-elitist tone of this platform good, for they can learn about cryptocurrencies and NFTs without being talked down to. NFTs can be pricey, especially if the artwork is the only thing going for them. So, if you have doubts about that, you can talk about it freely on this platform.
The more serious discussions on this platform, however, are focused on trade signals, trading, and investment strategies. This group also provides precise entry and exit points for investing in the best altcoins. Members also receive buy and sell alerts about the cryptocurrencies they follow.
Axion Crypto Community has a large library of crypto educational resources. Beginners can learn the tricks of trading from scratch, and veterans learn to play around with advanced technical indicators. If the educational resources become more jargon-heavy, you can talk to the moderators of this group for assistance.
To become a VIP, pick monthly, quarterly, bi-annually, or annual memberships. It will give you on-demand access to technical indicators, a chance to chat with other VIP members, and a priority privilege to have your queries answered.
9. Filthy Rich Futures
The name gives away what this crypt trading platform is all about. Crypto Futures is what you will get into when you become part of Filthy Rich Futures. It has a friendly staff that's always open to teaching the nuances of technical indicators and fundamental marketing analysis to the members. This close-knit Discord server of 18,000 members focuses on all things crypto.

Get a peek at the best cryptocurrencies and NFTs to buy by becoming a member. You'll also learn about the best crypto games that are fun to play.
However, the main tagline of this platform remains "Hardcore Futures Trading, Risk management, and education before profit". This statement encompasses the ideology of the moderators and administrators. If you want to become an active part of this community, you can join the premium membership. If you're heavy on engagement and like to talk about crypto a lot, you can bring in new members and get a premium membership for free.
Even if "free", the facilities of premium membership are available, we are talking about top-notch educational resources and the hidden details you likely miss looking at technical indicators.
You can also find Livestream, a futures guidebook, and news on Filthy Rich Futures. Paste your crypto portfolio on the excel workbook on the website if you're looking for tips.
10. Cracking Crypto
Full-time traders looking to compound their gains by cracking crypto secrets should join Cracking_Crypto. This crypto discord group focuses on both forex and crypto trading. It has 13,000 members and sports a premium membership.
Becoming a premium member will give you access to trading journals from the team behind Cracking_Crypto. You will also get access to in-depth analysis videos about trading certain cryptos. These materials explain the technical aspects of crypto trading and help members manage their crypto portfolios.
Getting access to Cracking_Crypto is not easy. The team is trying to keep the spam and fluff in the server at a minimum and only accepts members that receive an invite.
What is a Crypto Discord Server?
An online crypto community active on Discord is called a crypto Discord group, and the server that hosts that community is called a crypto discord server. Currently, there are over 7 million users active on discord channels.
Every crypto discord group is different, with its own vocabulary, niche, and approach to crypto discussion. The discussions and group functionalities are generally overseen by an administrator with experience in crypto trading. Becoming a member of a crypto discord server lets you inside a family of traders. However, you also need to shoulder the responsibility of keeping the discussions relevant.
Crypto discord servers are of two types. Public servers are accessible to everyone. They are more inclusive when it comes to accepting members but often are prone to hacks. Private servers, on the other hand, are stricter. They put rules and regulations in place to control the type of conversations members partake in on the platform. Any violation leads to the removal of members – which is why the r/Cryptocurrency member count is down by more than 50%.
Every crypto discord group has multiple channels. Each channel serves to keep the discussions objective and organized. Moderators ensure that topics related to one channel are not discussed on others.
Take Jacob Bury Crypto, for instance. The General discussion channel is good for joking around about the crypto markets and NFTs. You'd find a treasure of memes and jokes there. However, move over to data & charts, and you will realize how serious this channel is about crypto trading. The presence of such channels keeps the discussions non-chaotic and focused.
Why Join a Crypto Discord Group?
The entire crypto market hinges on the community. It is one of the reasons that the market is so volatile. One word of the community can turn a parabolically increasing price chart to take a downturn. The presence of such volatility makes it essential to be informed – a crypto discord server can help. It constantly gives you updates about the market. Here are some of the benefits of a crypto discord server.
Unchaotic Flow of Information
Social media is great for staying updated about cryptocurrencies. However, using platforms such as Tiktok for crypto can get too chaotic. When major updates arrive, you have go through long threads and feeds to find the best crypto information.
If someone disrupts the flow of information by replying to a post, that's another issue. A crypto discord server, however, presents information in an organized way. All the discussions are separated based on channels. The moderators run a tight ship to keep those discussions relevant.
Timely Updates
Trading at the right time is the key to winning crypto trades. Joining a crypto discord group helps you get access to updates that lets you make quick decisions about your investments. You'll have access to alerts, news articles, and other details about the latest price movements in the crypto markets.
Via Jacob Crypto Bury on Discord – source
The Community is Compassionate
The crypto Discord community has a more personal feel than more public social media communities such as crypto Twitter, where it's rare to receive a reply if you comment with a question – and are instead bombarded by spam bots.
Crypto discord groups run a tight ship and ensure that there are no bullies around. It doesn't matter how small your question is; you will be answered in kind.
If you ask that question in the wrong channel, you will be calmly told to ask the same in another medium. In the end, you do get the answer without having to feel demeaned. Also, the crypto community has awakened due to the bear market and is always willing to make things simple.
Take a look at Jacob Crypto Bury's general discussion Discord to understand what we are talking about – recently one follower asked for advice on the best crypto presales without vesting periods or complicating staking requirements.
How to Choose the Best Crypto Server
Not every crypto Discord group is built the same, and some exist for the very purpose of scamming you. But in time, you will learn to pick a few tips and tricks to judge which one suits your requirements. If you're pressed for time, here is what we have learned about choosing the right crypto Discord server.
Keep an Eye on the Engagement
If a server is public, look into the quality of its online activity. Ask basic questions and see how fast you get a response. Watch out for the tone in which you're getting the answers. Go through the threads and see the type of conversations Discord members are having.
The Jacob Crypto Bury Discord currently has a small tight-knit community of under 1,000 members so the level of engagement and interaction is close to optimal, with a good signal to noise ratio.
Check out the Demographic
The most successful crypto Discord groups are inclusive – giving room to everyone from every type of background to give their expertise. It empowers the group by adding versatility to its strategies.
The Expertise of the Administrators
When crypto Discords first started appearing online, many groups emerged that only blew hot air and talked about nothing of significance. Unfortunately, some of them are still active. Therefore, always ask advanced questions to learn about the group's expertise on a particular matter.
Cost of Premium Membership
How much is a group charging for a premium membership? Is there an affiliate program that lets you bring members instead become a premium member for free? Ask these questions if you're more of a serious trader looking to get the most out of becoming a crypto Discord member.
Range of Crypto Discord Channels
Go with the philosophy of the more – the merrier. Many crypto Discord groups have multiple channels to strictly organize the conversations so that every newcomer gets useful information about the crypto market.
Conclusion
Finding the right crypto Discord server to join is a daunting task. We have made it easy for you with our list of the best crypto Discord groups to join.
Our research took us through many servers, and we consider that Jacob Crypto Bury's group is a good choice for newcomers and veteran crypto investors alike. It has the most resources – both paid and for free – for those who don't want to walk alone while trading in crypto. If you're looking for a community's approval behind your crypto investments, joining this group might suit you.
His channel was one of the few online to review new cryptocurrency presales such as Tamadoge and Battle Infinity which yielded high returns for early investors in 2022.
Staying vigilant online is essential however – NFTs worth an estimated $100 million were stolen in 2022 because members of many crypto Discord channels were tricked into giving out their crypto wallet keys by scammers that joined the server.
Never give out your private keys, seed phrase or click any links sent to you one-on-one, via DM (direct message), whether on Discord or any other social media platform.
FAQs
Are crypto Discord groups reliable?
What is the biggest crypto Discord server available right now?
What is the best crypto Discord server available?