The global cloud computing industry is predicted to increase at a 16.3 percent compound annual growth rate (CAGR) from USD 445.3 billion in 2021 to USD 947.3 billion in 2026, indicating mass adoption of cloud computing by corporate giants to unicorn start-ups.
Business enterprises are leveraging cloud infrastructure for meeting their various needs and reinventing business processes to align with current market trends efficiently. This phenomenon has accrued many benefits such as scalability, data analytics, and efficiency.
This blog will provide a brief outlook into how the cloud has transfigured the face of many industries. Read on to know more!
Impact of Cloud Computing on Different Industries
1. Financial Services
Cloud is fast emerging as an effective solution to meet the ever-growing requirements of the financial services sector. Recognizing the benefits of cloud computing, many traditional financial institutions, as well as fintech start-ups, are migrating to the cloud to offer a better user experience, easy scalability, and data management.
An average financial institution has over 58 percent of its workloads in the cloud. Banking behemoths such as JP Morgan and Goldman Sachs have migrated to cloud infrastructure in the last few years.
One of the main challenges that financial institutions face is the growing amount of data that is being generated and consumed with billing information, card transactions, stock trading, insurance, lending, and borrowing. The storage and security of this data are ever important. Cloud computing offers a cost-effective solution to scale a bank's storage capabilities on-demand without compromising the integrity of confidential information.
Further, cloud infrastructure helps in streamlining operations and increasing efficiency by bringing buyers and sellers on a common application platform and enhancing speed and reliability. Studies report over a 10-20% cut in operational costs post migrating to cloud infrastructure. Moreover, cloud computing offers higher levels of redundancy compared to traditional management systems and backup.
Cloud infrastructure fosters an environment conducive to flexible applications and market products being developed in shorter periods having heed to the dynamic needs of customers and trends in the market.
2. Retail Sector
Cloud computing can benefit the retail sector in numerous dimensions and is reforming the way they operate from inventory management, data security, and enhanced customer experience. Cloud adoption in retail is boosting the growth of the global retail industry with a record-high CAGR of 16.3%!
Firstly, inventory can be experienced at your fingertips in the retail sector with the cloud no matter where in the world you are accessing it from. It offers an efficient way to manage stocks for big retail conglomerates by offering crucial data insights and analytics, real-time data, and cloud architecture. This allows for better decision-making when it comes to business operations and merchandise.
Recently, Walmart built one of the largest ever in-house cloud retail infrastructure of over six servers to gain a competitive edge over its E-commerce retail competitors, preserve customer confidence and protect the integrity of customer data.
Further, innovative retail products can be built efficiently, giving heed to client input and preferences. For instance, Walmart launched its Cloud-powered-Checking (CPC), which reformed its entire point of sale (PoS) for the global retailer.
Cloud computing can allow for the creation of an agile, data-powered supply chain. These are prone to errors, and even a small inaccuracy can prove to be a costly, irrevocable mistake. This is why cloud computing can enable retailers to handle the entire workflow from a central console by connecting all aspects thus, optimizing inventory management, real-time data capture, and improving transparency.
3. Healthcare Sector
The healthcare sector has been one of the sectors that have long been resistant to adopting cloud infrastructure due to concerns of security, and it being a time-intensive process. However, healthcare institutions are by and large shifting to the cloud, given the dual benefits for patients and physicians in the context of costs, data privacy, and improved patient outcomes.
Specifically, with the advent of the COVID-19 pandemic, the adoption of telehealth and telemedicine adoption has boomed, causing increased remote monitoring of patients' health parameters and medical devices.
This has given rise to data security concerns and compliance with healthcare regulations such as HIPPA, GDPR, etc. With Cloud computing, there is a robust mechanism of healthcare data protection in these cases of remote consultations. The cloud helps ensure that healthcare providers have access to data storage solutions that protect sensitive patient information appropriately.
The impact of cloud computing in healthcare is significant as it is expected to be worth USD 64.6 billion by 2026. Currently, nearly 83% of the healthcare sector in the USA employs cloud computing. The rise in implementation is due to the low maintenance cost, quick deployment, and limited human resources.
While there are numerous advantages provided by cloud technology, it still has its drawbacks. 93% of the cloud services used in healthcare face medium to high risk. Some of the potential threats are the sale of passwords, cloud hyper connectors, and undetected insider threats.
4. Education Sector
The use of cloud computing in the education sector has led to impressive advancements. The value of cloud computing in the education sector is estimated to reach USD 25.36 billion in 2021. The growth of cloud computing in higher education is expected to have a compounded annual growth rate of 25.4% by 2027.
Education has become easier to access thanks to cloud computing, especially with the unforeseen pandemic leading to remote learning. Teachers can plan their lessons better and use innovative teaching tools to help students better understand concepts. Students are also able to collaborate and share notes with their classmates.
Students no longer need to invest and carry around multiple large textbooks to keep track of their materials. With the cloud, all educational materials can be stored as digital files that can be easily accessed as long as there is an internet connection. Group assignments and projects are easier to delegate and track through online tools. This encourages the growth of interpersonal skills and enhances problem-solving.
Massive Open Online Courses (MOOCs) have surged in popularity during the pandemic. From the 1.5 million global enrollments in 2012 to the massive 120 million learners in 2019. The world's top universities, Harvard, Stanford, and Columbia all offer MOOCs to people across the globe.
As the competition in the education sector gets tougher, institutes are employing more advanced learning tools that are supported by the cloud to set themselves apart. With solutions like VMware cloud make educational institutions more appealing to prospective students.
5. Manufacturing Sector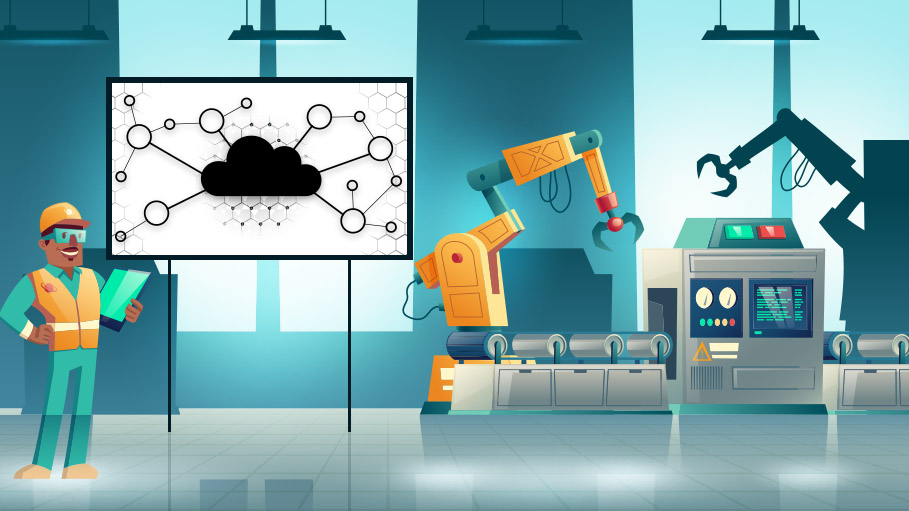 According to a survey conducted by the IDC, 66% of the global manufacturing industry uses public cloud services while 68% use private clouds. In 2017, around 25% of inputs used in final production were some form of digital technology, including cloud computing.
"Smart manufacturing" has led to higher productivity rates and optimized efficiency. For businesses that lack the capital to invest in an extensive IT infrastructure for their manufacturing business, cloud computing provides a cost-efficient solution.
Cloud computing is present in multiple areas of manufacturing. From product development to marketing of the final product, product management, and tracking stock. The cloud infrastructure for manufacturing use is designed specifically to supplement the manpower employed in the industry.
Complex marketing campaigns can be employed using cloud automation and similar tools. Cloud technology merges product planning and production with the supply chain to provide a full overview of the business operations. Companies use ERPs based on cloud services to track production and stock levels, as well as sales.
The use of cloud technology is heavily prevalent in this sector, and businesses that do not employ some form of it face an immediate disadvantage. In fact, the manufacturing sector has the largest investment plan for cloud computing services.
Conclusion
Cloud computing is assisting sectors to deal with issues as and when they arise. A key event that the cloud has enabled industries to deal with has been the various challenges posed by the COVID-19 pandemic such as cyber-security, auto-scaling, quality control, and big data.
Thus, it is clear that Cloud computing is here to stay and will empower industries to achieve their business goals in the upcoming future.
Read more: