Your business card represents your company and is often the first impression potential colleagues and consumers encounter. Although many businesses may feel that simple business cards reflect a professional and clean image, they tend to make a very weak impact on the viewer. Aside from presenting a clean-cut, professional image, you want to make sure that your company stands out.
One of the best ways to do this is through unique business cards. Finding an excellent printing company where you can buy business cards that truly impact your future customer is a sure way to leave an impression in their minds. If you're looking for some good ideas for the next time you re-up on business cards or are just looking for something new, consider the following unique business cards:
1. Tyson Junkers 3D Business Cards
The company Tyson Junkers works in 3D design, so to present an artistic and creative image of the company, they made their business cards into 3D glasses. The card itself came in three parts: an envelope to hold everything together, 3D glasses in the shape and size of a regular business card with a small piece cut out to resemble glasses, and a small picture to test the 3D glasses on and show what their company can do. Each component features the company's name and contact information on it, so consumers can really get the full effect.
2. The Bombay Bakery Edible Business Cards
It may not seem practical, but when people eat a delicious dessert item, it certainly leaves a lasting impression. The Bombay Bakery won customers over through tasty cookie business cards with the company's name and phone number printed on the front. If your company is in the food industry, you can give potential consumers a little taste of your best dishes and desserts while giving them all the information they need to contact you for more with edible business cards.
3. Broke Bike Alley Multi-Purpose Business Cards
Broke Bike Alley, a bicycle repair company, came up with the brilliant idea to display their company's information on a business card-sized multi-purpose tool for bike riders on the go. The tool/business card features a wrench, ruler, bottle cap opener, and spokes adjuster for bike riders to always have a tool available for minor repairs. In the event that the bike's damage requires more difficult repair work, the bike owner can just call the number printed right on the tool.
4. Klinetech Folding Business Cards
A computer repair and support company known as Klinetech created folding business cards that resemble a laptop computer, with all of the necessary information printed on the screen and various empty areas around the keyboard. In addition to being a very unique and eye-catching design, the business cards would be relatively easy and inexpensive to produce by your local printing company. If you're looking for a way to buy business cards on a budget, folding cards are creative, unique and inexpensive.
5. Nielsen Fitness Stretchy Business Cards
Personal trainer Paul Nielsen of Nielsen Fitness already starts the training process with the rubber-like material used to compose his business cards. Interested individuals have to stretch the card to the limit just to be able to read the phone number and give Nielsen a call. In the meantime, the caller is already giving his or her arms a good work-out to prepare for the personal training at Nielsen Fitness. Although it's a great idea for a business card, it may not be the best method for other business materials. However, Printlion.com offers brochure printing from all types of creative angles, so feel free to contact them to see how creative you can get.
6. Feelme Crew Film Marker Business Cards
If your company is involved in the film industry, get inspired by the types of props and tools used on the set to capture the attention of potential consumers and clients. The Feelme Crew Company used the popular film marker image to create a unique design for their own business cards, which also displayed the name and position of various individuals in the company as well as contact information for interested individuals to get in touch. The most unique feature of these business cards is their interactive handle, which can keep consumers and clients engaged for longer than a glance.
7. Painter Egil Paulsen's Easel Business Cards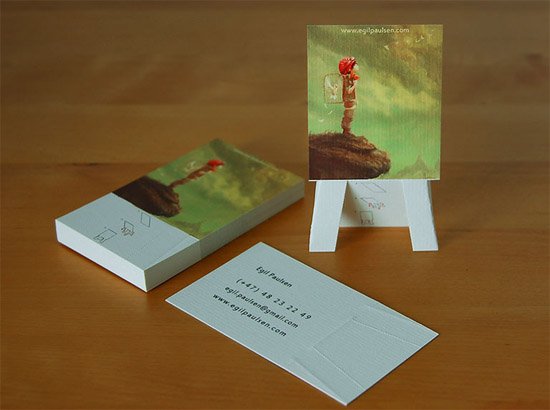 Completing the list of unique business cards is Egil Paulsen's stand-up easel business cards used to represent himself as a painter. For any business or individual in the art industry, this is a good way to give customers an idea of what your work is like in addition to letting your creativity shine. Paulsen's card featured small instructions for folding up the business card, so customers have the option of keeping it compact if they choose. All contact information was listed on the back with Paulsen's name displayed in tiny print on the front, so individuals could access his information without anything distracting from the painting itself.
These unique business cards may be a little outside the box, but they certainly brought publicity and impact to each company we listed. If you're tired of boring business cards and brochures, Printlion.com offers brochure printing and business card printing for companies wanting to get creative with their business materials. Take a risk and get original with your next business card printing and you'll find it is ultimately worth it.
This guest post article was written and provided by Daniel Clark who consults with many companies for both online and traditional marketing efforts. Click here to see more stylish and affordable business cards.
Image Sources:
#1: http://www.businesscardcritic.com/wp-content/uploads/2011/08/tysonjunkers.jpg
#2: http://coolestbusinesscard.com/wp-content/uploads/2011/05/Edible-Business-Card-%E2%80%93-Bombay-Bakery_36.jpg
#3: http://www.psdeluxe.com/wp-content/uploads/2011/03/business_cards/broke_bike_alleys_metal.jpg
#4: http://www.myinkblog.com/wp-content/uploads/2011/04/biz-cards-34.jpg
#5: http://top10and10.com/wp-content/uploads/2011/01/Clever-and-Creative-Business-Card-Designs-8.jpg
#6: http://rlv.zcache.com/filmmaker_film_director_producer_business_card-p240855257704882211yt1p_400.jpg
#7: http://cardrabbit.com/wp-content/uploads/2011/02/unique-business-card-egil-paulsen.jpg
Read more: